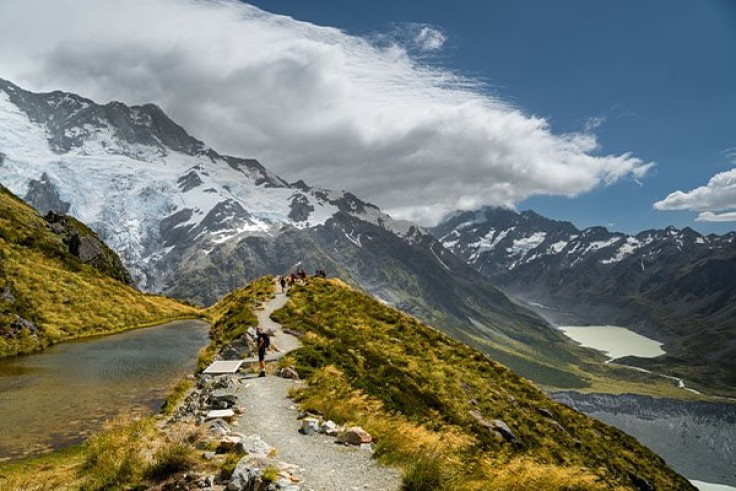 Thinking of joining us here in New Zealand for an adventure? Well, the next decision you'll need to make is when to come!
New Zealand is a mountainous island nation sitting isolated in the Southwest Pacific, and so the weather tends to be pretty unpredictable. That said, it means that you can join a New Zealand tour any time of year and still get glorious weather - you can't go wrong!
Here's a handy infographic that we've created, that displays a few of the highlights through the calendar year!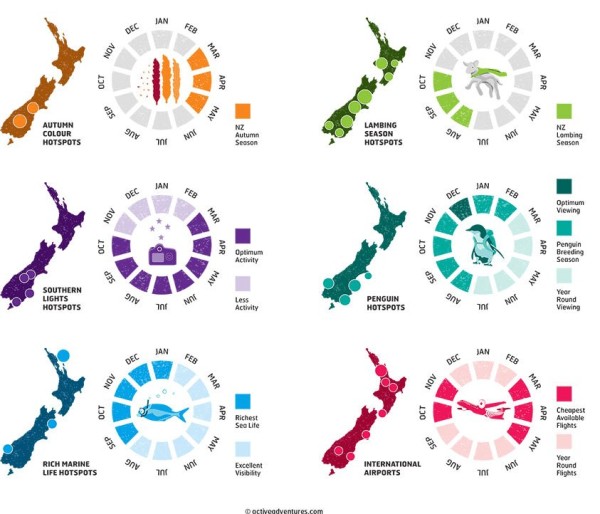 New Zealand Summer - Warm and bustling
Months: December, January, February
North Island weather: 20-24⁰C (68-75⁰F), 60-100mm of rainfall per month
South Island weather: 19-23⁰C (66-73⁰F), 35-60mm of rainfall per month
Hiking Conditions: Long daylight hours, warm days. This is definitely the most popular time to hike in New Zealand!
New Zealand truly comes into its own in the summer - an outdoor lover's paradise. Particularly between the months of December to February you'll see people at the beach, on the lakes, hiking in the forest or biking on our cycling trails. It's a popular time of year for getting out and about exploring our Kiwi countryside.
December - Summer has arrived and there's a buzz in the air leading up towards the holidays. With lengthened daylight hours - there is endless opportunity for adventuring!
January - As we head into the new year - the festivities continue and the month is packed with events, from sports races to festivals and concerts.
February - Late summer and with the crowds slowly disappearing, you'll benefit from quieter trails whilst still enjoying that summer sunshine. It's all a bit more relaxed down here from now on wards!
New Zealand Autumn/Fall - Perfect for Hiking
Months: March, April, May
North Island weather: 17-22⁰C (62-71⁰F), 90-130mm of rainfall per month
South Island weather: 13-19⁰C (55-66⁰F), 60-100mm of rainfall per month
Hiking Conditions: Cooler but stable weather and less crowds
If you want to escape the busiest season on the trails, then our autumn months are a great time to head down! The breath-taking beauty of the autumn foliage is famous in New Zealand, and with the mountains receiving their first dusting of snow - you're in for a treat when it comes to those scenic shots!
March - Early autumn and there's still a strong summer breeze so you'll still benefit adventuring around in warm weather - don't forget to slap on that cream, our New Zealand sun is extremely strong.
April - The leaves are turning our landscapes into a mosaic of gold, red and burnt orange. Crisp and clear days mean you'll have to start wearing an extra layer or two but it's a truly magical time of year!
May - Late autumn heading into winter, our mountain peaks stand gloriously tall lightly dusted with snow and it's a very quiet and relaxed time of year to enjoy our countryside before the winter crowds start appearing.
New Zealand Winter
Months: June, July, August
North Island weather: 11-15⁰C (51-59⁰F), 120-150mm of rainfall per month
South Island weather: 7-12⁰C (44-53⁰F), 70-130mm of rainfall per month
Hiking Conditions: The air is cool and crisp but with plenty of blue bird days - you'll find yourself out and about exploring most days. If you're not a skier (or snowboarder!), there are still heaps of beautiful hikes that can be ticked off - many of them including natural spring hot pools - the perfect way to end a winter hike.
For the snow bunnies - check out these awesome South Island ski fields to get an idea of when and where to hit the slopes: Cardrona, Treble Cone, the Remarkables, Coronet Peak, Ohau and Mount Hutt.
June - Officially the start of winter and everyone is itching for the ski fields to open up! There are also numerous winter celebration events to kick start the season packed with activities to suit all ages such as the Queenstown Winter Festival.
July - Beat the queues and head up the slopes early to make the most of that fresh powder! For those that prefer to stick to their hiking boots - make the most of those eerily quiet, serene frosty landscapes.
August - Winter is drawing to an end, stick around long enough and you may even spot our cherry blossoms and wildflowers starting to bloom as we head into spring!
New Zealand Spring
Months: September, October, November
North Island weather: 16-20⁰C (60-68⁰F), 90-120mm of rainfall per month
South Island weather: 13-19⁰C (55-66⁰F), 60-100mm of rainfall per month
Hiking Conditions: With the lengthening daylight hours, it's a great time to be out and about exploring with all the lush greenery, lambs playing in the fields and wildflowers blooming. A Kiwi's favourite time of year to explore their very own backyard!
Spring is an excellent time to visit New Zealand and while November tends to be fairly quiet on the tourist front, it's certainly not a bad time to travel here. Being an adventure tour company, our season really cranks up in early November, so our guides are fresh and excited to be back on the road - we have heaps of trip dates scheduled throughout the season too.
September - Not only is there still opportunity to ski the last of the snow left on the mountains, our landscapes are bursting with new born wildlife - a wonderful sight whilst hiking through the countryside.
October - From full rainbows to snow capped peaks and thundering waterfalls, it's a magical time of year to come visit New Zealand.
November - The weather is warming up as we gear up for summer, a very popular time of year to head down before the summer crowds appear!