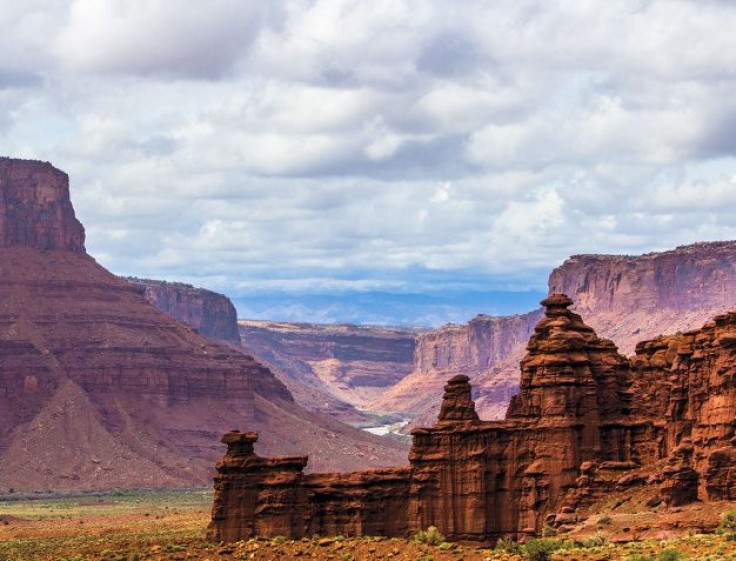 The best way to experience the diverse landscapes of Utah is by hiking through them. Utah has some very remote areas that are accessible only to serious backpackers, but routes to other stunningly beautiful scenes are merely pleasant walks and easily accessible! So whether you want to explore Zion, Arches, Canyonlands or Bryce National Park, here's a little guide to help you decide the best time to visit the best Utah National Parks according to what you're planning to do.
So, what is the best time to hike in Utah?
Spring and autumn tend to be seen as the most enjoyable seasons when the weather is at its best for trekking and adventuring! Utah's spring can seem short-lived, as it jumps from cold temperatures to blazing heat quite fast and the fall is where the scorching sun, and usually brown landscape give way to moderate sunshine and colourful scenery. Snow-capped peaks in the background add to the natural beauty!
April and May and September and October are usually warm and sunny with highs between 60 and 90 degrees on average. However, expect occasional cool and even rainy spells during these months.
Spring
We recommend coming between March and May, to beat the hot summer days that begin in June. Early spring is prone to cold fronts, and the arid land has sizeable diurnal temperature differences. A moderate amount of rain up to 3" (76.2mm) may fall in early Spring and a glorious day of sunshine with 75°F (23.9°C) temperature often ends up in a freezing night in the spring season. April makes the land free of snow, but the smell of wildflowers is mostly evident in the alpine zone of the mountains. May brings the long, sunny days amid clear skies though the average low temperature in the mild zone could get as low as 30°F (-1.1°C) to 59°F (15°C). However, during springtime expect the water levels in the canyons to be higher—some of these hikes may be off limits.
Summer
The wilderness and natural beauty of the state draw tourists from distant land with average temperatures starting between 63°F (17.2°C) to 96°F (35.6°C) and reaching up to 72°F (22.2°C) to 101°F (38.3°C). Humidity levels are low, particularly in the arid west, and the skies remain clear during the night. June sees the tourist season at its peak in Utah, with the temperatures still bearable during the days and comfortable in the nights.
Autumn
With clear days, mild nights, and low water levels, Autumn makes hiking and exploring safer and more enjoyable than Summer. The average high temperatures in early fall are in the warm 61°F (16.1°C) to hot 92°F (33.3°C) range and October brings the first snowflakes of the season in the mountains, and the atmosphere gradually turns cold. The temperatures drop to 36°F (2.2°C) to 64°F (17.8°C) by November with the wind picking up. Fall colours in the parks are usually best viewed in late October.
Winter
December brings the cold winter season to Utah, with a significant amount of snowfall with January being the coldest month of the year with the temperatures falling below 0°F (-17.8°C). January is definitely an off-season for hiking, though a great time for snow lovers and skiers. February is still cold and icy, with day temperatures still in the cold range of 32°F (0°C) to 59°F (15°C) and they rarely go above 65°F (18.3°C).
Simply put, though, there really isn't a bad time of year to visit Utah (except winter if you're not there to ski) and it largely depends on your preferences for activities, crowds and how well you deal with the heat!
Fitness required to hike in Utah
Hiking in Utah is neither easy nor difficult, depending on which trail or hike you decide on. It's a challenge that people of all ages and abilities will relish. To enjoy any walk in the Utah area, you'll need to be able to carry a relatively light backpack containing your personal belongings, a packed lunch and a good amount of water for a full day on the trails!
If you're hiking with us, there's never any pressure to walk with others or to keep up with the fastest walkers and there's always a guide at the rear of the party. The track surfaces vary from smooth well-formed paths to rough terrain broken by rocks and tree roots. There are steep rocky downhill sections and you may have to ford small streams and wade in deep water after heavy rain.
We always recommend wearing hiking boots that are well worn-in with a good thread and provide firm ankle support. If you're not a regular hiker, we suggest you begin a daily walking regime 6-8 weeks before departure, gradually increasing the distance you walk, carrying a daypack and staircase or hill climbing will leave you even better prepared to enjoy your challenge.
Advance preparation means you'll enjoy the active and outdoor nature of your trip all the more!
Hiking experience
It's exciting to be in the outdoors, and everyone should consider going at their own pace. If you have very little hiking experience, you don't want to start out with a 40-mile, hardcore backpacking trip. Hikes such as Angel's Landing or Observation Point do have steep drop-offs so it may be best to avoid these if you're new to hiking.
Utah has a wide variety of hikes available so there's always something for everyone! The park's visitor centre is an ideal place for this conversation, skilled staff will be able to provide advice on trail conditions, skills needed, and offer alternative trail options. If you're looking for some inspiration, have a look at our 'Best day hikes in Utah' blog.
On our Utah hiking adventures, you would have a local guide or two they'll be monitoring the weather, the group's wellbeing and all food and shelter requirements, so really all you need to do is put one foot in front of the other and take in the views and cultural experience!
Equipment you may need
Having the right equipment is extremely important; As mentioned earlier, hiking boots that are comfortable and worn-in is a good place to start! Because of the variable temperatures – from day-to-night in the spring and autumn months, layering is very helpful and adds extra warmth. We recommend purchasing good quality layers made out of fibres that breathe well, dry quickly and don't hold body odour, such as merino wool (one brand you may be familiar with is Icebreaker). A windbreaker or fleece as a mid-weight layer a decent rain jacket is a good idea if you're hiking in early spring or late autumn. Gor-Tex is still the leading fabric in this department, but there are other fabrics that are breathable and potentially harder-wearing.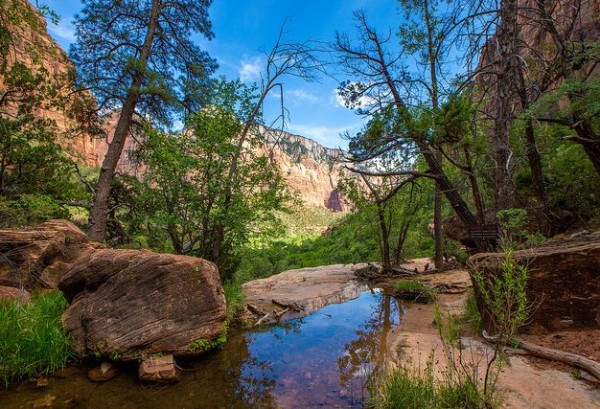 Getting the Most out of Your Trip
Be in good physical shape, bring good quality gear and don't forget your camera!
If you like reading about your destination, you may be interested in some of these books:
100 Classic Hikes Utah by Julie Trevelyan
Moab, Utah by Day & Night by Grant Collier
Utah's Greatest Wonders by Christopher Cogley
50 Best Short Hikes in Utah's National Parks by Greg Witt
Utah's Incredible Backcountry Trails by David Day