At Active, we're all big travel and outdoor enthusiasts…I know, surprising right?! While the light at the end of the tunnel is getting larger by the day, full travel freedom still feels a wee while away. So in the meantime, we thought we'd share some of our favourite travel (or adventure) related content, from books to Netflix shows and movies, to help you stay inspired and keep your love for the outdoors alive. Check out our recommendations below!
Books
She Explores - Gale Straub
"She Explores is a collection of first-person stories, photographs, and artwork from women who are inspired by the adventure found in the outdoors and who inspire me." - She Explores
The Alchemist - Paulo Coelho
"[The Alchemist] tells the magical story of Santiago, an Andalusian shepherd boy who yearns to travel in search of a worldly treasure as extravagant as any ever found. - Amazon
Off the Rails - Tim Cope
"Twenty years old and possessed by a burning desire to challenge themselves in an extraordinary way, Tim Cope and Chris Hatherly plan an epic journey across the vast expanse of Russia, Siberia and Mongolia's Gobi Desert, to end in Tiananmen Square, Beijing. However, they also decide to undertake it by recumbent bicycle." - Amazon
Mad, Bad and Dangerous to Know - Sir Ranulph Fiennes
"In his autobiography [Ranulph] describes how he led expeditions all over the world and became the first person to travel to both poles on land. He tells of how he discovered the lost city of Ubar in Oman and attempted to walk solo and unsupported to the North Pole - the expedition that cost him several fingers, and very nearly his life." - Amazon
The Wild Places - Robert MacFarlane
"Are there any genuinely wild places left in Britain and Ireland? That is the question that Robert Macfarlane poses to himself as he embarks on a series of breathtaking journeys through some of the archipelago's most remarkable landscapes." - Amazon
Into the Wild - Jon Krakauer
In April, 1992, a young man from a well-to-do family hitchhiked to Alaska and walked alone into the wilderness north of Mt. McKinley. His name was Christopher Johnson McCandless. He had given $25,000 in savings to charity, abandoned his car and most of his possessions, burned all the cash in his wallet, and invented a new life for himself. Four months later, a party of moose hunters found his decomposed body. How McCandless came to die is the unforgettable story of Into the Wild. - Amazon
Hitchhikers Guide to the Galaxy - Douglas Adams
"Seconds before Earth is demolished to make way for a galactic freeway, Arthur Dent is plucked off the planet by his friend Ford Prefect, a researcher for the revised edition of The Hitchhiker's Guide to the Galaxy who, for the last fifteen years, has been posing as an out-of-work actor." - Amazon
Into Thin Air: A Personal Account of the Mt. Everest Disaster - Jon Krakauer
Into Thin Air is Krakauer's epic account of the May 1996 Mount Everest disaster.
Movies
Given
"Told through the visceral experience of a 6 yr. old, Given follows legendary surfers Aamion and Daize Goodwin from their island home of Kauai through 15 different countries in the quest for surf and to fulfill a calling handed down through generations." - Given
Pedal the World
"Over the course of one memorable and adventure-filled year, Felix Starck documents his 18,000-kilometer bicycle journey across 22 countries." - Netflix
Expedition Happiness
"A filmmaker and his musician girlfriend attempt an epic road trip with their dog, traveling across North America in a refurbished school bus." - Netflix
Motorcycle Diaries
"The dramatization of a motorcycle road trip Che Guevara went on in his youth that showed him his life's calling." - IMDB
Free Solo
"A stunning, intimate and unflinching portrait of the free soloist climber Alex Honnold, as he prepares to achieve his lifelong dream: climbing the face of the world's most famous rock ... the 3,000ft El Capitan in Yosemite National Park ... without a rope." - National Geographic
Under an Arctic Sky
A film project documenting the journey to the most remote corner of Iceland in the middle of winter in search of perfect surf. A few days in, the worst storm in twenty-five years blows through and shuts down the country, turning the search for waves into a life-threatening prospect. - Under an Arctic Sky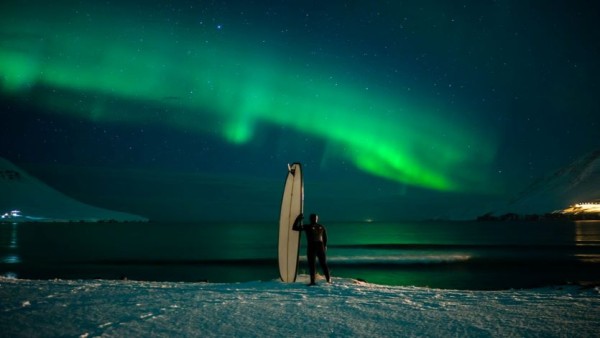 Source: Mpora
Shows
An Idiot Abroad
"Ricky Gervais and longtime friend Stephen Merchant are sending their uncultured colleague, Karl Pilkington on a quest to discover the Seven Wonders of the World. Not a man known for his taste or wisdom, Pilkington's journey is the stuff of legend and has to be seen to be believed." - Amazon
Street Food
"Explore street food in nine vibrant cities in Asia and hear the stories of the people who make them." - Netflix
Parts Unknown (with Anthony Bourdain)
"Get a taste for the unexpected! Join world-renowned chef, bestselling author and TV personality Anthony Bourdain as he takes incredible adventures to extraordinary locations, including the Peru, Colombia and Libya." - Amazon
Dark Tourist
"From a nuclear lake to a haunted forest, journalist David Farrier visits unusual -- and often macabre -- tourism spots around the world." - Netflix
Our Planet (with David Attenborough)
Experience our planet's natural beauty and examine how climate change impacts all living creatures in this ambitious documentary of spectacular scope. - Netflix
Jack Whitehall: Travels with My Father
"Jovial comic Jack Whitehall and his stuffy father, Michael, take unusual and amusing trips to foreign lands in an attempt to strengthen their bond." - Netflix
Explorers: Adventures of the Century
"Follow accomplished athletes through perilous deserts, racing rapids, the highest peaks and deepest oceans to capture eye-popping footage of human skill in ultimate, extreme adventure scenarios." - Redbull
Source: Netflix
Of course, this list wouldn't be complete without tooting our own horn and sharing some of our own travel content! You may have seen our Campfire Questions series on our social media pages. If you haven't, you can check it out here!
We've also put together some Spotify playlists jam-packed with our favourite adventure tunes! Check them out below.
Kiwi Soundtrack
https://open.spotify.com/playlist/6sd0OYLN80hpOdsnowDCwO
Campfire Classics
https://open.spotify.com/playlist/416JMZcuhSSzE6i47nhDSt
Fresh Mountain Air
https://open.spotify.com/playlist/0idqXtg0b6Hf8Uu3UNx0Pu