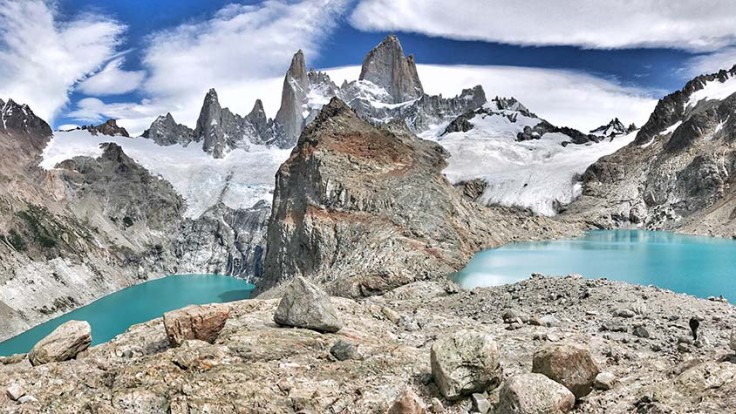 With years of experience in the travel arena under our belts, we've learnt that we can't possibly tell you the best time to visit a destination. Sure, there are certain times of the year that make the country more easily navigable and the temperatures more pleasant, but if thick snow and extreme cold is more your thing, we won't knock you for that. Instead we're going to provide you with some information on the most popular time to visit Patagonia and what to expect within each season.
Skip to: Seasons in Patagonia | Best Time to Travel Infographic | What time of year do we operate in Patagonia? | What wildlife can I expect to see?
What are the seasons in Patagonia?
The region known as Patagonia is shared by the countries of Chile and Argentina, and has two coastlines, on the east and west sides of the continent of South America. The latitude of the Patagonia region ranges from 36° to 55°, a range in which New Zealand's South Island is encompassed (41 to 47 degrees). So if you've traveled to New Zealand you'll have some idea what to expect from the weather in Patagonia.
Because of its distance from the equator, the Patagonia region has 4 distinct seasons as New Zealand does, rather than a wet and a dry season, like other parts of South America (you might see this kind of weather on a Galapagos Islands Tour). Below we've included a really handy infographic to show you when might be best for your Patagonia adventure.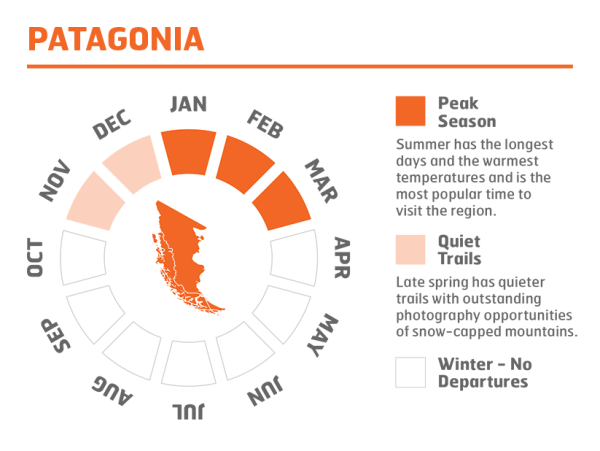 Spring
Spring is another popular time of year to travel to Patagonia. The trails are generally a little quieter, and whilst the temperatures can be a little lower, the photography opportunities are endless, as the winter snows hang around into spring on the high peaks.
Summer
Late December to early March marks the summer in Patagonia.
In the southern region, where our 'Patagonia Hiking Adventure' trip is focused, daytime temperatures range from 70-80°F (21-27°C) in the sun. Night time temperatures in Punta Arenas, the capital of Chile's southernmost region, range in the 40s Fahrenheit (4-10°C) and can dip into the 30s on the trail (-1-4°C). The wind chill in the southern Patagonia region can really keep the temperature down, and due to the region's proximity to two big oceans, and the Southern Patagonian Icecap, you'll likely see lots of different weather, at any time of year. You should also keep in mind that the region is a shade over 1,000,000km2 (386,102 square miles) and so conditions can be drastically different from one area to the next!
In the northern part of Patagonia, where we explore on our 'Northern Patagonia Adventure' trip, temperatures tend to be a little warmer, but being prepared for lots of different types of weather is still a great idea.
Autumn
Autumn appears in March, April and May, in the South the temperatures range from high 40s Fahrenheit to low 20's (10°C to 2°C) on average but much colder at night so bring your thermals and coats! it'll get chilly. The North is only slightly warmer!
Winter
The winter in Patagonia can be brutal and is the quietest time for tourism with many places closing up shop. During the months of June, July, August the average temperature ranges from the temperatures ranges from low 40s Fahrenheit to low 20's (6°C to -1°C) and again much lower during the night. You will experience snow, rain and plenty of icy conditions!
When do we operate trips in Patagonia?
Our Patagonia Hiking Adventure generally operates from mid-November until early March. The earliest trips of the season take in late spring, whilst from late December onwards you can expect a Patagonian summer adventure. We've chosen not to operate in Patagonia in winter, when some of the coolest hikes, including the W Trek, are closed. Our other Patagonia trip, the Northern Patagonia Adventure runs from late November until mid-March. This adventure takes in the northern region of Patagonia, it is dotted with pristine lakes, dramatic volcanoes, swathes of untouched forest and massive mountains. The fiords of northern Patagonia are a sight to behold, and on the 14 day Northern Patagonia Adventure we'll sea kayak on the Reloncavi Fiord. On top of all that, we'll soak in countless natural hot springs, the perfect way to end an active day. Take a look at our Patagonia tours to find more information.
If the southern hemisphere winter is your best chance for an adventurous trip, then check out our Macha Pichu & Amazon Adventure trip for something a little closer to the equator!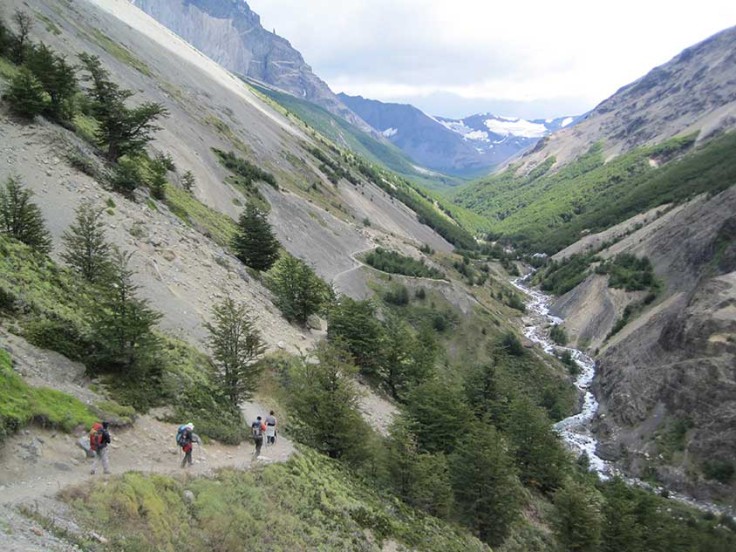 Hiking part of the famous W Trail, which closes during winter.
What wildlife can I expect to see in Patagonia?
Patagonia is famous for its wildlife, as well as its stunning mountain vistas. Off the coasts you can see several species of both whales and penguins. The endemic Magallenic Penguin is probably the most numerous of these, with a breeding colony on Magdalena Island, Chile, of around 60,000 pairs. On our Patagonia Hiking Adventure we'll visit Magdalena Island and go and see the penguin colony.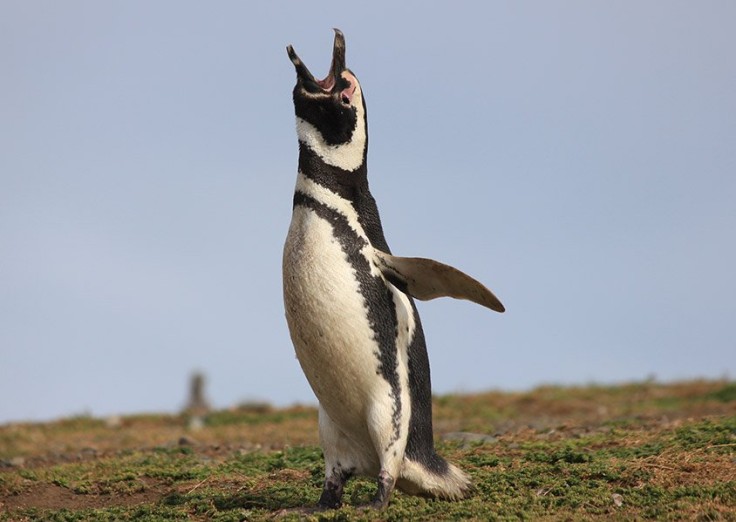 A Magellanic penguin on Magdalena Island.
Further inland there is some impressive wildlife to try and spot whilst on your Patagonia adventure. The condor (or more specifically the Andean condor), is a large, soaring bird that uses air currents, and the strong winds of the region to get around with minimal wing flaps, searching for the carrion that makes up most of its diet. The condor can be seen all year round, but prefers to roost and breed at elevations of 3000m-5000m (9842ft-16404ft).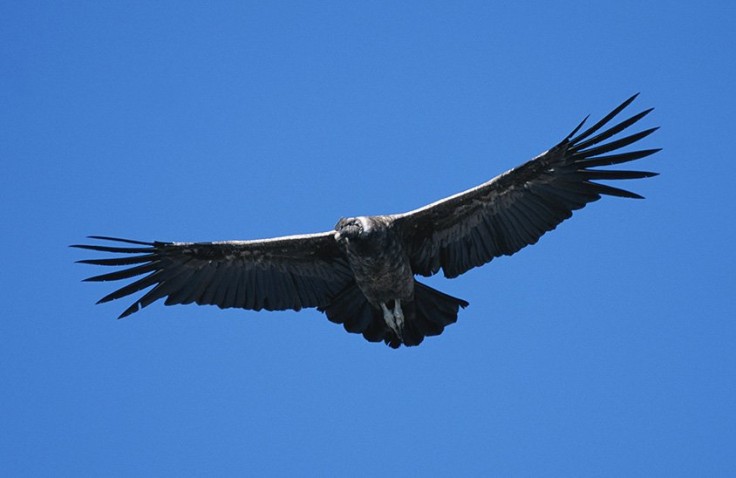 A condor soaring above the hills of Patagonia (credit: National Geographic)
Another very interesting predator in the Patagonia region that you might be lucky enough to see (from a very safe distance!) is the puma. The Puma's breeding season is December to March, and aside from those months puma tend to live solitarily. A large, powerful carnivore, the puma's diet consists of anything from mice to deer, and they can hunt just as effectively at night as during the day.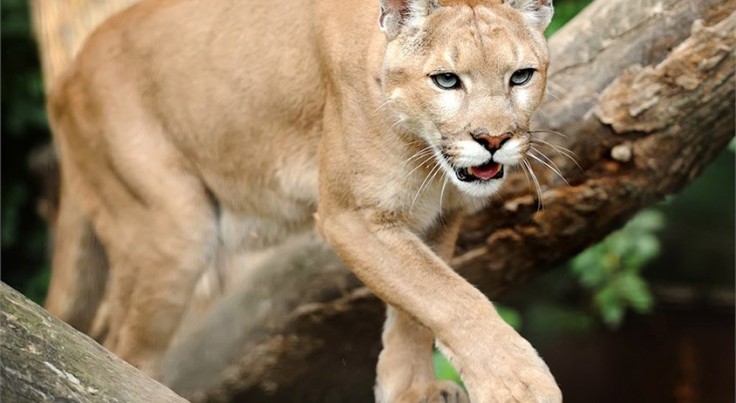 A lone puma amongst the trees. (credit: National Geographic)
The pudu is arguably the cutest of all the wildlife you might see on a Patagonia adventure. As the world's smallest deer (only up to 44cm/17ins tall) the pudu inhabits thick forest, where it can find protection from predators. The pudu is a very good jumper, and sprinter, and when alarmed will often flee in a zigzag pattern. Pudu tend to give birth to offspring between November and January.
You should also keep an eye out for Guanacos, a native species of camelid with a sizeable presence in the region.