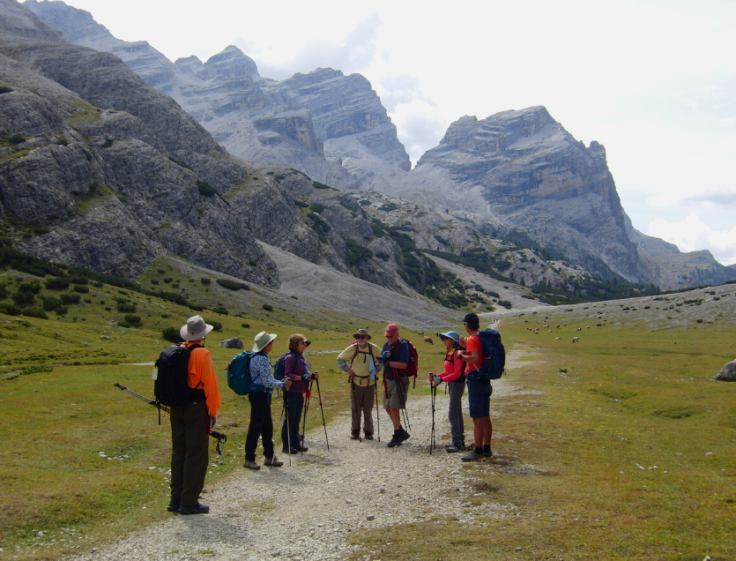 Since July 2021, we've been back exploring the breathtaking trails and charming villages of Europe. Every trip brought us an immense sense of gratitude, appreciating we can once again leave the safety of our homes, discover stunning landscapes and make new lifelong friends.
It may not be time to declare travel has completely returned to normal, but after a year of incredible memories, we're stoked to report our Europe adventures went off without a hitch. Of course, telling you that you're in safe hands is one thing, but we understand there's still some concern about booking an international adventure without a bit more information.
So, we've reached out to our past guests, who've travelled with us in 2021 to Iceland, the Italian Dolomites and Mont Blanc to give you a first-hand account of the ins and outs of travelling to Europe during the COVID-19 pandemic.
We hope this short interview will answer your questions and help you decide if travelling to Europe is the right choice for you. However, please understand the following is our guest's perceptions of their experience and travel restrictions can change day to day. No matter what, we'll always follow government guidelines to ensure we are delivering the safest and best experience.
What was it like travelling to and from Europe during the COVID-19 pandemic?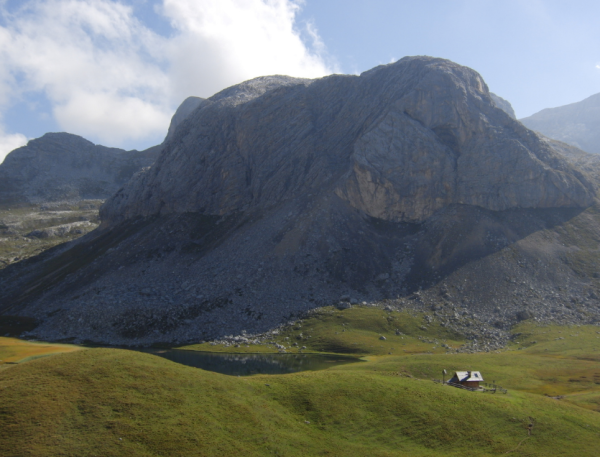 David (from Ontario, joined 'Tour du Mont Blanc' in August 2021): We decided to fly on a direct flight from Toronto into Zurich, Switzerland for our Mont Blanc trip and took the train to Geneva. Switzerland accepted our paper Covid proof of vaccination forms plus the completed online Swiss contact tracing form.
Travellers really have to check with the airline you are travelling with to understand the rules in the particular country you are landing in first and the rules for transferring through to another destination.
Miriam (from Maryland, joined 'Tour du Mont Blanc' in September 2021): I found travelling in Europe during the ongoing COVID-19 pandemic surprisingly easy, safe, and pleasant. The French QR system of having US vaccination cards converted into a French certificate and having it ready to show when entering different public establishments is excellent. For anyone travelling from the US I highly suggest they go online and do this early on.
Jeff (from Florida, joined 'Stelkur' trip in Iceland in August 2021): Travelling to and from Iceland was extremely easy. The only bit of anxiety we felt was the uncertainty associated with getting a Covid test in a timely manner in order to return home. To do this, it was necessary to make sure we booked a return flight for at least the day after the day when the scheduled trip ended. Booking the test was easy online a week before going home from our hotel room while on the trip.
Jeffrey (from Texas, joined 'Tour du Mont Blanc' in September 2021): The instructions regarding travel are clear. If you follow them, travel is simple. The few minor inconveniences are outweighed by the ability to travel again. The airports felt clean and safe. Following the rules makes entry and re-entry simple.
Anonymous (from Tennessee, joined 'Stelkur' trip in Iceland in August 2021): All areas were extremely clean and maintained - public areas, hotel and restaurant areas, and airport areas. There was a long, confusing line on arrival at Keflavik airport to go thru customs - likely due to several flights arriving at once. The line moved quickly but was not very well defined so confusing as to where to go and how to find the line. That's not Active Adventures fault - just mentioning it in case others might experience it.
Anonymous (From Colorado, joined 'Dolomiti' trip in September 2021): On the return to the States, we were VERY impressed our test, passport & vaccination card was checked 5 times (check-in, security, another security, customs, boarding the plane). Wow! We did have to wear our masks full time on the plane when we weren't eating or drinking. A small thing to deal with in exchange for a gorgeous trip to the Italian Dolomites!!!! Most of the trails we had to ourselves!
What was it like travelling around Europe in 2021?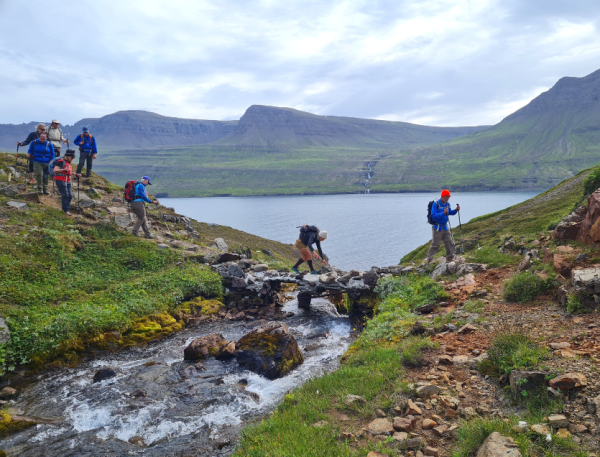 Miriam (Tour du Mont Blanc): During the Mt. Blanc I found the COVID-19 measures did not interfere with the daily hikes or restaurant visits. In fact, it was a wonderful way to escape into nature, breathe in fresh air, and enjoy the spectacular scenery. With a bit of careful planning and judicious use of COVID-19 measures, travellers can enjoy the amazing scenery and make the most of their tours.
Luann (from California, joined 'Dolomiti' in September 2021): It was pretty much masks inside, no masks outside. Sometimes they asked to see vaccination cards, sometimes they didn't. Travel can be exhausting and frustrating at times. None of that has changed. But the rewards are so worth it.
Anonymous (Italian Dolomites): We had our vaccination card, passport, & Covid test in hand throughout Europe. We had to show these once we entered hotels & restaurants as well as wear masks indoors. It really wasn't an inconvenience and we always felt safe and healthy.
David (Tour du Mont Blanc): All hotels wanted to see our Covid vaccination forms & passports. Having our local guides there was very useful to confirm our status and deal with any language issues. Masks needed to be worn inside the hotel and restaurants until you were seated.
The rules in Italy were much stricter. The breakfast buffet was behind plexiglass and the hotel staff had to serve you. On our personal day In Courmayeur, our dinner reservations needed to be on the patio. Inside dining required a QR code.
Jeff (Iceland): The entire country of Iceland we experienced was like living in a small-town atmosphere, even in Reykjavik. Safety was never a concern or issue and friendliness abounded. If you are concerned about safety measures in regard to Covid, don't be. All protocols were followed.
Bill (from Pennsylvania, joined 'Dolomiti' trip in July 2021): COVID was relatively easy, we were a little breathless waiting for our negative test so we could go home. Everyone seemed to be following proper precautions.
Lissa (from Tennessee, joined 'Stelkur' trip in Iceland in August 2021): We met a few folks on the trails, of course, towns had more folks. The most crowded trail was on the puffin tour but good breezes make us feel safe. It was encouraged we all wear masks but as the trip progressed, we all felt safe around one another on the bus.
Do you have any insider tips or anything else you'd like others who are thinking about travelling to Europe during the Covid-19 pandemic to know?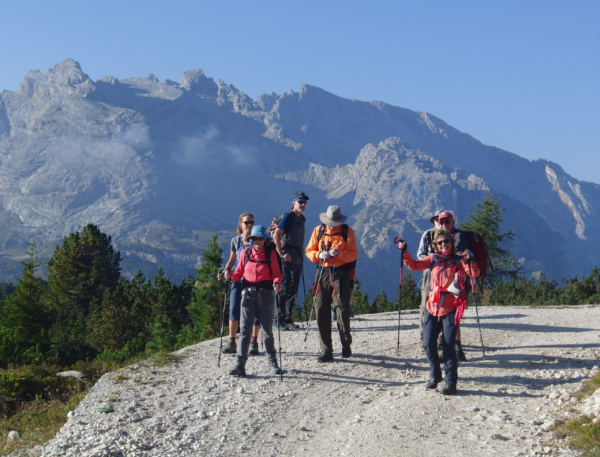 Luann (Italian Dolomites): Traveling under current conditions is definitely more challenging and requires jumping through more hoops, but those are not good enough reasons to stay home, in my humble opinion. If you have a patient, compliant mindset, you'll get through it. I didn't feel any more at risk abroad than I do here in the States.
Bottom line advice: Get out there and live :)
Peg (from Florida, joined our 'Stelkur' trip in Iceland in July 2021): Go now while everyone else is afraid to go!
David (Tour du Mont Blanc): We felt a little like we were pioneers travelling in Europe with travel advisories telling us not to travel unless it was necessary. We thought the risk was worth it and the risks were low for outdoors adventure travel as long as you were vaccinated. We relied on our guides and their local knowledge and contacts to make our trip a fabulous one… with no regrets.
You have to do your homework to ensure you know the rules for every country you want to visit because they are all different and changing. We found airlines had very good information on their websites and also checked the local embassy website for the latest Covid updates and travel requirements
Miriam (Tour du Mont Blanc): Relax, read and follow up on procedures in each country and you will be safe and have an enjoyable trip.
Enough about Covid-19, what was your favourite part of your Europe trip?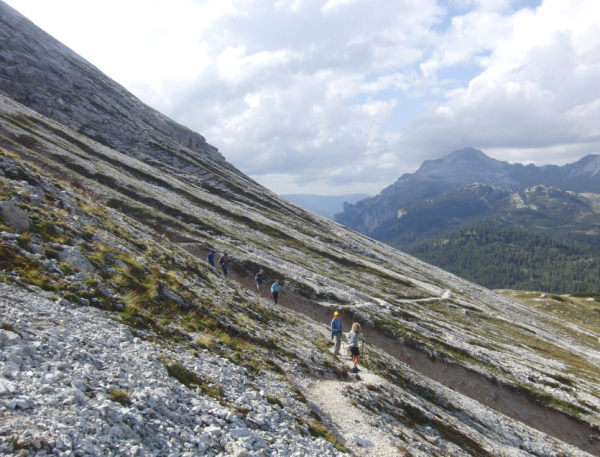 Jeff (Iceland): It's really hard to choose a favourite part of this trip. Each segment had its own bit of charm and challenge. What surprised us the most though was the kayaking experience with the icebergs. We've had extensive kayaking experience on rivers, lakes, oceans, and in mangroves but none of those compared to the quiet, eerie, silent voyage we took through the icebergs. You could hear a pin drop in the silent, surreal landscape we traversed. This experience was definitely the biggest surprise of the trip and nothing we had ever experienced before.
Finally, as a destination, Iceland turned out to be one of the greatest adventures we've experienced from nearly 50 years of trekking in this world. It was just the right mixture of challenge and wilderness with the great accommodations and eating options we've come to expect from ACTIVE Adventures.
Luann (Italian Dolomites): My favourite times were out on the trail in the gloriously wide-open spaces, but even in the hotels/rifugios it was delightful.
Anonymous (Italian Dolomites): My husband's favourite part of the trip was climbing the Via Ferrata. Ha! I liked it too and was up to the challenge and glad I did it. My favourite part was the hiking and scenery and beautiful refugios and our sweet small group of 7 whom we grew very close to. Our guides were perfect, knowledgeable, fun, etc…
Anonymous (Iceland): Our guide Solvi was very knowledgeable about his country - and happy to share info and time with us. Iceland is a unique land - literally the land of fire and ice. Each day brought a new adventure and landscape. It's hard to pick out a singular treat - but the puffins did not disappoint!
Ready to explore Europe?
If you're keen to explore while the trails are still quiet but have some hesitations, we understand. Here are a couple more links that will give you more information about what we're doing to ensure safe travel and to ensure your money is in good hands.
Active Adventures Covid-19 Policies

Active Adventures Assurance
Pre-Trip Preparation: COVID-19 Vaccination and Testing Policy
We're also really easy to reach via email or on any of the numbers here. Give us a shout and we'll answer all your questions and help decide which of our Europe adventures is the perfect fit!