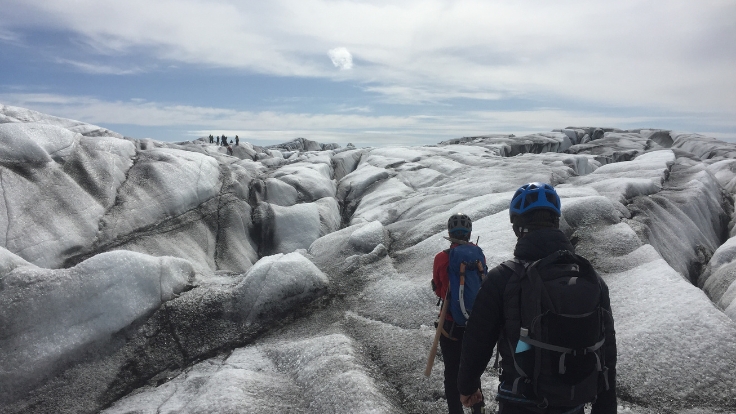 Welcome to the ultimate guide to the best time to visit Iceland. Consider this a one-stop-shop for everything you need to know about planning an Iceland adventure.
So a visit to Iceland is on your radar? Maybe you've got some dates in mind for your adventure vacation, and haven't quite settled on a destination, but Iceland makes the shortlist? Well this is a great place to start to find out more. Let us tell you all about the best time to visit Iceland, and what you can expect from a visit at different times of the year.
We're covering the seasons in Iceland, when it's 24-hour daylight and when you can expect to see the sun at midnight (yep, that's a thing in Iceland!) We'll also talk about whether you'll need a visa, things to do, how to choose a guided tour operator, booking flights, and pronouncing Icelandic words. So 'velkominn'.
When is the best time to visit Iceland?
Grasping the seasons in Iceland, and what each season comes with, is crucial to planning your Iceland vacation, and more importantly, to enjoying every minute of it. Iceland is very similar to New Zealand in that it's famous for having four seasons in one day. In fact the local saying goes "If you don't like the weather just wait 5 minutes and you'll get something different." Another important thing to consider is daylight hours in Iceland – in December for example, there's only around 4 hours of daylight per day, whilst you can see the sun at midnight between late May and July, when it never gets completely dark! Let's get stuck into Iceland's seasons in detail. Our Iceland tours run between June and September because it's the best time for hiking!

Spring - March, April, May
The seasons in Iceland follow the norm for the Northern Hemisphere, and so spring is generally considered to be March, April and May. Weather conditions are still pretty chilly, although with the right gear these months can be a great time to get out hiking whilst there are a few less tourists on the more popular routes. Temperatures during spring average 1⁰-5⁰C (34⁰-41⁰F), with an average monthly rainfall of around 35mm.
If the Northern Lights are your reason for visiting Iceland, then March is one of the best months of the year to see them, around the equinox. Another reason to visit Iceland, at any time of year, but particularly in spring, are its waterfalls. As the winter gives way to the warmer temperatures of spring these natural beauties really get going, and thunderous falls such as Seljalandsfoss, Skógafoss and Kvernufoss are in full flow with glacial meltwater – a sight to behold.

The light conditions in spring are perfect for amateur (or professional!) photographers. The combination of the unique landscapes, and the striking light combine nicely for some show-stopping photography.
Summer - June, July, August
Summer is the best time to visit Iceland – temperatures are warmest, the weather is at its most stable (although for Iceland that doesn't always mean an awful lot!), and all roads, even the quietest ones accessing the most out-of-the-way places, are open for access.
If, like us, hiking is your main reason for visiting Iceland then look no further than the summer months of June, July and August. Temperatures average 8⁰-13⁰C (46⁰-55⁰F), and average rainfall per month drops to just 23mm – perfect conditions for getting out on the hiking trails of the East-Fjords, on our Ultimate Iceland Adventure.
If you've traveled to New Zealand in the spring/summer you're probably familiar with the wildflower lupin. It's a beautiful purple-blossoming plant – and Iceland is covered with them! You may have seen the striking photos of quaint churches on hillsides surrounded by purple lupins – and they're a great reason to make summer the season to see Iceland, particularly if you're an aspiring photographer.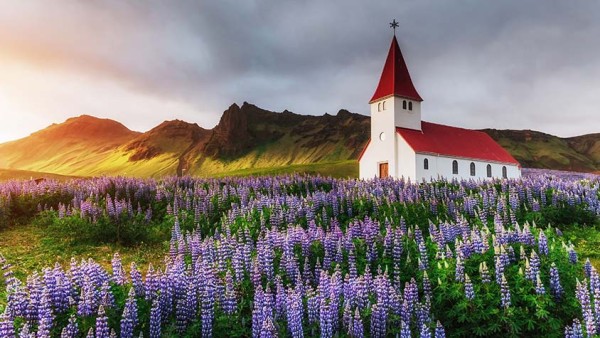 A church surrounded by lupins

Aside from the purple lupins, the national bird, the Puffin (or 'Lundi' in Icelandic) returns to the shores of Iceland from the ocean from mid-April right through until mid-August. Our trips get you to some of the best viewing spots, including the headland of Ingólfshöfði, and the Vestmannaeyjar Islands.
Our favorite thing about the Icelandic summer though, is that all access roads are open, which allows us to reach the east Fjords, where we'll go hiking for 3-nights-4-days between cozy backcountry cabins, taking in a quieter, off-the-beaten-track route into the real natural beauty of Iceland.
Autumn - September, October, November
If you're traveling to Iceland independently, as opposed to with an organized tour group, then autumn is a great time of year to visit. The cost of rental cars and hotels goes down as the main summer tourist season has passed, and you'll find it easier to find accommodation. During the autumn months of September, October, and November the average temperatures are 3⁰-7⁰C (37⁰-45⁰F), with an average monthly rainfall of around 35mm.
Aside from those logistical reasons to visit Iceland in the autumn, it's the best time of year to visit for Northern Lights. By late November the daylight hours have shortened to only around 4 hours (roughly), and with the November equinox comes a great opportunity to see the Northern Lights, in arguably the best country to view them in the world.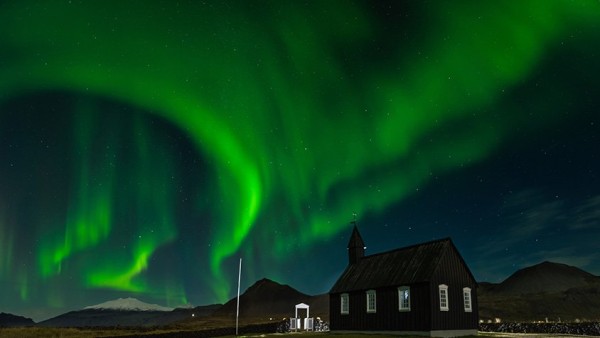 Northern lights above Buðir Black Church
With autumn comes another unique opportunity for an activity you might not get to do at home – animal roundups (or 'dýrahestur'). Local farmers hike into the hills to gather their animals and bring them in to shelter before the harsh winter arrives, and they'll always welcome a helping hand from family members and tourists! You can find out more information on where the roundups are happening at a local tourist office, it's a lot of fun!
Winter - December, January, February
Iceland in winter is beautiful. However, it's important to consider that some areas of the country are not accessible during this season as many roads close – such as the route to the East-Fjords area. It's crucial to be flexible if you're going to travel to Iceland independently in winter – expect delays and road closures - at least if you're planning to stray far from the capital city Reykjavik.
Contrary to popular belief, it's not permanently dark in Iceland in winter – although the daylight hours are short (around 4-5 hours). Guess what though – that means that for those 4-5 hours the sun is either rising or setting, which means the light for photography is stunning, another good reason for an Iceland visit in winter.
Iceland is a geothermal island, covered with volcanoes and constant geothermal activity. With that activity comes natural hot springs, and what better time of year to experience them than when it's chilly outside, the sun is rising (or setting) and there are far fewer tourists around?!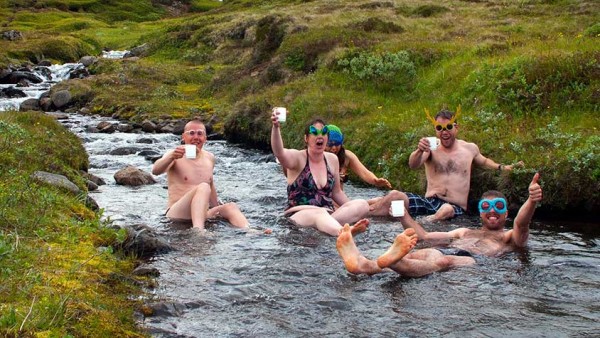 Hikers enjoying a hot water river
If you're traveling independently and seeing Iceland cheaply is your priority - then winter is a great time of year to visit. Flights, rental cars, and accommodation prices are slashed as much as in half – careful though, if you want to spend what you saved on a few drinks, the tax on alcohol in Iceland is very high!
On average, the winter temperatures in Iceland are -2⁰-3⁰C (28⁰-37⁰F), with an average monthly precipitation of around 45mm.