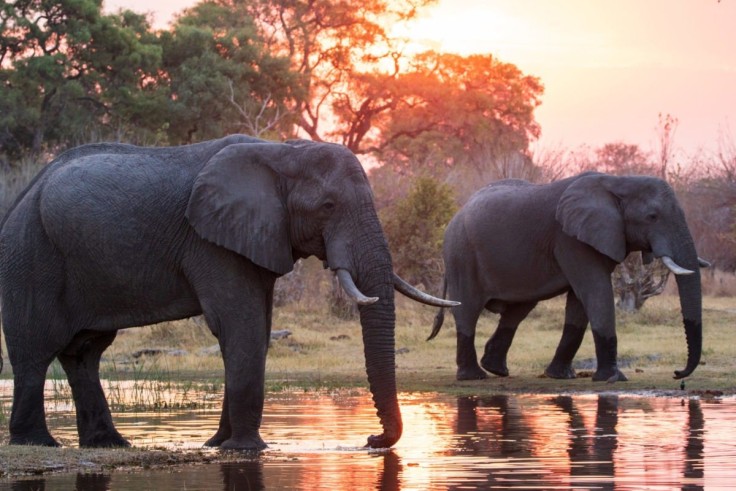 Botswana is a sub-Saharan country with attitude and beauty to spare. Almost 70% of the country is made up of the Kalahar Desert, meaning it's dry and hot - and unforgettable.
Game viewing is at its peak during the dry winter months of May to October when animals are concentrated in ever increasing numbers at water sources. Though some say the cooler months of June to August are the best time of year for a Botswana safari because of the more comfortable tempuratures - the game viewing is consistently excellent year round and with very low annual rainfall it's hard to find a bad time to visit.
The Best Time to Go on Safari
The best time to visit Botswana is during the dry season from May to October when you can expect warm, sunny days, between 22°C and 35°C, along with chilly nights. This time is also when the water levels in the Okavango Delta are at their highest, therefore creating the waterways and channels Botswana is famed for travelling through in a Mokoro!
There's less vegetation around and the animals spend more time around the water making wildlife much easier to spot. The skies are clearer, rain is rare and there are fewer mosquitos, what more could you want!
From May, herds of zebra and buffalo congregate in large numbers and as surface water evaporates, elephants return to the Linyanti Chobe River System, the Khwai River and northern Moremi. June is a great time to see African wild dogs, as they begin to search for dens for their pups. By July the permanent waterholes become the focal points for the larger predators, while the shorter grass makes it easier to spot smaller animals such as the honey badger and Cape fox.
In August the thinned-out vegetation no longer hides everything, seasonal waterholes are empty and great herds of antelope, elephants and buffalo begin to crowd the banks of rivers and permanent waterholes while Botswana's big predators stake them out.
September and October are particularly impressive along the Chobe and Linyanti Rivers with thousands of animals reling on these waters for survival (especially elephants drinking up to 200 litres of water a day!). After a long, hot day foraging for food, hundreds of elephants gather along the river, often running the last few metres, trumpeting wildly in their excitement and thirst.
The green season from November to April is a great time to travel if you don't mind the odd shower. The visitor numbers are lower, the scenery pops with verdant foliage, and animals are giving birth to their young. Migratory birds and baby antelope are best seen now. However due to inaccessibility, some lodges close from December to April, but with the increasing accessibility of fly-in safaris, this is often no longer the case.
What's the weather like?
The dry season begins in May with clear skies and moderate temperatures. The days are no longer quite as furnace-like and evenings can be cool, so it's a good idea to pack a jacket for night safaris. You can expect an afternoon shower or two with typical temperatures of 10°C/50°F in the morning and 28°C/80°F in the afternoon.
June, July and August are some of the best months to visit the Okavango Delta and Moremi Game Reserve though be prepared for surprisingly chilly temperatures, especially for early morning game drives. The average morning temperature is 6°C/42°F.
You can expect beautifully warm days in June without being sweltering, and only the nights approach anything close to freezing, though you'll be wrapped up in blankets on your early morning game drives. Warmer days abound in July, with early mornings still a bit chilly, although by lunchtime you'll probably be in shorts and T-shirt, and the night time temperatures will start to dip below freezing. Despite it now being the dry season, the floodwaters begin to rise as the water filters through from the central uplands of Angola. This is a rewarding time to get out on the water in a mokoro as the channels fill up and you can reach further day-by-day. Around August it starts to heat up again and it's unusual to experience a night-time frost at this time of year, while days can be very hot.
September and October are dry, hot and dusty with not much in the way of bird watching but also not many mosquitoes and less vegetation. Even though it's winter, these months can deliver some of the hottest weather of the year and an occasional thunderstorm. You can expect sparkling blue skies, bright sunshine and hot temperatures during the day in September, with the evenings becoming balmy and the ground is dusty due to the rain receding into distant memory. The heat increases in October more, and activities are timed to avoid the middle part of the day when the thermometer can show above 40°C, though the average temperature remains around 34°C/93°F in the afternoon.