Milford Sound, New Zealand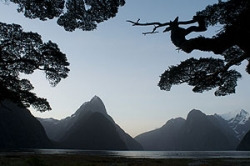 Milford Sound is a classic example of how a picture is worth a thousand words, and yet Milford Sound is notoriously hard to photograph so pictures rarely do it justice. Nestled in the World Heritage Fiordland National Park, Milford Sound has been described as one of the Natural Wonders of the World. Discover the beautiful scenery of this famous fiord, including the awe-inspiring Mitre Peak and stunning waterfalls that crash down into the serene waters. Wildlife such as dolphins, seals and penguins are often seen in their natural environment.
All you really need to know about Milford Sound
1. If it's not on your bucket list, it should be.
Milford Sound is one of those places that seems to always make it on "Places You Have to See Before You Die" type lists. In fact, it was judged the world's top travel destination in an international survey in 2008 (Traveler's Choice World Destination Awards, Trip Advisor). If you need more convincing, Milford Sound is in a World Heritage Area – a combination of Fiordland National Park, Piopiotahi Marine Reserve and the Te Wahipounamu World Heritage Site. That means a lot of people (not just us) think it's a pretty cool place worth preserving. And finally, if that's not enough, Rudyard Kipling himself called it the eighth wonder of the world!
2. Milford Sound is actually a fiord, not a 'sound'.
Geologically speaking, a "sound" is a large ocean inlet, larger than a bay, deeper than a bight and generally wider than a fiord. A fiord is a land feature cut by ancient glaciers. So if you want to get technical, Milford is really a fiord, rather than a sound, but it's not hard to see how its discoverer, John Stokes, made that mistake when he named it. Thanks to a handful of intrepid explorers, including William Homer, Quintin McKinnon and Donald Sutherland (not the actor!), Milford Sound (known to the Maori as Piopiotahi) quickly became a famous tourist destination in the 19th Century and Stokes' name stuck.
3. Bring plenty of insect repellant. Trust me – it's no accident one of the most stunning places on earth is hardly inhabited, by people that is. For some reason, locally brewed insect repellant seems to work better on the sandflies, and there are lots of non-DEET natural alternatives available to try – but bring some of the maximum strength type as well, just in case. 
Milford Sound Cruise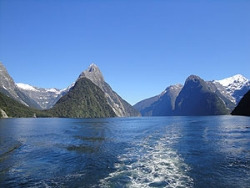 The most popular way to see Milford Sound is on one of the many Milford Sound cruises. If you're looking for a relaxed way to snap some photos, there are a number of Milford Sound cruises you can hop on to get up close to some of the waterfalls around the fiord.
Alternatives to a Milford Sound Cruise: Kayaking and Hiking the Milford Track
When you visit Milford Sound, one of the best ways to take in the colossal scale of the place is from a Sea Kayak (which is what you'd be doing on our Rimu, Tui and Winter Rimu trips). Check out our Sea Kayaking Milford Sound page to see what it entails. For the not-so-fainthearted, Milford Sound is also an epic climbing, mountaineering and base-jumping hotspot thanks to the enormous sheer granite cliffs.
Of course, the other way to discover Milford Sound, Sutherland Falls and some of the impressive surrounding scenery is via the Milford Track. This famous track starts across the lake from Te Anau and finishes at Sandy Point four days later where you'll board an afternoon boat to the Milford marina, offering a welcome rest to weary legs.
Wildlife in Milford Sound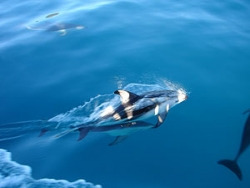 One could be forgiven for thinking it's just the awe-inspiring cliffs like Mitre Peak that attract the visitors every year, but there's also an abundance of wildlife and some ecological gems to be discovered. If you take a cruise or jump in a kayak, there's a fair chance you'll see some New Zealand fur seals, a local pod of bottlenose dolphins and even the Fiordland Crested Penguin ('Tawaki' in Maori), which is one of the rarest penguins in the world, and dusky dolphins.
If you're a keen diver, you can explore the deep sea corals that abound the area (with a thick wetsuit). A surface layer of fresh water darkened by plant matter from the surrounding rainforest allows these corals to grow in much shallower water than usual. Milford Sound has a unique underwater observatory to view these corals while staying dry.
 
Where is everyone?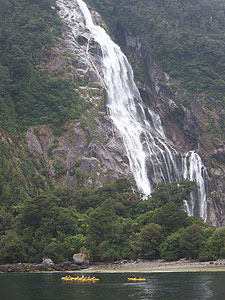 Now that we've painted a picture, it's appropriate to explain why Milford Sound is not (yet) a tourist highway. As history shows, it wasn't a particularly easy place to find in the first place and still isn't particularly easy to get to now. In fact, when Captain James Cook sailed by in 1770, he didn't even spot the entrance to the fiord. Nowadays, you have to be a somewhat dedicated traveler to take the 4-5 hour drive each way from Queenstown (although on our trips we take this into consideration when we design our itineraries and make the most of other attractions in the area, just so you know). There are, of course, the sandflies we've mentioned. It's also a bit of a gamble with the weather; Fiordland is luscious and green because it gets nearly 7 metres (over 20 feet) of rain every year! Don't worry about trying to choose a cloudless day though because when the rain and wind is lashing at you sideways and all around you hundreds of waterfalls are miraculously appearing from almost every cliff top, it's the not such a bad thing. In fact, the word 'spectacular' doesn't really do it justice.
Why travel with Active Adventures?
Above all, we aim to be amazing hosts. We're proud of our kiwi roots, and our professional, warm and relaxed style of running trips around the world is unforgettable.
We're VERY picky about who we select to work in our team, and we have people from all over the world lining up to guide our trips. So we get to hire the absolute BEST in the business.
As soon as you get off the plane, we've got all the details of your vacation covered – top notch meals, comfortable transport & accommodation, amazing guides and INCREDIBLE service.
Whether you're new to adventure travel, or you've never travelled in a group before, you'll find yourself arriving home positively different from when you left.
With our small groups (no more than 14), you'll get to know our team, your fellow travellers, and have the flexibility and freedom to do as much (or as little!) as you like.
It's all about getting there under your own steam – on foot, in a sea kayak, or by bike. What better way is there to experience mind blowing scenery? If it's your first time, no worries – our expert guides have got you covered.