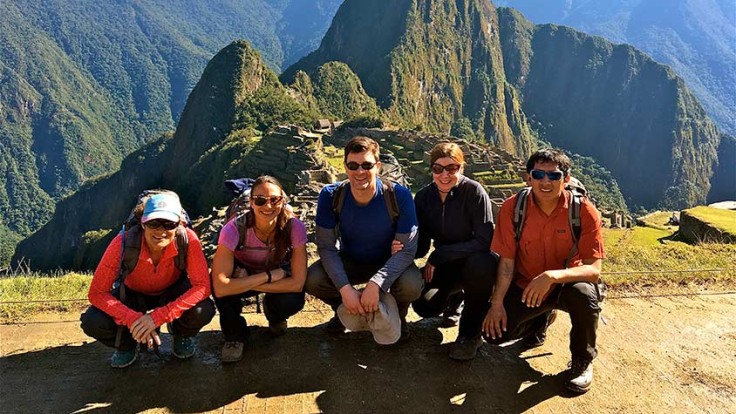 It was around the early 2000's when we started exploring the notion of running our style of adventure trips in Peru. One of the old hands at Active, Phil Boorman, had already spent years in Costa Rica surfing and teaching, as well as guiding groups overland through South America. So, combining his local knowledge with our team's experience guiding adventure tours in New Zealand, Active Adventures South America was born.
One of the signature itineraries, which has stood the test of time proving to be popular year in, year out, is the Ultimate Peru Adventure 'Jaguar' trip. Over the past 15 or so years thousands of guests have shared this 14-day experience with us, exploring Peru on foot, by bike and in a kayak. Of course, one of the bucket list destinations in Peru is Machu Picchu, and the Classic Inca Trail is the favoured way to reach this ancient citadel. The trail is well worn, which adds to the appeal, as hikers seek to follow in the footsteps of ancient Inca.
If you're considering hiking the Classic Inca Trail yourself, don't sit back and put it off! Lock in your spot, as hiking permits are limited and always sell out. Once you've got your spot secured, sit back, relax and enjoy our photo journey to Machu Picchu (and do a little hiking training to get in shape, if you're not already!) All the photos you'll see here are from our guests, taken during their 'Jaguar' trip.
The Journey to Machu Picchu begins in Cuzco
Having spent a couple of nights in Cuzco already and having hiked and biked in the Sacred Valley of the Incas, you'll be nicely acclimatised and ready to hike! Topped up with any last minute hiking supplies, your group will leave town to make your way back through the Sacred Valley of the Incas to the start of the trail at Piscachuca.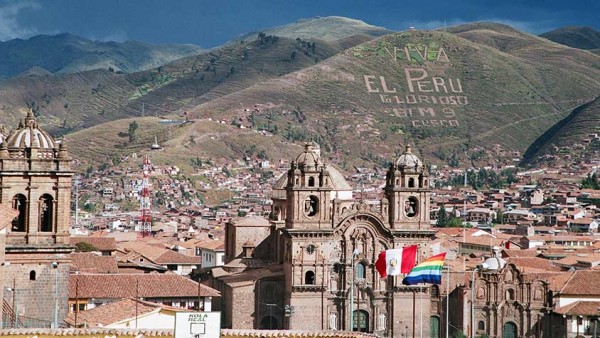 Photo credit: Summer Zimmer 'Jaguar', April 2009
Your hike begins at Piscacucho, or Kilometre 82
Eager and bristling with anticipation, there's time for a fresh-faced group photo before the hiking begins. You'll notice all the wooden hiking poles - those are available at the trail head, and widely used due to the ban on modern hiking poles with sharp points (as they degrade the historic track). You'll hike through a few little villages, dip down into shaded river valleys and take in your first views of the huge peaks that will emerge even more as you hike further.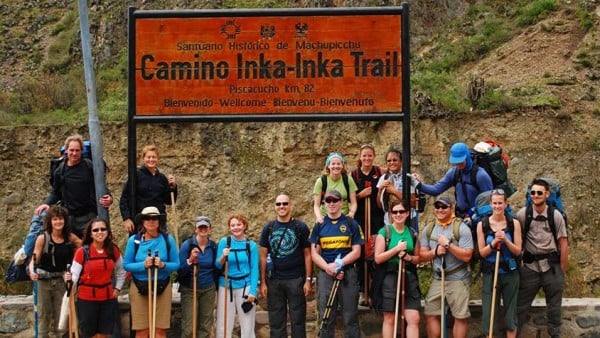 Photo credit: Jen Cha 'Jaguar', November 2008
The trail winds its way up as you head towards Dead Woman's Pass (4,400 metres or 14,435 feet)
Along the hike you'll be rewarded with contrasting environments, as you gain altitude towards Dead Woman's Pass. You'll leave the shaded canopy of the forest and follow the winding trail up through a beautiful mountain pass with stunning panoramic views. There's plenty of celebration as you reach the top. You'll have worked up a thirst and will find yourself adding the layers of clothing back as breeze whips over the pass here! A short hike down the other side to Pacaymayo means a hot cup of coca tea, lunch and a chance to rest up for the remainder of the day and take in the views!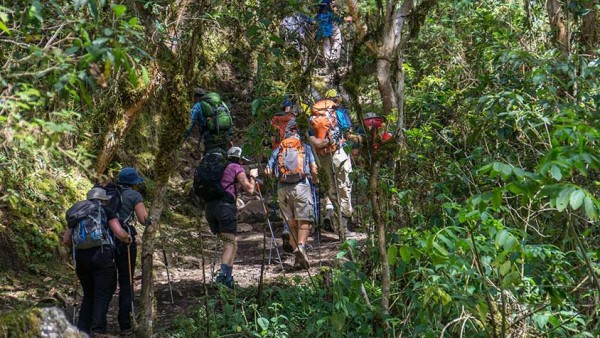 Photo credit: Stan Jacobson 'Jaguar', September 2014
Time for a rest and a chance to take in views of the Rio Cusichaca
Above the tree line at Pacaymayo, you'll want to have your sunscreen handy and plenty of water at your side. During the main season, from May to September the days are dry and sunny, ideal for hiking!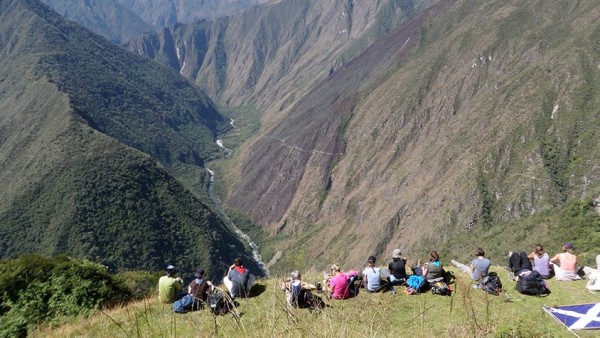 Photo credit: Jane Marek 'Jaguar', June 2009
Along the way, admire the cobbled steps and Inca bridges, built over 500 years ago
After a cup of tea or coffee brought to your tent, you'll be ready for the hike to Wiñay Wayna - the 3rd and last campsite on the trip. This is where you'll enter the eastern side of the ranges that descend to the Amazon basin. There are several fascinating Inca fortresses to explore as you descend down into the cloud forest. And even the trail itself offers plenty of incredible glimpses into Inca craftsmanship, such as this bridge. There's a sense of anticipation at Wiñay Wayna camp, as the Sun Gate and Machu Picchu are only a matter of hours away - it's an early start the following morning!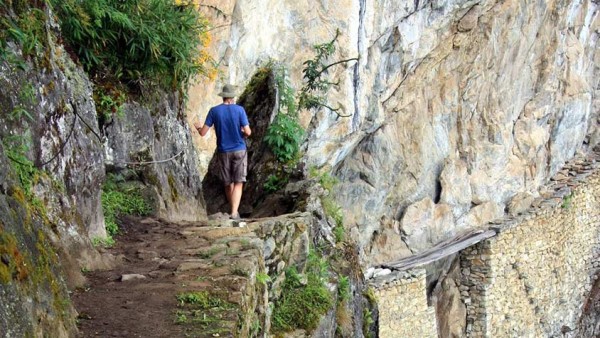 Photo credit: Mandy Gatesman 'Jaguar', May 2010
Arriving at the Sun Gate...
After a hearty breakfast, you'll hike in the dawn light towards the Sun Gate. Intipunku is from the Quechua language; 'inti' meaning sun and 'punku' meaning door, hence 'Sun Door' or 'Sun Gate' as it's often called.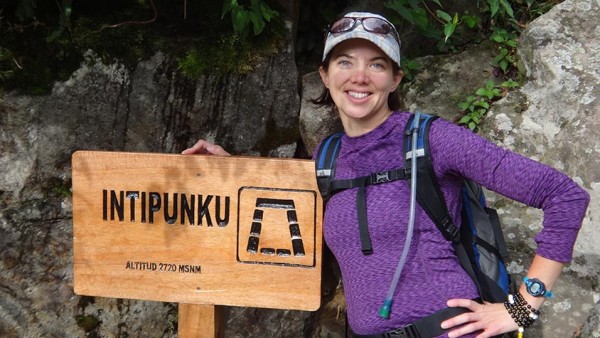 Carrie Lehtonen 'Jaguar', October 2013
...For your first glimpse of Machu Picchu, as the fog lifts
At this spot, as the fog lifts, you'll get your first view of Machu Picchu - it's a surreal moment and a fantastic reward for your efforts. When Machu Picchu reveals itself, it's an incredible sight. Even our long term guides who have hiked the trail dozens of times still get a rush every time they see it.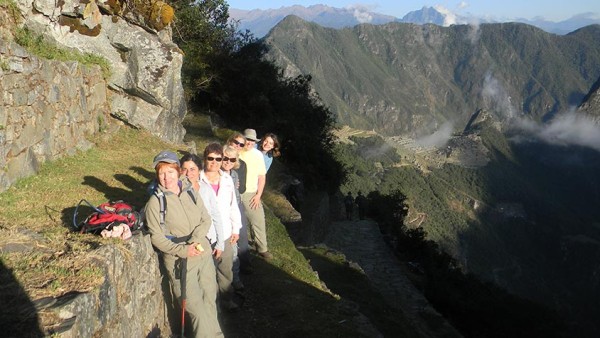 Photo credit: Rochelle Coleman 'Jaguar', July 2010
The day warms by the time you arrive at the ancient citadel
Once you arrive at Machu Picchu, you'll be joined by a local guide who'll show you around the ancient city. As you arrived early (before the visitors from Machu Picchu town below), you'll have plenty of time to explore the many passageways and stone structures.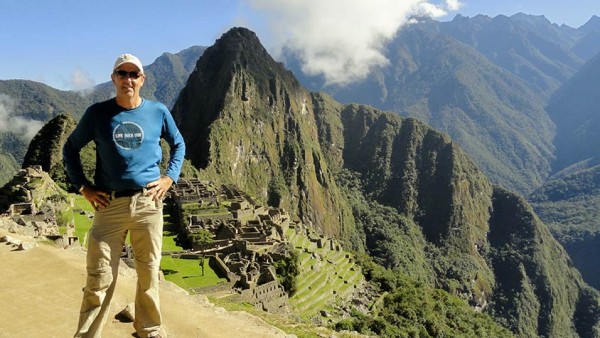 Photo credit: Marian Walrath 'Jaguar', April 2013
Huge smiles for a picture perfect postcard!
A trip to Machu Picchu would not be complete without a group photo!
Photo credit: Rebecca Washlow 'Jaguar', July 2016
Explore Aguas Calientes (now known as Machu Picchu town) after hiking the Classic Inca Trail
After three nights camping on the trail, it's a welcome treat to return back to civilisation. Here you'll have time to pick up any souvenirs and have a look around before we board a scenic train ride back to Cuzco.
Photo credit: Kristy Woodward 'Jaguar', March 2011