New Zealand Extreme Adventure Tours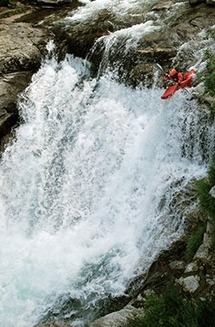 New Zealand is an adventurer's paradise, and no matter what you're into, there's an activity guaranteed to get your blood pumping. Hiking, mountain biking, kayaking, white-water rafting, canyoning, bungy jumping, sky diving - you name it, you'll find it here in New Zealand!
The Active Adventures team is made up of outdoors enthusiasts with heaps of experience in organising, guiding, leading and taking part in adventure events and trips. Check out the photo alongside, of our Director, Phil Boorman kayaking on one of his local back yard runs! If you're interested in a wilderness multi-day whitewater rafting adventure, a spot of canyoning in the southern alps or a few days in heli-biking heaven, we've got a team who know their stuff and will make it happen.
GET A FREE NEW ZEALAND BROCHURE  GET A QUOTE