Liana hails from a small farming town in the North Island, but as she's been with us since 2016 she considers the wider South Island home too. Being a country girl Liana has always loved being in the outdoors in one way or another and grew up with a passion for sports, animals & nature. Studying Adventure Tourism Management in Queenstown Liana fell into tourism very happily and has chased summers across the globe between guiding seasons ever since.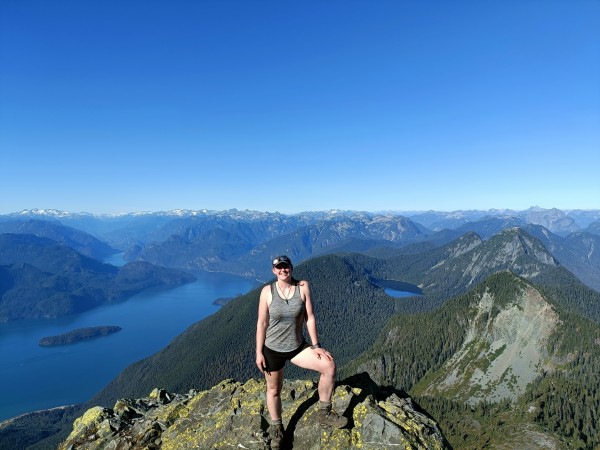 What's your favourite travel destination?
Gonna have to give the generic 'too many to choose & so many more to see' cope out answer there **But if I had to pick....I definitely left my heart in South Africa**
What's your greatest outdoor adventure?
Managed to tick off some incredible adventures in Canada recently - climbing the Tower of Babel at Moraine Lake, 5040 peak on Vancouver Island and more. Closer to home though I've been ticking off Te Araroa (our 3000km through hike in NZ) over the 22/23 season too.
When did you first catch the travel bug?
Heading overseas on sports team started my love of new destinations but working in the US at summer camps was really the start of my solo travelling stories. From there I volunteered at a conservation reserve in South Africa, have numerously road tripped throughout the US and Canada and more! I continuously spend too much time thinking up "where next"...
What are your hobbies?
Huge lover of all things active, outdoor adventure & water based - both in and on it!
Any special talent?
Have recently gotten back into swimming after using COVID years as a training period to tick off some bucket list ultra marathon open water swims for charity! Completed the NZ Triple Crown as of Feb 2022 successfully swimming (non wetsuited, continually & without stopping, aside from feed breaks) across Lake Taupō 40.2km in 12.5hrs, Cook Strait 29km in 7hrs and set a new world record across Foveaux Strait 31km in 6.5hrs.
Favorite quote?
"If you can, you must" - having experienced the agony of not being able to use my body to it's full potential from injury but recovering over time, I have every appreciation for my ability to do all the things I love to and take nothing for granted.
Testimonials
"Liana a powerhouse of organization, knowledge about every corner of the South Island and the Maori history that came with it. Her driving in difficult terrains was exceptional and we always felt safe - add to this that she was super funny!"
- Paul R. – Massachusetts, United States, Rimu, November 2018
"Liana was fabulous. She was kind, funny, enthusiastic and a true Kiwi. Liana helped me pronounce Maori words, shared the history and the culture of the Island, knew the local flora and fauna and she supported me when I needed support on the hikes. She is an excellent driver! There is nothing this woman can't do!" -Sherrilee R. - Red Lake,Ontario, Canada, Kauri, Oct 2018
"As I mentioned above, the guides were definitely a highlight of the trip. Liana was an amazing guide and I wouldn't have wanted anyone else. Her cooking skills were super impressive and I think I told her that after every meal! I really enjoyed getting to know her and hope to keep in touch with her. Food was on point the entire trip and this is definitely a bold statement coming from me; I am a total foodie. I thought the food was wonderful. I loved that we had fresh, healthy options and like the variety of the home cooked meals with dinners out at restaurants. Liana was a phenomenal cook; I was so impressed with what she could whip up on our backpacking trip without any electricity. I loved having the fruit basket on the bus too."
- Shannon M. - Chicago,Illinois,United States, Rimu, March 2017