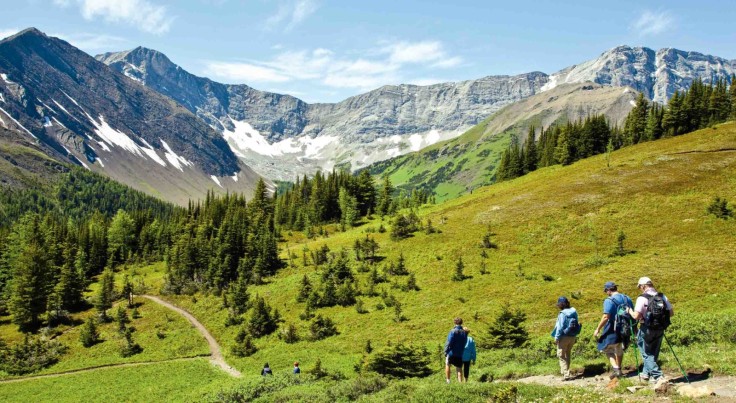 When it comes to your precious vacation time and dollars, a little time and energy spent on the front end will help ensure the vacation of your dreams.
Plus, the whole process can and should be a fun part of the overall experience.
Following are Ten Tips to take you from research to R&R. Our assumption is that you have chosen to book your vacation with a leading tour operator or outfitter to maximize your vacation time. Regardless of whom you end up choosing, these ten tips should help you make the right decision on both who to go with and where to travel.
The first bit of advice is to get everyone involved; remember it's the journey, not the destination that counts so make this part of the journey!
1. Where Are We Going?
If you have a "bucket list" - start there! If not, start creating a dream list of possible destinations and activity options. Then start working on culling it down to create your short list. Look for reasons to remove things from the list. For example: if you plan to travel in August, Mexico might not be your first pick (too hot). Look to align your desired activities, schedule, destination, etc., so you are doing the right activities in the right places at the right time of year. Remember that there will always be next time. This is not your only vacation and things change, so keep track of everything.

2. Remember that Google is Your Friend!
96% of all travel research is now done online. Use "long tail" search terms to hone in on your questions. Example: "Best Family adventure vacation to Yellowstone". Be sure to bookmark the sites you'd like to revisit. Use what you find to further refine your search.
3. But Don't Rely on Google Alone
Visit your favorite book or travel store, pick up magazines like Travel + Leisure and National Geographic Traveler. Talk to a few friends and co-workers - okay, LOTS of friends and co-workers. Read National Park Guides and e-books. Visit your local travel agent, and don't forget to take and keep notes!
4. Stay Organized!
Establish an organized way to keep track of brochures, maps, notes from conversations and website links. This will include all the materials you are going to collect throughout the research and planning process. Even once you book your trip this is good practice to keep planning stress-free. Operators sometimes offer organization tools on their websites. Active Adventures, for example, invite booked travelers to use their online Travel Wallet so every detail, and 'To Do' jobs such as uploading passport scans, is in one place and easily accessible. Check to see how your operator can help you stay on top of everything!

5. Finding Operators
Now that you have a short list of destinations and an idea of what you want to do, start thinking about who you should entrust your vacation to. During the course of your research and due diligence, a few tour company names probably surfaced more than once. That's a good start. Now create a short list of tour operators. Again, Google is your friend. Pour through your travel magazines. They often list the "best of the best" in special annual editions. Find them on Facebook and read reviews. Ask previous travelers for their experiences. In the end you will have created a list of operators that best match your short list of destinations and activities.

6. Your Shortlist
You now have an A-list of destinations and tour operators. Now the fun starts! Begin by sending a quick email or giving them a call. If a company fails to get back to you in a timely manner and/or answer your questions accurately and thoroughly, ask yourself if you want to trust your vacation with them. Get a feel for their customer service and start building a rapport with those most responsive, if you at some point need help with your trip, it'll be these people you'll be calling! It won't take long for one or two to rise to the top.
7. Ask Questions!
Some good questions to start with may be:
How long have you been in business?
Do you run your own tours or outsource them to others?
What are your deposit and cancellation policies?
What if I sign up for a specific date and no one else does?
Do you offer trip insurance? Can I get a ballpark quote?
Can I speak to a few past guests who did the same trip recently?
Tell me a bit about your demographics, who typically takes your trips?
What is your average group size and what is your guide-to-guest ratio?
Is the owner of the company involved in the day to day operations?
What is your company's satisfaction guarantee policy?
(If it's a family trip you're considering) What do you do differently for your family trips?
8. Ask Questions About Specific Tours and Itineraries
How long have you been running this trip?
What is and is not included?
Where do we start and end the trip? How do I get there?
What is a typical day like? How many miles are we biking, hiking, paddling?
Can you tell me about the accommodations and amenities?
Can you accommodate specific dietary needs on this trip?
What if I don't want to bike 30 miles? Is there support?
Who will the guides be and how long have they been guiding this trip?
What makes this trip special and why should I chose it and with you?
9. Digest and Summarize
Now it is time to summarize all you have learned. Take your time. Digest all that you have picked up, read, heard and felt. 1 or 2 trips with one particular (maybe two) operators should now be pretty obvious. Make a few follow up calls. You now have built that rapport and should be able to talk with someone you trust. Go over any final questions to remove any remaining doubt. Picture yourself on that trip!

10. Book, Sit Back, Relax
After this important nine-step process (it sounds like more than it really is, and it's definitely part of the fun) get everyone in your group or family to agree and then, with confidence, pick up the phone, call your new friend and book it!
Now you are truly on your way and the period of excited anticipation begins. But, don't hesitate to stay in touch and continue bonding with the tour operator while you are waiting for that special departure date to arrive.
The operator's job does not end with the booking, it simply begins! If we are fortunate to have you pick Active Adventures as your host for your next great adventure, you can count on us to live up to all of the promises that we made.
When you return home from vacation and bask in the glow of a great experience we hope that you agree that your efforts were worth it, and that they clearly brought you to the perfect tour operator! Have fun and we hope to see you on the trail!
The trekking lovers at Active Adventures