National Geographic Adventure online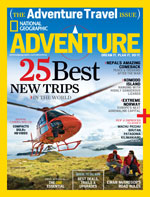 New Zealand: All Access Kiwiland. The North Island has the Bay of Islands and the best surfing; the South Island trumpets Queenstown and world-class hiking. For decades, New Zealand's two halves have been vying for the country's title of premier travel destination. But Active Adventurees New Zealand just gave the South Island a major one-up: the first guided hiking and bicycle crossing from coast to coast.
For this 13-day trip, the high-octane outfitter has chosen the wildest route possible, using little-known tracks (Kiwi for trails) and New Zealand's excellent hut system, which offers everything from bare-bones shelters to cushy crash pads with private bunks and kitchens.
Starting in the temperate rain forests of West Fiordland National Park and the Milford Sound, you'll follow the Greenstone Track through the Southern Alps, then continue along Lake Wakatipu and across Central Otago to the brisk waters of the east coast. Highlights include beach-hut overnights on the Tasman Sea, where penguins and seals are a common sight; hiking to 200-foot Homer Falls; and biking to 3,000-foot Key Summit for views of three glacier-carved valleys, including the one you just hiked through, seven-mile Hollyford.