Interview: Vanessa Wards, Active Adventures Trip Leader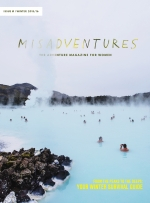 I was quick enough to nab an interview with Vanessa Wards, a guide at Active Adventures, between her travels for work and for fun — though I have to say it's hard to tell which is which. Active Adventures is New Zealand's premier outdoors expedition company. They take small groups on week to two-week long biking, snorkeling, backpacking, kayaking, and caving trips all around New Zealand primarily, but also in Nepal, Peru, Patagonia, the Galapagos Islands, and Ecuador. Sounds like a pretty sweet gig Vanessa's got.
Normally, I shy away from group trips because, duh, I know everything there is to know about the outdoors (not), but these trips are tailor-made for outdoorsy travelers who want the most out of their time and who want to share the experience with like-minded people. The 'active' in Active Adventures is not just clever alliteration; it's real. If you are the type of person who would rather be an explorer than a tourist, these trips might be for you.
So, without further ado,
When did you start working for Active Adventures?
I only started in October of last year, but I'm not stopping anytime soon.
Before this I was doing outdoor adventure work on the west coast of Ireland. I got a one year work visa there and worked at an outdoor adventure camp. But I've done lots of things: community health promotion, working the mines of Western Australia…
Since I left high school I haven't stayed in one town or city for more than two years.
Is that exhausting?
I think it's just me. I love seeing new places, so this is the perfect thing for me.
What attracted you to Active Adventures?
The job description. It was my dream job, and here it was written out to me like, 'this is my destiny.' I hadn't planned on leaving Ireland, but there it was. Originally I'm from north of Auckland, so it was sort of like a homecoming.
What is your favorite trip to lead?
I've only led the New Zealand trips so far, and because of the language barriers and the extreme amount of expertise needed, I don't think there's a chance of me leading in South America. Active Adventures is serious about having experts in their fields lead these trips.
I've mostly been leading a two week trip called the Rimu. It's the best of the best. It's such an amazing trip around New Zealand, and because you're with local guides, you see these incredible places that you wouldn't normally just stumble upon.
But my favorite is an eight-dayer, called the Tui. It adds in this place called Siberia Valley. We fly in on a small plan, do a hike up to glacial lake, stay overnight in a hut, and boat out. It's amazing.
What's next for Active Adventures?
Our plan has always been to grow, and come this summer we're going to have the busiest season yet. It's exciting to see.
What's a place you've never been but you want to see?
Oh, everywhere. The more I see the more that list increases. Alaska sounds beautiful. Canada — all the hiking there looks amazing — or kayaking or just a cruise up some of those fjords. I'd like to do all of that.
Mountains or the beach?
I grew up at the beach, so beach by heart, but something about the mountainous, alpine landscape has got me. That's why I love the South Island. We've got it all.
Honestly, before Lord of the Rings you could ask a lot of people and they wouldn't know where New Zealand was.
Really?
I bet so.
Sadly, I think you're probably right.
Favorite food? And what do you eat on trips?
A Kiwi classic: roast lamb. We have amazing food on Active Adventures trips. People think they're going to lose weight because of all the activity but I think they might put it on because the food's so good. And it's all local to wherever we are that day, whether it's fresh salmon, venison, local produce — really good stuff.
What are the best things to see in New Zealand?
Go on a trip with us. Seriously, they're the best. I love working for Active Adventures because I can say things like that and I really, truly believe it. The trips are incredible.
You've also just got to go to Queenstown. It's the adventure capital of the world. Anything you want to do you can do there, plus the best wining and dining ever. It's such a cool town, from alpine ski season to summer. You know the 9 Great Walks in New Zealand? It's the hub. All the trails lead you straight there. What's better than that?
To see the original print and for more articles like this, visit the Misadventures Magazine website.