Born in Texas, Oaks moved around with her parents and older brother, to North Carolina, China, and eventually Madison, WI, which she now calls home. Those moves and the travel she was able to do while living abroad in China inspired her passion for travel and the outdoors. Her love for the water started the first time she was thrown into the pool as a kid. Since then she has captained her high school swim team and in college, she competed with the University of Wisconsin-Madison's D-1 rowing team.
At UW- Madison, Oaks was a board member for the Adaptive Fitness Club on campus, a club that helps community members with disabilities exercise with a range of adaptive equipment. She was also a part of Hoofers, the university's outdoors club that encourages people to get outdoors and discover new activities like backpacking or ice climbing. Oaks recently completed a major in Community and non-profit Leadership with a certificate in Promoting Health and Wellbeing for Diverse Abilities. She graduated this spring and looks forward to helping others find ways to bring the world and outdoors to more people with a wide range of abilities.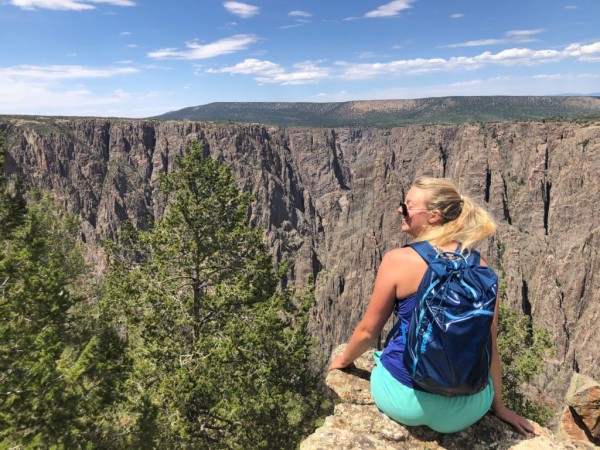 What's your favorite vacation destination?
For me, it's not as much about the destination but rather who I am going with and the journey we go on to get there, the food we try, and the people we meet along the way.
What's your favorite hike?
Ooof! Hard decision. Either Mt. Elbert–nothing has taken my breath away as much as the views and altitude of a 14er! or Angels Landing which had the opposite effect, making me want to hold my breath. And, also, Watchman's Trail in Zion at sunset.
What's your favorite bike ride?
Probably a sunny Saturday in Madison headed toward a small town called Paoli and riding around those country roads ending the morning with Cinnamon rolls, of course :)
Favorite movie?
Italian Job.
Favorite book?
Atomic Habits or The Immortal Life of Henrietta Lacks.
Favorite song?
"Currently Parallel Parking" by Arden Jones or "Banana Pancakes" by Jack Johnson, but really any happy tunes to dance to.
When did you first catch the travel bug?
When I was eleven, while living in Dongguan, China our first outing was to an Ikea to purchase furniture. I have never felt so out of place in what I thought would be a familiar place. Even the squatty potty toilets were confusing. Every day was an adventure and a learning experience living in China and sparked my need to experience not only new places but new cultures and new people. It continued in wood boats on the Li River, kayaking through Karsts in Thailand and caves in Vietnam. Visiting family in Australia led to amazing swimming and hang gliding out over the ocean cliffs. This past year my best friend and I saved up to build a bed in the back of my car so we could explore out west for a month.
What are your hobbies?
Open water swimming, playing games, reading, biking, crafting, hiking, baking, running with friends, backpacking, and hammocking, just to name a few!