'Scar Treks: Trips for those who can't sit still' - March 2001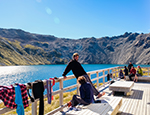 We all know people who refuse to slow down: workaholics, workout fanatics, compulsive overachievers. It used to be that these stress addicts hated taking vacations, but now they've inspired their own travel trend: multi-sport adventures. This breed of package tour is designed for those who can't sit still. While many of these trips are best for those who have a steady relationship with their gym, itineraries and activities are sometimes flexible enough to accommodate travellers of all abilities. Here is a list of trips designed for the leisure-impaired:
Active Adventures New Zealand describes its adventure packages as "not lazy vacations, but you'll finish our trips more rested than if you'd spent two weeks in bed!" If you believe that, try the 'Rimu', an exploration of the South Island that includes backpacking through national parks, sea kayaking Milford Sound, cycling the Hollyford Valley and glacial hiking in the southern Alps. Bungee jumping off a bridge and mountain biking are optional.