By Steve and Joan Ringel of Denver - January 2006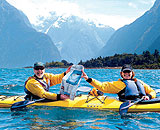 (Paper Trails - where readers send in pictures of their local paper travelling the world!)
Where: Milford Sound
Best meal: Rotherhams, Christchurch, a small, welcoming restaurant run with gourmet continental choices as well as New Zealand specialties. Wonderful desserts. Be hungry; New Zealand menus include appetizers, mains (a small main course), entrees (a regular main course) and dessert. If you ask for salad or vegetables, you will get them; if you don't, they are not likely to be served.
Best deal: Tour with Active Adventures New Zealand. Well planned, no more than 14 in a group, excellent guides, efficiently showcases special places by hiking, biking and sea kayaking that on your own you couldn't organize. Reasonably priced. Spartan but scrupulously clean accommodations. Healthy, family-style meals. Beer and lattes under $3 everywhere.
Best time to go: November and early December - late spring, early summer "down under" - just before Kiwis travel for the holidays and best weather.
Best travel tip: Take rain gear - it is supposed to rain quite a bit, although we had only one day of intermittent drizzle on our last day. Take deet for sand flies, and don't scratch if they bite you. An old Maori myth suggests that when New Zealand was created, it was paradise. The gods sent the sand flies to remind humans how easily paradise can be spoiled.


The Wanderlist: All it takes is one trip to change your life... One trip, one world - that's all it takes. During Active Adventures founder Andrew Fairfax's 2,700-mile cycling expedition from Istanbul to London in 2003, he thought, Why aren't we doing this at home? The result of that epiphany is the 'Weka', a 13-day supported bike trip circling the South Island.
The New Zealand Biking Adventure hits all the top spots, like the majestic peaks and gushing waterfalls of Milford Sound and the blue ice of the Franz Josef Glacier, while staying off most of the main routes, worn thin by tourist traffic.
You'll log roughly 400 miles on Specialized hybrids that can handle gravel farm paths and other classic Kiwi obstacles like cow dung and stubborn sheep. Typical day: Pull off the Central Otago Rail Trail, ditch your gear in a renovated millhouse that serves as home for the night, and head to a tiny rural-outpost pub for a Speight's with the locals.