'Rugged hike has its beauty', by Pamela LeBlanc - March 2007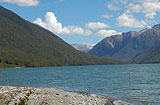 Nelson Lakes, New Zealand - Just before lunch, my backpack starts to feel like I've stuffed a circus tent inside it, and my boots and socks are soaked from slogging through calf-deep streams.
That last swing bridge over a raging river, the one with a sign warning that it could support just one person at a time? It made my knees quake. And, our guides have warned, the steepest part is yet to come. So I am happy when we break for lunch.
Tramping, the New Zealand term for hiking, is challenging but rewarding. It's one of the main reasons tourists come to this country, known for outdoorsy pursuits and adventure travel. And it's why I'm here with my husband - to hike along some of the world's most beautiful mountains and lakes.
It also burns a ton of calories, so I eat a couple of sandwiches, some cheese and a pile of chocolate cookies, then flop on the grass, arms tucked behind my head. I inhale the mountain air. Listen to the water spilling over smooth oval rocks in a nearby stream. Swivel my head in all directions to take in the panorama of snow-capped peaks. I can't believe I'm backpacking on the other side of the world.
We'd begun our adventure the day before, at one end of Rotoiti Lake, in the Nelson Lakes region of New Zealand's South Island. With two weeks to spend on our vacation, we decided to spend half our time with a tour company that specializes in adventure travel, and do the other half on our own. (Some of New Zealand's wildly popular hiking trails require advance reservations; this one does not.) This trek was part of our guided trip.
We hiked for three or four hours along a mostly flat trail, through a tranquil forest of beech trees that hugged the shoreline, then spent the night at a communal hut, throwing down sleeping bags on giant bunks that ran along one wall of a rustic shelter. "Nice day to wag (skip) school and go for a tramp, eh?" a teenager said as we settled in for the night.
This morning, we left behind the flat terrain. We climbed through a forest thick with ferns and moss and more shades of green than a leprechaun's hideaway. Our tramp turned from hike to treasure hunt, as the clear path we'd been following disappeared and we began scampering between markers placed 25 or 50 yards apart. Revived after lunch, we're ready to forge on.
In an hour, we break above the treeline. The mountainside is dotted with shrubs and herbs. We scramble up the rocks, picking our way alongside a glimmering waterfall. Every now and then, we pause for a bite of chocolate or to soak in the scenery, feeling like mountain goats as we creep along.
At one point, a waterfall blocks our path. We have to cross. Our guide helps us through, telling us to face the mountain without looking at the roiling water (it can be disorienting) and sidestep through the icy, knee-high flow. Safely across, we press on, huffing and puffing as we chip away at the 3,000-foot climb.
Finally, we reach the top. We scamper through a mountain saddle, and the Angelus Hut appears in the distance, looking to us like a luxury hotel despite the green outhouses to one side and the tangle of socks drying on the wooden deck.
We ditch our backpacks at the hut, where trampers from as far away as France and Denmark are lounging and laughing. Out on the deck, we can't believe the view. A tiny alpine lake is glinting in the sun. Temperatures are in the 50s, but this is cause for celebration. Besides, I am sweaty and stinky. My husband and I walk down to the lake. I peel off my clothes and wade into the water up to my waist. With a gasp, I slosh ice-cold water over my head: hiking nirvana.
Back at the hut, I sprawl on the deck and sip a cup of hot tea. Later, we sup on pasta and nearly fall off our bench when the guide brings in two no-bake cheesecakes she just whipped up. We crawl into bed before the sun sets. Day three begins with a trip to the lake to gather drinking water for our bottles. We don't waste any time starting the hike along Roberts Ridge, hoping to beat some dark clouds that are building in the distance.
The wind is brisk, and parts of the walk are exposed, with scree fields dropping off on both sides. Now and then I'm slammed by a wind gust that sends me dropping to all fours to clutch the rocks. The route is high and narrow, and the going slow, but the scene that unfolds around us is gorgeous. We scamper from marker to marker, scrabbling over fields of canteloupe-sized rocks, then boulders the size of hogs, then loose gravel that slides away with a rustle at each step. All I can think, as I waddle along like a crab, trying to keep my center of gravity low, is "one false step and I'll be rolling for miles . . ."
After a couple hours, the slopes smooth out and the rock turns to alpine grass and cushion plants. Our guide tells us that ranchers sometimes mistake these low, spongy white plants for wayward sheep, spending hours to hike up and rescue them. Unlike lost sheep, we make steady progress down the ridge. We pause for lunch at a wooden lean-to, and march on. We pass an abandoned ski resort. The grasses turn to shrubs. We meet a few trampers on their way up. The shrubs turn to trees, and then we hit the switchbacks. For an hour, we pace downhill, weaving back and forth in a never-ending crisscross. The lake, once so far below, gets bigger and bigger. And finally, three days after we set out, we stumble into a parking lot.
Funny thing about this adventure: If I'd clearly known what I was getting into before taking my first steps, I probably wouldn't have done it. The wind, the precarious walk out, the close quarters with complete strangers - it all would have scared me away. I'm glad I did it, though. The feeling when we reached Angelus Hut, after a day and a half of hiking, was worth every step along the way.