'Take a hike', by Jim Beriau - February 2003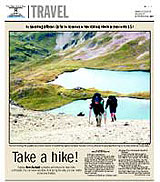 Attitude is everything. It could not have been clearer after seven years of marriage. Her body language said it all. "Just what on Earth am I doing at 6,000 feet with a 30-pound pack on my back, boulder-hopping on this ridge?" Her trekking pole slapped some of the small rocks out of the way. She stopped to pick one up. Must be a souvenir, as if the blisters on her feet weren't enough. I watched all this from a distance and did what all good husbands should do. Nothing.
I knew Jeannette well enough to know that she would eventually adjust her attitude. Sure enough, after falling on her backside in the grass, she did. With more-focused determination, she was one of the first from our group of 12 down the mountain that day. We had just concluded a three-day hike into Nelson Lakes National Park on the South Island, part of our two-week Active Adventures New Zealand tour. New Zealand is made up of North and South Islands. Our tour time was spent on the South Island.
Active would be a good word to describe this vacation. We biked along miles of unspoiled scenic mountain roads. We hiked through a rain forest to a summit overlooking Franz Josef Glacier. We climbed mountains along the Southern Alps as high as 6,000 feet. We sea-kayaked on a beautiful lagoon in Okarito and a fiord in Milford Sound. We visited a winery, we tried local restaurants. And on top of all that, the sun didn't set until 9:30 p.m., which meant we were able to pack in a lot of adventures. This was February, New Zealand's summer.
To get to the many remote areas of the South Island, the 12 of us rode together on a small but comfortable bus we fondly nicknamed the silver mini-Winnie, driven by our guide Ken, along with Jacqui, our cook, and Brendan, a cook in training. They were professional, personable and, above all, knew how to have a good time. Our group bonded pretty quickly. We met each other after flying into Christchurch, and then on our first excursion in Kaikoura we swam with seals. For more than two hours, our guide valiantly led us in our wet suits to waters suited only for marine wildlife. The seals seemed to be laughing at us from their perches in the safety of the rocks. We didn't belong there. Later at dinner we would share our experiences and laugh until our sides hurt.
As I edge closer to age 40, there were many physical challenges. The next day, we went on a three-day Nelson Lakes hike, a series of treks through beautiful beech forests and steep, rugged mountains. We walked from hut to hut and drank from crystalclear streams as we ascended steep rocky slopes. Maybe because I stopped to snap off a photo or two, or I wasn't in as good shape as I thought, I always ended up being alone. This was OK, as I urged myself up to the top.
"One step at a time", Ken, our guide would say to me in his Kiwi accent. He was right. During that 2,000-foot vertical ascent up Mount Angelus, I figured if I could make it to the top, I could do anything on this trip. Two hours later, I was standing with my wife on top of the world. I felt a great sense of achievement as we walked to the hut. That night I ventured outside while everyone else slept, to find a large, white full moon rising above the craggy mountainous landscape. I thought I was on a different planet. The stars littered the black sky from horizon to horizon. I thought, "now this is a vacation."
Music was a large part of our driving pleasure, and Ken supplied us with a fun mix of new and old. He was a great DJ by always matching the music to our moods. The Doors' Riders on the Storm provided the perfect soundtrack to the passing landscape in the rain-drenched Fiordland National Park. Waterfalls cascaded down from black cliffs that disappeared into the clouds.
This was all after a trip to Punakaiki, where we spent a day relaxing. Another short hike, then a four-hour kayak trip into the Okarito Lagoon. Then another half-day hike into a rain forest, and a look at the Franz Josef Glacier. All this, then the van trip to Fiordland National Park.
Sky-diving adventure
It's Queenstown next, with two days to relax."OK, when the light in front of you turns green, we are good to go. Keep your head back, lean into me, relax and have a great time," said my tandem sky-diving instructor. It was my turn next. Three of us jumped, each with an instructor and video guy. The light flashed green. I sat on the edge of the plane and looked down. The view was incredible. I was more excited than scared. Just before leaping out of the plane, I heard my wife scream some words of encouragement. She had done this before.
Falling at 120 mph is pure adrenaline rush. Your entire body is weightless. I tried to scream, but the air filled my lungs too quickly and wouldn't allow it. After freefalling for about 45 seconds, we floated down in silence. This is the craziest thing I have ever done, but I was glad I did it. Back on the ground, we were all shouting and dancing. Eight of us from our group jumped that day - another great bonding experience.
This was Queenstown, the adventure capital of New Zealand. Surrounded by mountains aptly named The Remarkables, they formed a stunning backdrop to Lake Wakatipu. We could not sit still. My wife, along with two others, tried the highest bungee jump in New Zealand, the Nevis, a 400-foot jump from a cable car suspended by wires over the Nevis River gorge. They all remained high from that experience for days after. There were lots of other activities to try in those two days: mountain biking, canyoning, jet-boating, whitewater rafting and riding in an acrobatic plane. Then in the evenings we all had dinner together and raised a ruckus in the restaurants and clubs.
The next morning we departed from Queenstown to Milford Sound, so some of us took the opportunity to mountain bike the road alongside beautiful Lake Wakatipu. I hadn't done very much biking, but surprisingly I found this to be a blast. After a short afternoon hike in Fiordland National Park, we stopped again. Outfitted in rain gear, several of us biked an aggressive 17- kilometer downhill portion of the road to the Milford Lodge, where we stayed.
Next on the agenda was a four-hour extreme kayak on Milford Sound. The rain came at us in sheets while the wind and waves tossed our bright, bouncy kayaks around like toys. We were having a rough time of it in our two-person craft. (Those colorful brochures had made it look so tranquil!) Even through all the choppy waters, Jeannette's sore wrist and my aching and tired arms, we hung in there for the challenge, remembering to marvel at the majestic beauty of Mitre Peak plunging into the sea, its tip shrouded in clouds. In the distance, a waterfall that seemed three times higher than Niagara Falls was spilling into the fiord.
In the middle of nowhere
The most peaceful place we stayed during this tour was in Braemar Station, at a sheep shearer's house on a farm alongside Lake Pukaki at the base of Mount Cook. We were in the middle of nowhere with stunning views of the Southern Alps. The golden, grassy landscape was vast, open and quiet. Some of us slept out on the covered porch. Later that evening, I was so transfixed by the bright night sky, sleep seemed impossible. The next morning we were up early and ready for our seven-hour strenuous hike up a ridge alongside Mount Cook. This would be our final hike of the tour - 6,000 feet up to Mueller Hut.
The weather was perfect. After almost two weeks of hiking, my legs and stamina greatly improved and I found this hike to be the most challenging, yet the most exhilarating. The last 1,500 feet or so, we were climbing almost vertically over loose rock and large boulders. After three hours, we were there. We ate lunch, played in the snow, took some group photos and hoisted our makeshift flag. The camaraderie of our group ensured plenty of good times. We played Crazy 8's by candlelight in Lakehead Hut. We showered beneath a breathtaking waterfall on a beach in Punakaiki. We danced like fools at a Latin club in Queenstown.
We sang songs together as we hiked up steep mountains. We enjoyed sharing great New Zealand beers and wines at local pubs and vineyards. Conversation was always witty and full of goodnatured teasing. We encouraged and supported each other in our personal goals. We shared a unique New Zealand experience and made friends we know we will see again.