National Geographic Adventure magazine - November 2006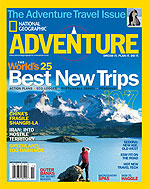 What's new: Ask any group of experienced guides about their dream trips, and chances are they'll rattle off dozens of options. This year Queenstown-based Active Adventures New Zealand invented a creative way to take advantage of all this unrealized trip-planning potential: The outfitter inaugurated an annual competition among its guides to design the best trip around New Zealand. The winner, of course, would get to lead his or her entry.
On the ground: After trekking in the shadows of 12,316-foot (3,754-meter) Mount Cook, you'll set out on a three-day hut-to-hut hike along Warmington's favorite trail, the five-year-old Hump Ridge Track. Tucked into the southwest corner of the South Island, the 35-mile (56-kilometer) route has two new backcountry mountain lodges and offers stellar views of both Lake Hauroko, at 1,516 feet (462 meters) the country's deepest lake, and the moody mountain ranges of Fiordland National Park. The trip culminates with an overnight cruise through isolated Doubtful Sound, where you'll explore waterfall-draped shorelines populated by seals and gape as the sun dips into the Tasman Sea.