Outside magazine - April 2009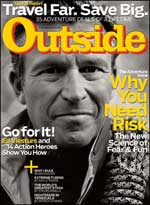 Deal of the year: That New Zealand is the place you fantasize about most is no surprise. But here's what is: This is the year to stop drooling and go. With a historically favorable exchange rate (at press time, one U.S. dollar equaled just under two New Zealand bucks) and round-trip flights available for around $800, adventure in Middle Earth is suddenly on sale.
For multisport gluttons: Do it all
On this whirlwind, called the Essence of the South Island 'Tui' , guests hike the Franz Josef Glacier, a World Heritage site; cycle Hollyford Valley; sea-kayak Milford Sound; and take a scenic flight to the Siberia Hut, one of the South Island's many isolated mountain lodges. Departures between October and April.