Outside magazine - March 2006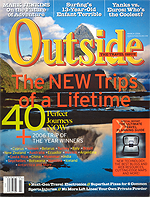 The Wanderlist: All it takes is one trip to change your life... One trip, one world - that's all it takes. During Active Adventures founder Andrew Fairfax's 2,700-mile cycling expedition from Istanbul to London in 2003, he thought, Why aren't we doing this at home? The result of that epiphany is the 'Weka', a 13-day supported bike trip circling the South Island.
The New Zealand Biking Adventure hits all the top spots, like the majestic peaks and gushing waterfalls of Milford Sound and the blue ice of the Franz Josef Glacier, while staying off most of the main routes, worn thin by tourist traffic.
You'll log roughly 400 miles on Specialized hybrids that can handle gravel farm paths and other classic Kiwi obstacles like cow dung and stubborn sheep. Typical day: Pull off the Central Otago Rail Trail, ditch your gear in a renovated millhouse that serves as home for the night, and head to a tiny rural-outpost pub for a Speight's with the locals.