National Geographic Adventure Online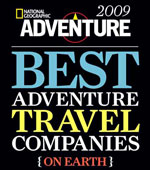 For the second time in as many years, we've conducted an unprecedented survey of adventure travel companies, based on the idea that a traveller's most important decision is not always where to go but who to go with. For the 2009 edition, we spoke to more guide services—and their clients—than ever before.
Active Adventures New Zealand overall score: 89.80
New Zealand's most popular destinations get special treatment by this outfitter. While most tourists see Milford Sound from the deck of a cruise ship, Active Adventures New Zealand clients navigate sea kayaks among the fjord's seals and dolphins. And whereas the majority of visitors to Mount Cook catch just a quick glimpse of New Zealand's highest peak, Active Adventures New Zealand groups stay for two nights at a high-country sheep farm overlooking Mount Cook. Then they spend a full day hiking in Mount Cook National Park. The lodging is eclectic, from mountain huts to an apartment in Queenstown.
Ultimate South Island Adventure 'Rimu'; hiking, sea kayaking, biking; 14 days
Rating Criteria Scores
Overall: 89.80
Quality of service: 92.00
Sustainability: 83.50
Spirit of adventure: 94.50
Education: 89.00
Client satisfaction: 90.00