National Geographic Adventure magazine - February 2003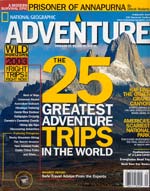 Here's why people fly so far to hike in New Zealand: A third of the island nation is parkland, and it has just 3.8 million residents. Consequently, hundreds of miles of lightly used trails weave through rugged ranges and untrammelled rain forests. Active's 14-day loop is billed as multisport, but most clients opt for tramping around the canyons of Punakaiki, Franz Josef Glacier, the Mount Cook Region, and other South Island beauty spots. Nights are spent in lodges, B&Bs, and a sheep shearer's cabin on a 63,000-acre farm.
Why this trip: It dodges the predictable Milford Track in favour of trails loved by locals, and it offers two levels of hiking-moderate and challenging-on every outing.