Tabatha, or more affectionately known as Tabs, was born and raised in Shuswap Lake, British Columbia. Tabs was fortunate enough to have a big backyard full of trees and trails to grow up with. She would frequently go for walks through the forest with her dad, always learning about the different plants, trees and animal signs. Nowadays, it feels like second nature to be able to identify local flora and fauna. Most of the activities in the Shuswap are of the motorized variety but as Tabs found more human-powered outdoor purists such as white-water rafting, there was a shift. Guiding white water with a local company, Adams River Rafting, opened the world of adventure tourism and instructing.
Tabs attended the Mountain Adventures Skills Training certification program at College of the Rockies in Fernie, BC for 9 months when she was 25. After Fernie, she decided to move to a place she had been thinking about since her first Swift Water Rescue course, Squamish, British Columbia. For the past 5 years, this is where she calls home and has the opportunity for endless adventures in every season. Tabs works a variety of seasonal jobs such as outdoor education for school trips, leading programs at the local rec center and working at an awesome outdoor gear store. In her free time, Tabs fills her days with rock climbing, hiking, mountaineering, ice climbing, backcountry skiing and circus sports such as aerial hammock and acro yoga. She mainly adventures with her partner, Alex, who happens to be a professional photographer and is always creating cool shots of the places they go together.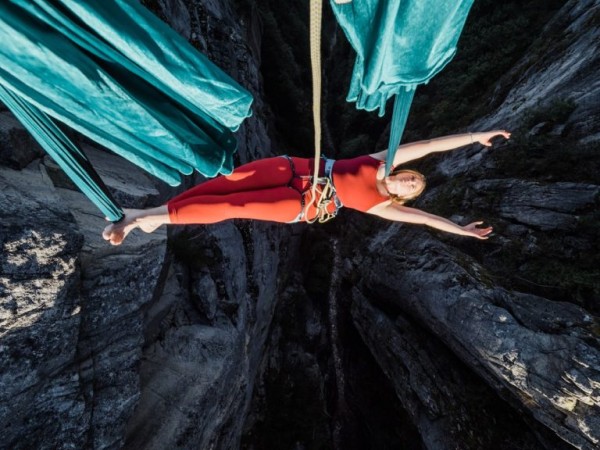 What is your favorite vacation destination?
I have a few favorites, I really enjoy Hawaii, I've been fortunate enough to go there with my family and It's just so warm and beautiful. I also have lived in New Zealand a couple of times and the opportunity for adventures there is very high, I would love to go back again!
What is your favorite hike?
Locally, I would say I am a big fan of hiking the Stawamus Chief in Squamish, It is relatively short but always has a beautiful view from the top. I had the opportunity to hike the Routeburn Track in New Zealand which is 32 kilometers and even though we did it in a day, I thought the terrain and views were stunning.
Favorite movie?
Miss Congeniality always comes to mind, I just love a strong female lead!
Favorite book?
The Golden Compass Series by Philip Pullman End of the Rope by Jan Redford
Favorite song?
I have a constant soundtrack going in my head so I don't think I can pick a favourite. I do really enjoy most 80's rock music though.
When did you catch the travel bug?
My family really enjoyed taking a break from the Canadian winter, so most years we would go somewhere warm for a week or two. After I graduated from high school, I would leave most winters to do a working holiday visa for 6 months and come back for Canadian summer. I have lived in Australia, New Zealand and Thailand.
What are your hobbies?
I like to think of myself as intermediate at many things, perhaps too many things. Rock climbing, hiking, mountaineering, ice climbing, backcountry skiing, and circus sports such as aerial hammock and acro yoga. I also enjoy water sports such as white-water kayaking, canoeing, canyoning, and swing dancing. I find it hard to be able to do them all but my favorite days are the ones where I get to do a variety of these activities, always with friends of course.