Ruby
New Zealand Guide
Ruby is a Kiwi, a North Islander who was born on the Kapiti Coast north of Wellington in the bottom half of the North Island. She lived there for 18 years until she move to Dunedin for university.
Ruby likes to get away most weekends and do something fun in the outdoors. In the summer you can find her tramping, camping, or kayaking around the beautiful New Zealand countryside discovering new places. In the winter Ruby will most likely be spending her time up the mountains snowboarding.
Do you have any special talents?
Tricky question..... I can make a 3 leaf clover with my tongue, and I can put my feet behind my head! Haha!
What has been your greatest outdoor adventure?
I spent one week exploring Paradise in Mount Aspiring National Park with fellow PE students, we did some serious bush bashing and a long slog up Mount Alaska! We had camp fires every night and spent some nights sleeping under the stars.
Do you have a favourite quote?
Yes I have a few, Dr Seuss is too good to have to only choose one!
"You're off to great places! Today is your day! Your mountain is waiting, so get on your way!" - Dr Seuss.
"Today was good. Today was fun. Tomorrow is another one." - Dr Seuss.
Have you studied beyond school? If so in what?
I have just finished a Bachelors degree in Physical Education Sport and Exercise Science at the University of Otago in Dunedin.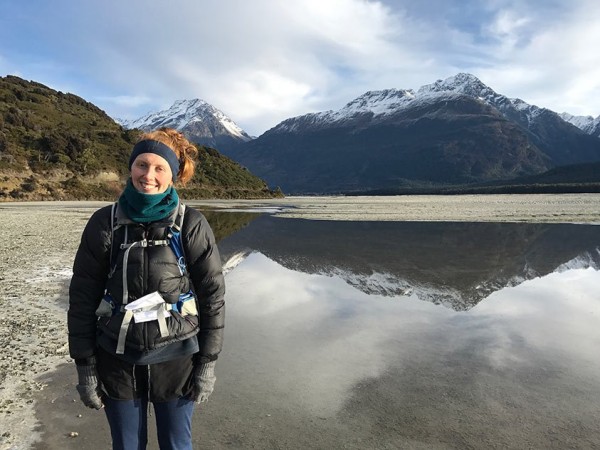 Testimonials
"Spectacular. Really learned to enjoy her efforts and knowledge and enthusiasm. She kept our meals on schedule and we enjoyed them all. (James did a nice job grilling too). Ruby is a true ambassador for NZ."
- Jack (St. Louis, Missouri, United States), Lois (Saint Louis, Missouri, United States), Rimu March 2018
"Ruby was equally terrific. She has a great sense of humor and was very thoughtful. Excellent cook-can't believe all the wonderful meals she whipped up for us."
- Jeanne (Washington, DC, United States), Rimu January 2018
"A very good cook, fun and charming!"
- Larry (Whitefish, Montana, United States), Rimu November 2017