Ruby
New Zealand Guide
Where were you born and where did you grow up?
I grew up in a tiny seaside town in south-eastern Australia, on the border of Wilsons Promontory National Park. My father was a parks ranger and my mother taught physical education so we spent lots of time outdoors and they're both very passionate about the natural environment. I moved to Melbourne for university and once I graduated I moved around a lot, working in Auckland, Perth, Sydney, Canada and throughout Europe.

What are your hobbies?
I love cooking (especially baking), reading a good book, getting out into nature and hiking. I especially like going on multi-day tramping adventures to stay at backcountry huts.

What has been your greatest outdoor adventure?
Working at a remote fly-in wilderness lodge in the far north of Canada - watching the aurora borealis around the campfire in -45 celcius is something I'll never forget. We also did plenty of skiing, snowshoeing and ice fishing, and went on overnight canoe trips once the lake unfroze. There was also a First Nations university in residence - we were able to join some of the classes and learnt some awesome outdoor skills.

What did you do before you became a guide?
After graduating from university I worked as a financial analyst in corporate restructuring for a few years before moving to Canada to pursue a more outdoors-based lifestyle. I have worked in a number of tourism roles over the past few years throughout Canada and Europe, mainly in remote environments. When I'm not working for Active I work at a hike-in teahouse near Lake Louise in Canada. It's very rustic, without electricity or running water, but living in such a pristine natural environment is an amazing privilege.

Describe a life experience that has shaped you today?
In 2016 I left my corporate job in Australia to spend a month walking the Camino de Santiago, an 800km historic pilgrimage route across the north of Spain. I met some amazing people, enjoyed the beautiful scenery, and the food and wine was pretty amazing too! I have since walked two other Camino routes in 2017 and 2018 and would one day like to open my own hostel/kitchen on the Camino.

Have you studied beyond school? If so in what?
I completed an Arts/Commerce degree at the University of Melbourne, became a chartered accountant and worked as a financial analyst until 2016 when I left office life to go travelling and never went back!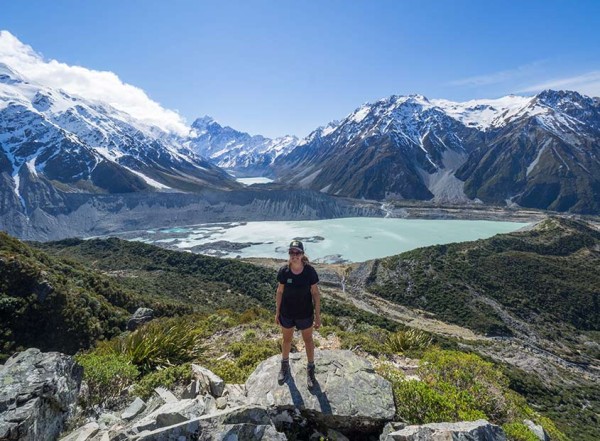 Testimonials
"Ah.. the Kitchen and Logistics Goddess! Ruby was such a delight, and her positive attitude quite infectious. I loved the music playlists she would put on during long van rides, and watching her learn how to throw a frisbee with Nick, as well."
- Maggie (Palisade, Colorado, United States), Rimu October 2018
"I still can't believe our Rimu was only Ruby's 2nd Active Adventures' trip because she was professional, organized, energetic and - I've written about this already - an amazing cook and meal planner. Case in point: on one of our last 2 dinners, after almost 2 weeks on the road, she remembered I don't like asparagus and served me string beans instead. How awesome is that?!! Plus, our bus snack basket always had fresh fruit and crunchy bars, etc. And she and Nick told great riddles. Ruby also had suggestions for eating in Queenstown that turned out to be great places. "
- Marianne (Monrovia, California, United States), Rimu October 2018
"This was only Ruby's second trip & she performed like a pro. She & Nick got on great, as if they'd been working together for years. She made a special effort to acknowledge & celebrate my birthday, decorating the bus, putting together a celebration playlist & creating a special dessert, complete with candle :-)"
- Peggy (Palisade, Colorado, United States), Rimu October 2018