Any former guest lucky enough to have been on one of Ron's tours knows that he's one of the best in the business. Mastering his craft alongside his father and co-founder of Euro-Bike Tours, Ron has been guiding tours and developing tours in Europe for over 45 years. Ron is one of the most knowledgeable guides about all things European travel. Born in Canada, Ron has also lived in the Netherlands, the United States, France, and Germany. He's fluent in many European languages and has a passion for guiding that is unmatched.
What's your favorite vacation destination?
Europe. Within a relatively small area, there is such a variety and abundance of cultures and landscapes. And in Europe, Italy is my favorite country: the arts, the food, and last, but not least, the lively people. With France as a close second.
What's your favorite bike ride?
Short bike ride: through Giethoorn (Netherlands) across its many small canal bridges.... at 6 PM when the tourists are gone and the locals are having dinner so that I can have the whole place to myself. Regular bike ride: from Burgeis to Merano (South Tyrol), simply because an all-day ride of gentle downhill is so relaxing. Strenuous bike ride: up Mont Ventoux, starting in Bédouin... On a nice day in October, moving from late-summer to fall colors to winter snow at the top.
What's your favorite historical site, castle, museum, etc.?
The prehistoric Grotte de Font de Gaume in Les-Eyzies in France. I have been there so many times with our groups, and it continues to be a moving, humbling experience.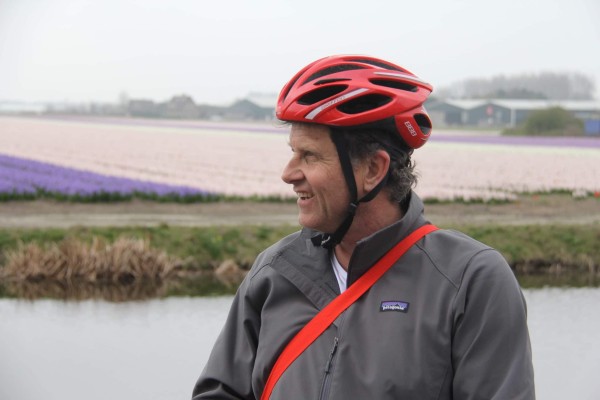 Favorite Movie?
I should be saying A Bridge Too Far... because I was an extra (a German soldier) in this 1976 movie, but I won't. There are so many good ones and I find it impossible to choose. Let's just mention two: Once upon a Time in the West and Babette's Feast.
Favorite Book?
On the Road by Jack Kerouac.
Favorite Outdoor Activity?
Cycling. I love the independence of this activity and the ease with which one can submerge in the surroundings. What are your hobbies? Cycling, hiking, repairing bikes, keeping track of local & national & international politics, gourmet dining & wining.
When did you first catch the travel bug?
By the time I was 7 years old, I had already lived in 4 countries, speaking three languages. I have been traveling ever since... (with the exception of 2020).