Nataly was born in Sunny Southern California where her first exposure to our National Parks began on camping trips with her family among Giants in Sequoia National Park. While spending 3 years studying Zoology in Moorpark, California, she took a summer job in Yosemite that would change her life forever. It was that summer where she decided to let the natural world become her teacher. To study and learn about the wild flora and fauna, taking to the trails to surround herself with the thriving ecosystems that make our National Parks so spectacular.
She has spent most of her summers leading hikes and backpacking trips in Glacier National Park & driving Snowcoaches around Yellowstone in the winters. She loves expressing her passion for the outdoors with her guests, and sharing experiences that will bond them to this wildness forever! When she is not guiding trips she is most likely in the backcountry somewhere, climbing, hiking, skiing, biking, and spending a lot of days on the road visiting our sacred parks & wild places, enjoying time around a crackling fire, eating good food, reading a book & planning her next adventure.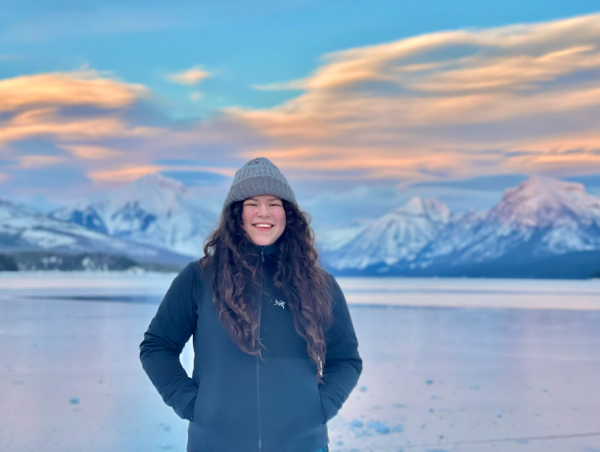 What's your favorite travel destination?
Yellowstone in the winter is incredible! It's a remarkabkle thing to experience Fire & Ice coexisting!
What's your favorite hike & bike ride?
I'd have to say it's a tie between the summit of Vogelsang Peak in Yosemite National Park and the summit of Mt. Siyeh in Glacier National Park. I love high places and scrambling on all fours to get up to a stellar view! Favorite bike ride is Going-to-the-Sun Road in Glacier!
What's your greatest outdoor adventure?
So far, my favorite's gotta be summiting Mt. Siyeh in Glacier National Park. There is a large concentration of grizzly bears there because of a significant food source and let's just say, we all shared the mountain together that day!
When did you first catch the travel bug?
The summer of 2001 stands out the most to me. I was 7 years old and my parents planned this summer long road trip through Mexico. I would never forget meeting extended family all over the country, getting in touch with my roots, whilst listening to my dad's stories of his outdoor experiences including climbing up Iztaccihuatl volcano! I definitely see where I get my adventurous, wild heart from.
What are your hobbies?
Walking into the wilderness for days, swimming in anything from alpine lakes to warm natural (won't boil you alive) hot springs, playing the guitar, cooking good meals, dog sitting, writing stories on my notes app & journal.
Any special talent?
I'm really good at surprising bears on the trails.
Favorite quote?
"The freedom and simple beauty, is just too good to pass up." Chris McCandless