Megan was born and raised in Orange County, California. Her first tastes of adventure came early as she and her family camped their way around the national parks of the American West. Megan grew up with a love for the ocean, and, when the opportunity presented itself, she moved to Hawaii to take her surf game to the next level. Here she worked as a farmhand within a Banana company (more like a Banana Family). She had her fun getting dirty and making all your banana dreams come true!
After 5 years on the islands, she moved on to Arizona's Sonoran desert, biodiversity of a drier variety. She then began guiding UTV tours across Arizona's Tonto National Forest and gained an intimate appreciation for the landscapes of the Southwest. Megan's love for the outdoors is ever-growing and she looks forward to getting out to adventure with you.
What's your Favorite vacation Destination?
Anything with long waves! Hoping South Africa is next.
What's your Favorite Hike?
Kuli'ou'ou Ridge! It was my little getaway on the island, on the top is a beautiful lookout with a camp spot! I could stay up there for days!
What's your Favorite Bike Ride?
Riding to my favorite surf break at sunrise.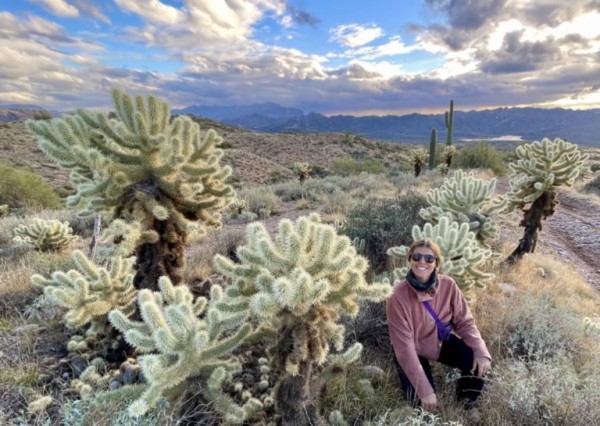 Favorite Movie?
Into the Wild is my all-time favorite at the moment but I'm also a huge documentary nerd so it is ever-changing.
Favorite Book?
Shantaram by Gregory Roberts
Favorite Song?
Oh this is always a hard one! I love live music and jamming out to anything with a nice bass guitar.
When did you catch the travel bug?
When I was little my family would travel with close to 10 other families up and down California. We would create a compound with our campsites and it was our little community. I will forever be grateful to these memories showing me that getting outside with the people you love the most is an important aspect to life.
What are your hobbies?
The list is endless, anything to get my body moving! I'm a huge water gal from surfing to freediving but I can't forget about the mountains and backpacking with my friends. I also get down with a live concert and a cold beer.