Lisa's love for adventure in wild places came by her honestly. After learning how to scale the family piano before she could walk, climbing trees and riding her bike became her favorite childhood pastimes. She grew up in Calgary and her family spent their summer vacations at their property on Shuswap Lake in the interior of BC, where the conifers were not so easy to climb, but the swimming, exploring and cliff jumping kept her busy.
Surprisingly, she spent little time in the mountains closest to home until she went to University, where her degree in Ecotourism and Outdoor Leadership exposed her to many of the amazing locations in the Canadian Rockies, as well as some further-flung vistas in Uganda, Peru, and Bolivia. The exposure to new cultures, landscapes, and adventures furthered her passion for nature. She has since spent the past 12 years working as a guide in the Canadian Rockies and sharing her passion with people of all ages from around the world.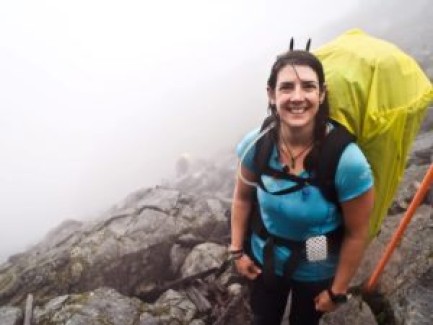 Lisa believes that we can learn a great deal about the world, and ourselves, through the people we meet and the places we visit. She spends as much of her free time as possible traveling to wild places locally and abroad to meet new people, try new food, experience new environments, and pursue her favorite outdoor activities. She even met her fiancé Pete while ice climbing (at a location you may visit on an Austin trip!) and the pair have recently relocated to Victoria, BC, the provincial capital on the West Coast.
When she isn't guiding, Lisa is a school teacher, specializing in Outdoor Education and Leadership, and sharing the wonders of nature with the generations of youth to come.
What is your favorite vacation destination?
I often spend my Spring or Fall in the deserts of the USA. The landscapes are so different from what I am used to here in the Canadian Rocky Mountains, and I find it inspiring how life can live in such extreme environments. I try to travel to new places as much as I can too, there is still so much of the world I want to see! But I'll never tire of our own wondrous vistas here in Western Canada, and spend most weekends exploring my own backyard.
What is your favorite hike?
In University, I hiked the Yungas Cruz trek in Bolivia with some of my classmates, an old Incan trail in the heights of the Andes. It was a coming-of-age experience for us, the first big experience we had planned and orchestrated independently of our professors. Hiking through diverse ecozones at high altitudes, we saw great sights, overcame a great challenge, and learned what we were capable of.
What is your favorite bike ride?
The mountain biking trails around Moab, UT, and Fruita, CO keep Pete and I come back year after year! I'm also a big fan of the numerous rail-to-trail initiatives, such as the Kettle Valley Railway in the Okanagan and the Galloping Goose on Vancouver Island, where you get to ride long distances through beautiful landscapes at mellow railroad grades.
Favorite movie?
Labyrinth. I watched it so often as a child that I had it memorized by High School, and it still has a soft spot in my heart.
Favorite book?
Away by Jane Urquhart Raven's Cry by Christie Harris The Nightingale by Kristin Hannah.
Favorite song?
Old Pine by Ben Howard Riptide by Vance Joy or when I'm looking for something upbeat: anything BlueGrass, Reggaeton, or Bhangra. It makes for some good dancing and cleaning music!
When did you catch the travel bug?
I think I became interested in travel thanks to my Oma and Opa (German grandparents). They used to travel all around North America on their home mobile and often went back to Germany to visit friends and family. Wherever they went, they would always send me a postcard, and I remember how magical it seemed that they could be in the Black Forest, or Santa's Workshop in Alaska, and I wanted to go too!
What are your hobbies?
I love all things outdoors, but my favorite outdoor activities are climbing, mountain biking, hiking, caving, camping, sea kayaking, and backcountry skiing. I also love a good book, a nice meal, a cup of tea, or a good microbrew. My newest passion is cross-stitching, and I'm about 1000 hours into my current project - a photograph turned cross stitch pattern of me ice climbing as a birthday surprise for Pete, (don't tell!) I also love to travel, salsa dance, practice yoga and meditation, and try to improve my mediocre Spanish and German-speaking abilities.