Keilea was born in Boulder Colorado where her exposure to the outdoors and national parks started at a young age, exploring the Flatirons just beyond her backyard or driving a couple of hours to explore the higher peaks of the Rocky Mountains. While Colorado created her love for the mountains, she has spent summers in New Hampshire being thrown into Squam Lake as a kid and developed a love for water swimming, kayaking and paddleboarding in the lake's region. Growing up and in high school being the younger sister to a competitive big mountain skier and biker, she was introduced to the world of competitive mountain biking and skiing.
During her years at Gonzaga University studying Human Physiology, she enjoyed exploring the Pacific Northwest on her bikes and skis. During college is when her love of the outdoors expanded into a leadership role. She became a trip leader for the Gonzaga outdoors program which helped inspire her to pursue that field as a career after college. Throughout her lifetime she has been lucky to explore the alps of Switzerland, Germany, and France both enjoying the strenuous hikes and learning about the culture and city life. These trips have also created a passion to travel and explore and share her knowledge with others. If you have any questions or want to find out more about her you can typically find Keilea chasing snow, flowing down single-track trails on her bike, swimming in high alpine lakes, baking, or sometimes even just curled up in a patch of sunlight taking a nice cat nap while dreaming about her next adventure.
What's your favorite vacation destination?
It is a tie for my favorite vacation destination. While I enjoy going to Moab for a fun bike trip, I think it's a tie between traveling and hiking through Europe and the family's annual vacation on Squam Lake, New Hampshire, swimming, paddling, sailing, and water skiing.
What's your favorite hike?
Bear Peak, Boulder Colorado. Right out the backdoor from my childhood home. A solid initial climb that quickly shifts to a brutal ascent between towering flatirons to reach a saddle and then scramble even higher transitioning between pines and aspens to reach an exposed summit with 360-degree views from the plains to the continental divide.
What's your favorite bike ride?
Tramway and Little Scraggy in Buffalo Creek Colorado are two of my favorite trails to ride. They combine fantastic flow interspersed with technical features, including a large amount of decomposed Pikes Peak granite which challenges your skills but can make for some great surfing turns. One of my most memorable rides is riding from Boulder to Winter Park via the pipeline trail and Rollins Pass.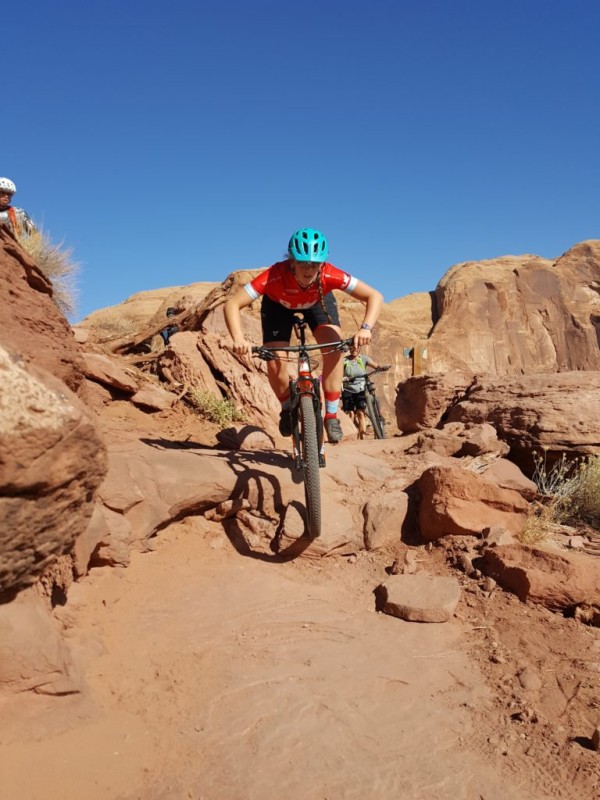 Favorite movie?
I have always been a fan of the Spiderman movies and more recently my favorite has been CODA.
Favorite book?
Educated by Tara Westover and The Girl with Seven Names by David John and Lee Hyeon-se. Both of these are amazing non-fiction stories of women who overcame many challenges growing up.
Favorite song?
I think my go-to songs right now are probably "The Nights" by Avicii or "SUPERBLOOM" by MisterWives.
When did you first catch the travel bug?
Growing up, my family was passionate about getting outdoors and spending vacations outside camping, hiking, skiing or biking. We were frequent road trippers, campers, and adventures down unknown roads to explore simple things such as wells, rivers, and streams. On all these trips I got exposed to many beautiful parts of the world which helped ignite my passion to explore and see more parts of the world. Great examples include exploring the hoodoos at Goblin Valley, Slot Canyons in the San Rafael swell, looking for octopus snorkeling in Mexico or Hawaii, exploring Wind Cave and finding springs around Hot Springs South Dakota. In short, as a child, seeing all the variety of places that the world has to offer.
What are your hobbies?
Like most people, I love anything outdoors. My favorites probably consist of mountain biking, skiing and backpacking. When I am not outside, I love baking/cooking, photography, nail string art, helping people and naps. Okay, maybe napping is not a hobby, but I sure like to pause, take a little downtime to recharge, and then jump back into action.