Justin grew up outside Madison, Wisconsin, and attended college in Minnesota and England, graduating with degrees in Archaeology and History. During his time at university, he participated in several field schools in Belize, Spain, and Guatemala, which helped foster a love for world travel, meeting new people, and trying the weirdest food in every country he visits. Since then, he's worked as an archaeologist and guide in different locations across the United States and traveled all seven continents. This has led to such random jobs as maintaining vineyards in Australia, beverage warehouse manager at McMurdo Station, Antarctica, and teaching scuba diving in Honduras. Justin also has an interest in the medical field, obtaining certifications as a Wilderness EMT and First Responder and volunteering with Search and Rescue in Montana. His spare time includes mountaineering expeditions, camping, scuba diving, and spending time at the family cabin on Lake Michigan.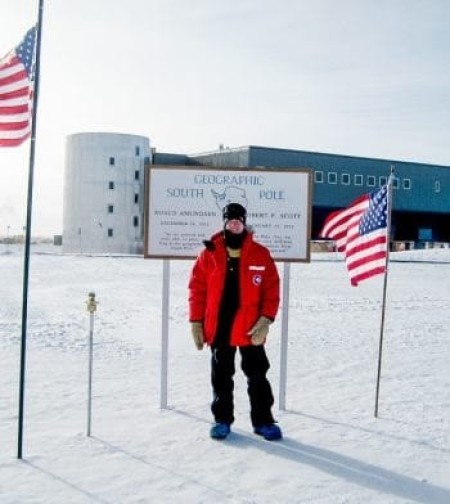 What has been your favorite destination?
Nepal was an unforgettable experience, meeting fantastic people and hiking to Everest Base Camp where we randomly participated in the world record highest dance party! Driving across the Australian Outback and Iceland were also incredible trips I wouldn't mind repeating.
What is your favorite hike?
The Kepler and Queen Charlotte Tracks in New Zealand are beautiful, the Exit Glacier Overlook Trail, climbing Mt. Rainier and Aconcagua, and the Three Passes Trek in Nepal all definitely top the list.
What is your favorite bike ride?
Fernie up in Alberta, Canada has great mountain biking trails, but Going-To-The-Sun-Road in Glacier National Park is a pretty epic ride – especially the downhill!
Favorite music?
Too much to choose from – Jazz, Rock, you name it, but live music is always a plus, even if it's a terrible, terrible band it's still entertaining.
When did you first catch the travel bug?
During our family summer road trips when I was young. We would take a road trip to Wyoming to stay on a dude ranch or take the train to San Diego to visit my grandparents. The opportunity to see so much of the country at a young age definitely had an impact on wanting to travel more.
What is your favorite part about traveling?
Definitely meeting people. Whether traveling solo or with friends, the chance to interact with new individuals, learn about their homes and cultures, and trade ideas and perspectives have led to some fantastic lifelong friends.