"After graduating from Purdue University with a degree in Public Relations and Strategic Communication, Grace followed her dreams of moving west. Grace spent her first three years out West as an Interpretive Park Ranger at Grand Teton National Park. It was here that she realized that reconnecting people to wild spaces through storytelling and positive outdoor experiences was her passion. Wanting to spend even more time outside, Grace transitioned into guiding where she learned how to spend days in the woods and that everything she needed could be carried on her back.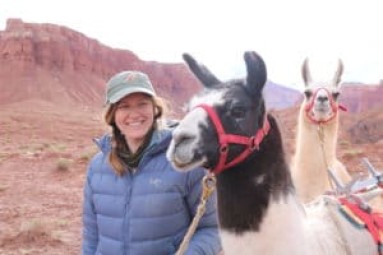 As a guide, she led trips all around the Greater Yellowstone Ecosystem and Southern Utah. And when she didn't want to carry everything on her back, Grace also worked as a llama guide taking people and llamas on multi-day trips in the backcountry. And yes, llamas do spit. In between summer guiding seasons, Grace works at a Wellness Resort in Arizona leading the outdoor program department. She leads guests on day hikes showing people how nature can play a role in their definition of wellness. She even developed a "Forest Bathing" program (look it up!) based on the science behind how spending time doing nothing in nature is good for your mental health.
What's your favorite vacation destination?
Mountains. Anything with mountains. Anything with forests. Anything with rivers. Preferably all 3.
What's your favorite hike?
My favorite hike (so far-still so many to explore!) is in Grand Teton National Park in Wyoming. Coming down North Fork Cascade from Lake Solitude while looking at The Grand is a view and feeling I hold very close to my heart. A close second would be any trail in the Wind River Range.
What's your favorite bike ride?
The Mckenzie River Trail in Oregon. There is a 26-mile trail I got to mountain bike down and I loved every minute of it. I saw greens and blues I didn't even know existed.
Favorite movie?
Into the Wild and/or Boyhood. On a less serious note, I am always down to watch Ghostbusters.
Favorite book?
The Celestine Prophecy. My dad recommended it to me in high school and it has influenced many views I have of myself and the world. And The Hobbit, which I'm sure played a role in my desire for adventure.
Favorite song?
I could listen to Claire De Lune by Claude Debussey forever. Dern Kala by Khruangbin and Brown Eyed Woman by the Grateful Dead are close runner-ups.
When did you first catch the travel bug?
The moment I moved West. I grew up in Southern Indiana and the second I got to Western Wyoming was the moment I realized that I was going to have a very nomadic life. I don't see that stopping anytime soon.
What are your hobbies?
As cliche as it sounds for a guide, literally anything involving the outdoors. My action hobbies include hiking, backpacking, mountain biking, and camping. But I have also turned sitting by creeks and waking up really early for sunrise into hobbies. I also love watercolor painting and cooking food for people I care about.