Fiona
New Zealand Guide
Where were you born and where did you grow up?
I was born in Timaru - but grew up on a high country station in Omarama called Twin Peaks Station. I loved growing up on the farm. I went to boarding school in Timaru when I was 13. Then Mum and Dad moved to another farm near Geraldine when I was 15.
Omarama was where my love for the outdoors was born. I was surrounded by amazing mountains, lakes and rivers. Throughout primary school, we spent time skiing in the winter and hiking/ playing water sports in the summer.

What are your hobbies?
Anything and Everything outdoors :) - sport, hiking, biking, running, skiing/ snowboarding (ski touring), water skiing, wakeboarding, paddle boarding, travelling.
What has been your greatest outdoor adventure?
Cycling through Ecuador and Colombia for 2 months!

What did you do before you became a guide?
I was a Paediatric Occupational Therapist. I worked with children with mental health and alcohol/ drug issues, learning and behavioural problems and traumatic brain injuries.

Do you have a favourite quote?
Any Dr Seuss quote.

Have you studied beyond school? If so in what?
Yes - I studied Occupational Therapy for 3 years in Dunedin. Then I specialised in Child and Adolescent Mental Health and AOD (Post Grad Cert) through Auckland University.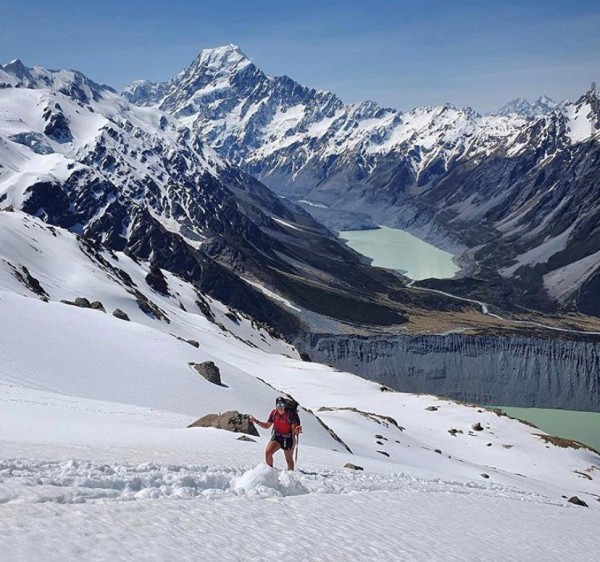 Testimonials
"Fi was an amazing guide! She provided admirable leadership, having to make many decisions and changes in plan due to weather. She did this beautifully and mostly behind the scenes so as not to impact our experience. The Plan B was always amazing. Her stories of growing up on the island added to our experience. She worked wonderfully with Holly! They make a great team! Fi drove the whole week - she is a careful and skilled driver! We felt very safe on some scary roads. Fi was amazing!!!!! I would follow her anywhere!!! Thank you Fi!!!!"
- J. Thompson (Manchester, New Hampshire, United States), Tui November 2019
"Outstanding. Safe and attentive driver, and excellent hiking guide. Always smiling and helpful. Warm and friendly. Amazingly, she took our group to meet her family, which I felt was a special touch. "
- J. Ramey (Raleigh, North Carolina, United States), Manuka December 2019