Peru, Himalayas & New Zealand Guide
Where did you grow up?
I was so lucky to be born in the jungle of Puerto Maldonado. This was where I first discovered my love for the outdoors. Now I live in Queenstown, New Zealand, which is such a beautiful place. Queenstown is alive with culture and there are many outdoor activities to feed my adrenaline habit.
What's your favourite sport or activity?
I don't have just one favourite. I love all sports that make you feel alive, challenge you and of course give you a great adrenaline rush. I'm really passionate about mountain biking, climbing, kayaking and hiking.
Your dream destination?
Wow! Hard to say, there are so many places on my list I want to see. My main destination would probably be Africa. I love nature and have always wanted to see a Black Rhino in the wild!
Favourite quote?
"Leave nothing but your footprints, take nothing but your memories."
One tip for our travellers…
This trip maybe your first, it could be your last, or it could be one of hundreds. Always remember that every experience you have is unique. Treasure them all.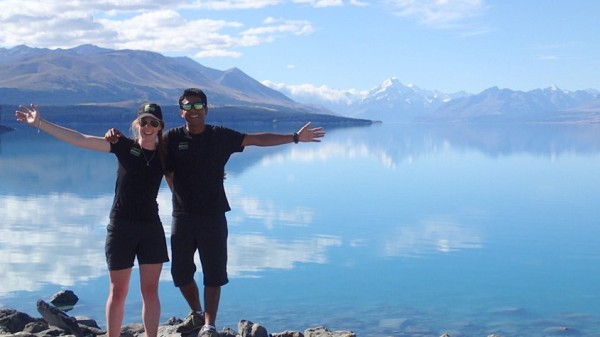 Testimonials
"Yes! Elder is a great person. His constant smiling is contagious, his cooking skills are off the chart, and he's a pretty snazzy photographer! He and DK together are such an amazing pair. The life of any party. Elder taught me a lot about New Zealand. He also taught me some Spanish, encouraged me to try new heights/colder waters, and even a better way to eat an apple. We were so lucky to have him as our guide!"
- Whitney W.-Corfield (Montpelier, Virginia, United States), Winter Rimu June 2018
"Elder was also awesome! He gave super helpful tips while we were hiking and shared lots of cool experiences about being a guide in the other Active Adventure programs. Also, he was very attentive to our food needs and really cooked some amazing stuff! He also gave personal recommendations for how to eat New Zealand yummies we might not be familiar with (such as marmite and bio-Yogurt and Tim Tams)"
- Sahar El A. (Goleta, California, United States), Rimu Queenstown December 2017
"AWESOME! Elder and Ken had a great relationship. I can't believe how well we ate with Elder at the helm. He was so accommodating of some of the individual's food requests. He was always one step ahead and made sure we never went hungry. On tough hikes he was there to help us along the way, he always had such high energy and was easy to talk to. "
- Pam L. (San Francisco, California, United States), Rimu December 2016