I grew up in Abbotsford, British Columbia. I have five siblings, which means I now have more nieces and nephews than I can keep track of. As kids, my brothers and I would go on expeditions to explore the ravine behind our house. Those days spent running through the forest were where I found my passion for adventure and the outdoors. I got even more into the outdoors going to summer camp as a teen. Camps were two weeks long, and we would spend five days horse-packing along the Ram River in Alberta. When I became too old to be a camper, I became a year-round, full-time staffer at camp for three years and discovered the joy of challenging others to push their comfort zones. I am currently going to university for a degree in Eco-Tourism and Outdoor Leadership at Mount Royal University in Calgary. I often tell people that the best part of my degree is that my classes are outside half the time. When I'm done with university, my goal is to continue introducing people to the outdoors.
What's your favorite vacation destination?
Anywhere I can find an adventure.
What's your favorite hike?
Helen Lake near Banff. The day I went we had sunshine, rain, snow, and a rainbow. The views around the lake were so stunning that I truly felt connected to the land around me. I felt like I could see hundreds of years of glaciers carving away the rocks to form the landscape.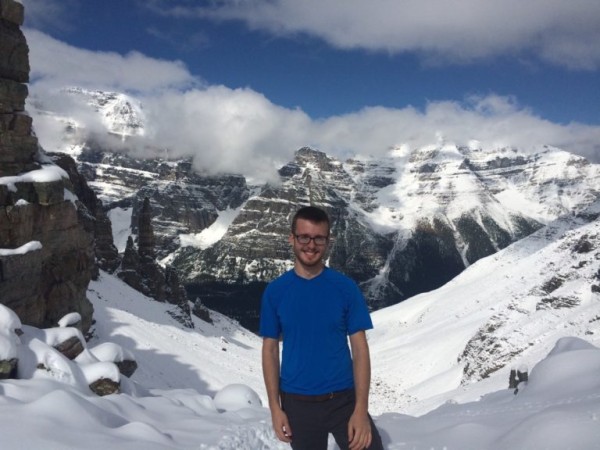 What's your favorite bike ride?
Snakes and Ladders in West Bragg Creek.
Favorite movie?
The Secret life of Walter Mitty. Every time I watch it, I want to plan an adventure.
Favorite book?
The Inheritance Cycle
Favorite song?
I have a playlist that is constantly evolving but one song I always go back to is Child of the Wind by Bruce Cockburn.
When did you first catch the travel bug?
When I was 14 my family toured around England, Scotland, and Ireland for a month. My favorite memory of that trip was scaling the walls of a random castle we found on the side of the road.
What are your hobbies?
I love trying new things so I'm constantly adding new ones but the main core are skiing-downhill, mountain biking, hiking, backpacking, climbing, woodworking, leatherwork, and baking. This year I bought a standup paddleboard so I can start using it this summer and hopefully do an expedition with it.