Becky grew up in Berea, Ohio (the Grindstone Capital of the World), a western suburb of Cleveland. Growing up, most family vacations were spent camping in Ohio, Pennsylvania, and New York. She stayed close to home for college racking up associates degrees and certificates in Liberal Arts Studies, Interior Design and Small Business Management. From an early age, Becky fell in love with the outdoors, but her travel experience was fairly limited to the Great Lakes region.
When she turned 30 she realized that if she wanted to travel more, she was going to have to make those plans for herself and not wait for friends to be available to join her… That's when she found Austin Adventures!
Becky took her first Austin Adventures trip as a solo traveler in 2014 to Yellowstone National Park. It was the trip that started it all. It was her first time travelling west, the first time seeing mountains, the first time navigating busy airports alone and the first time even carrying a backpack on a trail! Since then, she has been on four Austin Adventures trips solo and has also been to 21 National Parks on her own or with friends. From climbing the via ferrata in West Virginia to lounging in Utah Hot Springs, Becky loves a good adventure!
When Becky isn't guiding with Austin Adventures she is an Office Manager for an Environmental Law Firm. She calls Bay Village, Ohio, her home now and resides there with her labradoodle, Rocko Taco.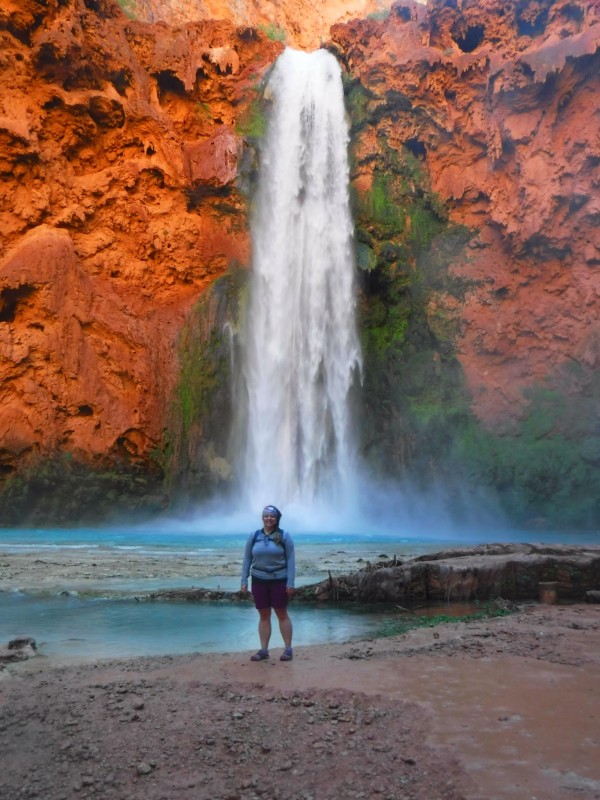 What's your favorite travel destination?
I love travelling to the National Parks. It's impossible to pick a favorite so far because each one is so different. But at the top of my list are Yellowstone and Crater Lake.
What's your greatest outdoor adventure?
I got the chance to stay at Leconte Lodge in Great Smoky Mountains National Park. The only way to the lodge is to hike up the mountain. The lodging is primitive but nothing beats having the summit to yourselves for sunset and sunrise!
What's your favorite hike?
These questions are so hard. My favorite hike is Maple Pass in the Northern Cascades. Pro tip: Go counter-clockwise!
What's your favorite bike ride?
I love any bike ride with minimal uphill climbs and friends to commiserate with. Bonus points if there are Cows.
When did you first catch the travel bug?
Immediately after my first trip with Austin Adventures in 2014. When they dropped me off at my hotel on the last day, I cried. The hardest part really was going home.
What are your hobbies?
Some of my hobbies include gardening, cooking, painting, cycling and boxing. I am also a slightly obsessed dog mom, a semi-responsible plant mom and a super fun Aunt!
Any special talent?
I am really good at losing the toothpaste cap; I have a winning record in the Oreo-face game; and I make phenomenal homemade French Onion Soup.
Favorite quote?
"Life moves pretty fast. If you don't stop and look around once in a while, you could miss it" - Ferris Bueller