Italian Lakes Trip Leader
Andrea was born in Varallo in 1968; and has been a ski instructor since 1990 and a mountain guide since 1991. He started his working career in the mountains at an early stage, following in the footsteps of his father and the rest of his family, who are mainly made up of guides and ski instructors.
Having always had a passion for sport, Andrea participated as an athlete in the Alagna Alpine Ski Club for many years. Following that he started rock climbing and then moved on to alpinism. Before long Andrea became a ski instructor and mountain guide and started alternating the two jobs in summer and winter, as well as managing the high altitude Huts, Margherita and Gnifetti on Monte Rosa.
Andrea is attracted mainly to winter sports, started snowboarding, and completed an instructor's course. After also obtaining a qualification in guiding canyoning expeditions, and participating in some Himalayas high mountain expeditions, he has been dedicating his attention and passion to skiing, and extreme snowboarding.
Andrea has dedicated his lifetime to sport - he's also a sailing fan, as well as parachuting, paragliding, canoeing, and scuba diving! He lives in Alagna and is the president of the historic Guide Corp there, founded in 1872, and is technical director of the Guide School. He is a family man, and has been married to Barbara since 2013 and they now have two kids: Caterina and Giacomo.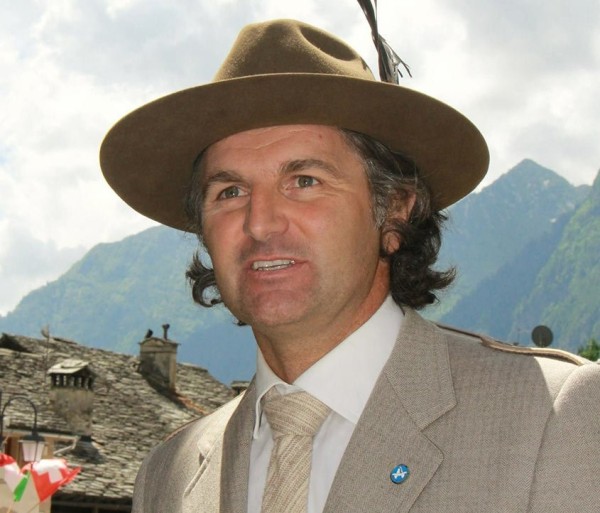 Andrea in traditional European Mountain Guide uniform
Testimonials
"Perfect guide. A genuinely great human being in all aspects. I enjoyed him a lot. He shared so much with us and was anxious to do so. He kept everything running smoothly in the forefront and behind the scenes."
- Sandy (Callander, Ontario, Canada), Dolce Vita July 2018
"Andrea was amazing- so knowledgable and interesting and he knew people everywhere we went. "
- Andrea (Rochester, New York, United States), Dolce Vita July 2018
"Andrea, in my opinion, couldn't have done a better job. His knowledge of the area was great....maybe use it to get some more suggestions for restaurants!! As a guide trekking up the mountains I felt he was very professional and knew the hiking areas well, creating instant trust in his abilities. Aside from having the patience of a saint re us asking to translate everything from Italian to English, nothing was too much trouble particularly when it came to his taxi service. He also had me laughing all week with his great sense of humour :)"
- Nicky (Farnham Common, Bucks, United Kingdom), Dolce Vita July 2017