FAQ
Answers to commonly asked questions
We know planning an adventure vacation is no small decision, so we're here to make the process as easy as possible for you. We've been doing this for quite a while, so we've got the answers to everything you need to know! Just click on the specific question you'd like to have answered below, chat to us online, or call us on the number that suits you:
1 800 661 9073 [USA and Canada]
1 800 661 907 [Australia]
0808 234 7780 [UK]
0800 234 726 [New Zealand]
0064 3 450 0414 [from anywhere else in the world]
We'd love to hear from you!
How to book
Whenever you're ready, it's easy to book your Active Adventure. When you've done your research, driven yourself crazy with the choices and made your final decision, follow these steps:
1. Hold your place
The fastest way to reserve your trip is to give the experts a call.

Alternatively, fill out the Availability Request form and we'll get back to you as soon as we can. To secure your place you'll need a $500 per person deposit (the remainder of the balance is due 60 days before your trip start date), payable by credit card, cheque or wire transfer, whichever works best for you. Once you're all signed up, you'll receive a confirmation email giving you access via a login on our Active Adventures Club page where you can access your booking pages and fill in your trip details online.


2. Check your international flight options
Your booking pages and trip notes will outline where you need to be and when to start your trip, so you can move forward with booking your flights. If you're lucky enough to have time, it's nice to arrive a few days early to settle into the new place and get used to your surroundings. If you're on a tight schedule it's no worries, the trip start time will be outlined in your trip information.

We recommend using a variety of methods to search for suitable flights from your own research online (e.g. Skyscanner.net), to contacting a travel agent, to see who comes up with the best fares.


3. Complete your booking pages online
By logging into your online booking information via our club page you'll gain access to your trip notes, destination information, a detailed gear list and all the information you need for your trip. There are a few things to fill in – medical and dietary information, extra accommodation requests, gear hire requests etc. – to ensure you are well prepared for your adventure vacation.


4. You're all set
You can now start packing your bags and crossing the dates off your calendar. We look forward to seeing you soon!
What's included?
Accommodation
On your South America trip you'll stay in a variety of places depending on the destination and activities. In Patagonia you'll lay your head each night in hotels, lodges and the famous 'refugios' in the National Parks. While these may sound basic they actually have incredible facilities (including electricity), the views are out of this world, they have restaurants and you'll meet an incredible array of people that have travelled from far and wide to visit the bottom of the world.
Transport
Your transport will be a mixture of bus, boat, bike and your very own two feet on our trips in South America. All your transport is included from the start of your trip and we'll drop you a the airport at the end. The details are all listed in the trip specific itineraries.
Meals
All your meals are included as described in the itinerary except on your free days. We have found that people enjoy checking out what is on offer by themselves sometimes, so you can go and see what's out there! On every other day and especially after any long hikes, we've chosen places to eat that can cater for our hearty appetites, work well with our small groups (they know we are coming) and provide us with an authentic destination specific culinary experience. There are always options for you, so you can either be brave or choose something more familiar. On the hiking portion of our trips (such as on the W-Trek) we work with an outstanding team of cooks who will amaze you with what they can produce on a campsite miles from the nearest town. You can be assured that on all our trips we will make sure you are very well fed.
Trip leaders
Our trips are all led by an experienced Trip Leader. Our Trip Leaders are very proud to work with Active Adventures and often lead our trips for many years, for which we are very lucky and very grateful as it means we're able to consistently offer a fantastic level of service. They work closely with our local specialist guides to provide you with a seamless, fun, exciting and memorable trip. They will happily share with you as much or as little as you want to know about the history, culture, social aspects and lifestyle of the country you are visiting.
Can you help me find flights to Patagonia?
Arranging your flights to Patagonia is simple. We recommend getting in touch with our travel specialist, Amy Bohling. You can email her directly at amyb@nztravelbrokers.co.nz. She knows our trips well and can help simplify your booking needs.
The most direct international routes to Punta Arenas in Chile at the heart of Patagonia, are via national capitals Santiago and Buenos Aires, although some airlines will connect via Lima, Peru.

From Australia / New Zealand: LAN and Qantas fly from Sydney to Santiago Chile via Auckland, whereas Aerolineas Argentinas and Air New Zealand flies from Sydney to Buenos Aires Argentina via Auckland.
From Canada: Air Canada, American Airlines and Delta all have connections via Toronto.
From Europe / UK: LAN and Iberia offer direct flights to Santiago from Madrid, while Air France, Lufthansa, Varig and Aerolineas Argentinas offer direct flights to Buenos Aires from Paris, Madrid and Frankfurt. Those in the UK may need to connect via continental Europe or the USA.
From USA: Connections to Santiago and Buenos Aires are usually via Miami, New York, Los Angeles, Atlanta, Dallas or Chicago.

There are three airlines available for getting between Santiago and Punta Arenas. Lan Chile (www.lan.com/chile) departs several times a day, and Sky Airline (www.skyairlinechile.com) offer a couple of flights a day. In Argentina, LADE (www.lade.com.ar) and Aerolineas Argentinas (www.aerolineas.com.ar) are also options, but be wary of tight connections on Aerolineas Argentinas as they have a reputation for flight delays. Also, if you're flying through Buenos Aires please note there are two airports in this city, and they are both at opposite sides of the city, so you may need to allow extra time for a transfer.
Reciprocity fees in Chile & Argentina
Arrivals tax / reciprocity fees - Chile
The Chilean Government has a reciprocal agreement with the following countries:
For Australian passports US$117
For Mexican passports US$23
This must be paid in cash on arrival into Santiago airport, and the one-time fee is good for the life of a traveller's passport. You may pay this fee at the airport counter (to the left of Customs) via credit card or US$ cash. There is no fee charged if you are arriving into Chile by any other means, and holders of other passports are not charged anything, in accordance with their agreements.
Arrivals tax / reciprocity fees - Argentina
The Argentinean Government also has a reciprocal agreement with the following countries:
For Australian passports US$100 - valid for up to 1 year
For Canadian passports US$92 - valid for up to 10 years
All other passport holders are free as per the agreements between your countries.
This reciprocity fee must be arranged prior to arrival at any border, whether arriving via plane, bus or boat, and failure to comply will result in denial of entry into Argentina. We will be travelling by bus in the middle of our 'Condor' trip. This can be paid online prior to arrival for your trip, and is valid from the date that you get it. Note: Please arrange this close to departure time, so that there's no risk of it expiring and having to arrange this again.
Please do the following:
1) Go to reciprocidad.provincianet.com.ar
2) Where it says LOG IN you'll need to sign up to this website, using an email address and a password. If you have to do this for multiple people, you'll need to use a separate email address for each person.
3) Complete the required information and pay the fee per person reciprocity fee online with a credit card.
4) Print the receipt, bring it with you, and keep it with your passport to show immigration authorities upon entry.
5) Do this for each person that requires it.
If you have dual citizenship and have more than one passport, please ensure that the passport that you use for your reciprocity fees is the same one that you enter into your Online Booking info files. We use this info to book your transport and if the details are different you may be refused entry into Argentina.
If you have travelled to Argentina previously, please call our office to discuss your options.
How many people are there on each trip?
We generally take up to 14 people per trip, although this can vary. We have found that our trips tend to attract a particular kind of person and many people have commented that the social scene was one of the highlights of their trip!
Do you charge a forced single supplement if I'm a solo traveller?
Unlike many other tour operators, we don't believe in charging you extra for travelling alone and we have lots of single travellers on our trips. So there's no forced single supplement if you don't mind sharing a room (or you might even get a room to yourself sometimes). If you prefer not to share a room at all, you can upgrade to a single room.
Is it OK if I'm travelling alone?
Absolutely! We welcome solo travellers onto our trips – in fact, we get many, many solo travellers and they always say how it's a great way to travel alone, but not actually be alone, so that's always good to hear. You'll have an incredible adventure at the same time as meeting and sharing your experiences with a bunch of friendly, like-minded travellers and your Trip Leader.
What if I need a special diet?
We are accustomed to catering to the following special diets:

- omnivore (I eat red and white meat, pork, chicken, fish, dairy, fruit and vegetables)
- no red meat (I eat chicken, fish, dairy, fruit and vegetables)
- fishatarian (I eat fish, dairy, fruit and vegetables)
- vegetarian (I eat dairy, fruit and vegetables)
- vegan (I eat fruit and vegetables, no dairy or animal products)
- gluten intolerant (I can't eat wheat, rye, barley or oats)
- lactose intolerant (I can't eat dairy products)

You will get the opportunity to specify your particular requirements when you fill in our pre-trip questionnaire. If you have any other dietary requirements please let us know well in advance, via email or the online questionnaire.
How much spending money should I bring?
Our trips include all transportation, guiding, meals and activities (unless it says it's "optional"). For most trips, you could literally bring US$100 and go home with change, but realistically you'll be looking to bring at least a couple of hundred dollars, as most people like to bring a little extra to cover a round of drinks at the pub, take home some souvenirs, book a tour and tip our guides if they've had a great time.
Where can I get local Pesos?
It's best to bring along some US dollars to change to local currency when you arrive. You can change some money at the airport – either at Punta Arenas or Santiago when passing through. The exchange rate isn't always very good, but for small amounts of cash it doesn't make much difference. In Punta Arenas the best places to change money are the Casa de Cambio (Foreign Exchange Bureau), as they have better rates than banks or large hotels.
Is there a number to call in an emergency? How can my family, friends or colleagues contact me?
Please contact our New Zealand office using the details below. If the office is unattended (outside of New Zealand business hours), please leave a message so we can pick it up and respond as soon as we can.
Free phone 1 800 661 9073 (USA, Canada & Australia)
Free phone 0808 234 7780 (UK)
Free phone 0800 234 726 (New Zealand)
Worldwide +64 3 450 0414, ext 1
Email: info-sa@activeadventures.com
What is your cancellation policy?
We require a US$500 deposit per person per trip to secure your place on your chosen trip/s. This deposit is non-refundable and non-transferable to another departure date or trip. In the event that it becomes necessary for you to cancel the trip, the following cancellation charges will apply:

• Cancellation made over 60-days prior to departure date - US$500 deposit per trip
• Cancellation between 60 and 30-days of departure date - 50% of total trip fare
• Cancellation of any trip 30-days or less prior to departure date - 100% of trip fare

A cancellation will be effective from when Active Adventures receive written notification of the cancellation. This cancellation policy includes voluntary or involuntary early departure from a trip. No refunds will be given for missed or unused services such as accommodation, activities or meals. You are strongly advised to take out cancellation insurance that will cover cancellation fees at the time of booking.
Do I really need everything on the gearlist?
Yes, you really do need all of the required items on the gearlist. We want you to be warm and happy, especially if it's cold and rainy. And it can be cold and rainy at any time of year, although you are most likely to have good weather for most of your trip as we run our trips in the summer season.
Do I need hiking boots or are hiking sneakers okay?
You will need proper hiking boots - trail shoes are not good enough. We'll be taking you to some awesome places where you'll be hiking over a variety of terrain, therefore your boots should have full ankle support and a stiff sole with a high profile tread. As far as your gear goes it's a great idea to get those boots broken in too.
What kind of clothing should I be packing?
In general the best way to pack for Patagonia is to have a layered clothing system - this way you're prepared no matter what the weather, as it can change quite considerably throughout the day. Also bear in mind that you can wash your clothes after your W-trek, if that helps with your packing. Once you've booked your trip, we'll send you a gear list on exactly what to bring along.
What should I wear for hiking?
We recommend wearing clothes made from the quick drying, "breathable" fabrics. There are a wide variety of these types of clothes available at your local outdoor stores. Brands such as Marmot, Patagonia and North Face are quite popular, although some "no-name" brands can be just as good and more economical. We recommend you don't wear jeans for any activities as they get very heavy & uncomfortable if they get wet, which you will at some stage during your trip. The same clothing can be worn for hiking, cycling and kayaking. We recommend wearing hiking pants or shorts, and shirts or t-shirts made from these quick drying, breathable fabrics. In cooler weather we recommend using thermal underwear - these are worn under your pants & t-shirts for an extra layer of warmth – check out brands such as Icebreaker or Smartwool. On top we recommend sweaters made from fleece or wool - again because they keep you warm even when you're wet. As an outer layer we recommend a medium weight waterproof jacket - a poncho is not suitable as it is too lightweight and a sailing or skiing jacket is generally too heavy for hiking in. Jackets made from gore-tex or Marmot's PreCip are highly recommended.
How much luggage can I bring?
We recommend bringing one medium size piece of luggage (this could be your hiking backpack) and one daypack per person. While you're doing your W-trek we'll store the rest of your extra gear for you - you don't have to lug it with you! You may wish to bring a soft overnight bag to store this extra gear.
What types of plugs and voltage do you use in Chile and Argentina?
Electricity is available in most places in Patagonia – even in the Refugio's on the W-trek.

The adapter plugs in Chile are either Type C (2 round prongs) or Type L (3 round prongs), and the adapter plugs in Argentina are either Type C (2 round prongs) or Type I (2 diagonal prongs with a third vertical prong).

For voltage, both Chile and Argentina operate on a 220V AC system. If your country doesn't use a 220V AC system (e.g. USA = 110V AC) you may need a converter plug (readily available from travel stores and airport shops). Many appliances (e.g. iPods, laptops & camera chargers) have them inbuilt these days, so if in doubt ask at your nearest camera/electrical store.
Do I need travel insurance?
As an Active Adventures South America traveller, you're required to have full travel insurance for your trip. We recommend a comprehensive travel insurance policy that includes medical cover, emergency repatriation, trip cancellation and other travel mishaps (e.g. flight cancellations or delays, trip interruption, theft or loss of luggage and personal effects).
Some insurance companies require insurance to be purchased within 15 days of deposit payment. Travel insurance can be obtained through local travel agents, some credit card providers or online brokers such as 
www.worldnomads.com
 or 
www.travelguard.com
. These and other insurance policy packages can be compared at 
www.insuremytrip.com
. We recommend keeping all travel papers (invoices, receipts, police reports etc.) when you travel in case you need them later to support a claim.
When is the best time to visit Patagonia?
Patagonia is located in the Southern Hemisphere, and the best time to visit is during the summer season when it's typically warm and sunny. We run our trips from November through to March every year, and this is when the Magallenic Penguins are there too!
Here's a handy infographic that we've created, that displays a few of the highlights through the calendar year!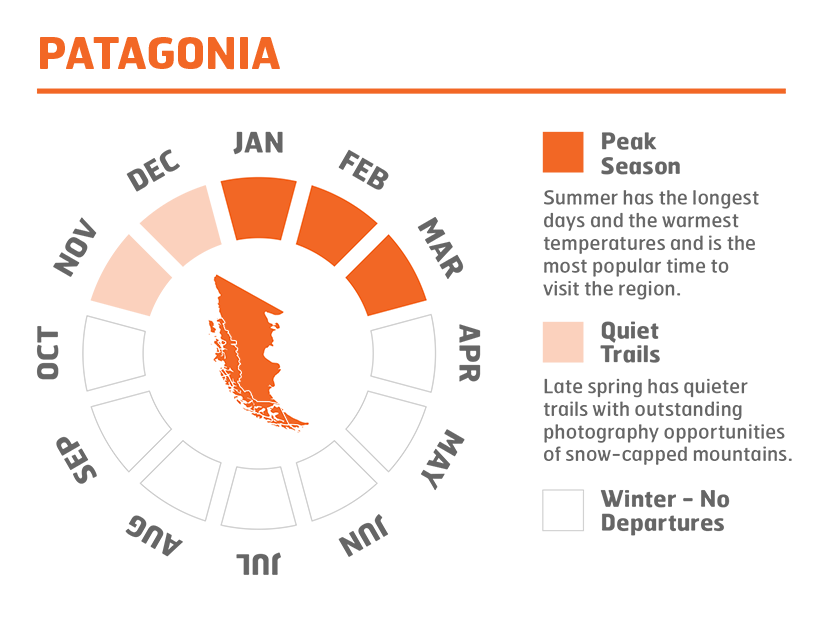 What vaccinations do I need for my trip to Patagonia?
For travel to Chile and Argentina we recommend getting vaccinated for Hepatitis A, Tetanus and Typhoid. We also recommend getting vaccinated for Chicken Pox and Measles if you've never caught them before. This list is an indication and recommendation only - for specific, up-to-date information please consult your local doctor or travel clinic. You'll need to organise your inoculations around 2-3 months before your trip, as some vaccines require multiple visits/injections to obtain full coverage. Be sure to ask your doctor for proof of vaccinations (often a little yellow book) to always keep with your passport - as some countries require proof upon entry.
Do I need to know any Spanish?
A little Spanish is always helpful, so bring your phrase book or learn a few words and you'll be asking for things before you know it! It's especially useful when you arrive and for ordering food in restaurants, but it's certainly not a necessity – a smile and a bit of sign language always works wonders. Our Trip Leaders are all Spanish speakers so if you don't have time to learn a little Spanish before you get there then you don't have to worry... they'll take care of everything. Adios!
What are the Trip Leaders like?
All our Patagonian Trip Leaders are highly experienced and knowledgeable, with relevant qualifications, experience and a personal interest in people and the outdoors. We're very picky when it comes to choosing people to lead our trips, and all of our Trip Leaders have great attitudes, extensive knowledge of Chile and Argentina, its flora and fauna and a genuine interest in going the extra mile and offering our people the trip of a lifetime!

While hiking the W-trek and in El Chalten you'll also be accompanied by qualified local guides, and their local knowledge of the flora and fauna will ensure you go home an expert.