Punta Arenas, Chile
Patagonia's welcome mat is a cosmopolitan city at the bottom of the world.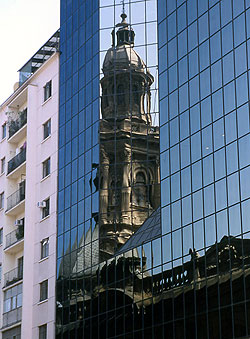 Punta Arenas, a city of close to 150,000 residents, is the main entry point for Chilean Patagonia and one of the most southern cities in the world. It is a relaxed and beautiful city facing the Magellan Strait and its climate and architecture give it a distinct European feel. It was originally named 'Sandy Point' by the English, before adopting the Spanish equivalent.
Highlights of the city include the Museo de Historia Regional Braun Menéndez (the former mansion of wool baron Mauricio Braun), the Teatro Cervantes (now a converted cinema) and La Polar - the most southern brewery in the world. It is also a launching pad for Antarctic expeditions and exploring the other natural wonders of Patagonia.
Explore Punta Arenas on the Condor, a 14-day Patagonia adventure that begins and ends in Punta Arenas.



Condor Patagonia Hiking Adventure

14 Days
Patagonia
US$6299

Southern Patagonia, for hikers in particular, is always near the top of the bucket list. Immense craggy mountain ranges erupt straight up from colossal boulder fields, vast rivers of ice calve into deep blue lakes, and its intricate coastline is strewn with uncharted fiords and inlets. It's the type of scenery that leaves an indelible impression in your memory – one that photos will never quite manage to replicate. On the 'Condor', you'll visit some of the most amazing places on Earth, by foot, kayak, bike and boat. You'll enjoy incredible views as you hike in the Fitz Roy area of Argentina, trek in Chile's Torres del Paine National Park, bike near Laguna del Desierto and sea kayak amongst icebergs on Grey Lake. If you have a passion for the outdoors, then the 'Condor' is the trip for you! Combine the 'Condor' with the 14-day 'Puma' for the ultimate Patagonia Adventure (8-day option available).