About Patagonia
Everything you want to know before you travel in Patagonia
Patagonia has an almost surreal quality to it so it's no wonder our Patagonia adventure tour is synonymous with intense rugged beauty and world-class hiking. You would struggle to find a more intensely beautiful, rugged and diverse countryside, from vivid green alpine meadows dotted with wildflowers, to glacier fields stretching as far as the eye can see.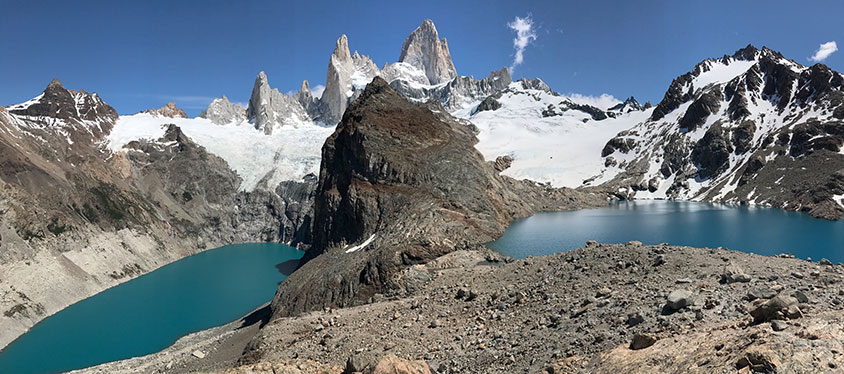 Where is Patagonia?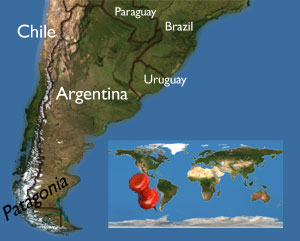 Patagonia is a distinct geographical region at the base of South America spanning the lower sections of Argentina and Chile. On the Chilean side, it starts in the Araucanía region extending down to the extreme southern tip of the country. On the Argentine side, it begins in the province of Rio Negro and carries on all the way to Tierra Del Fuego.
The bottom of South America is also the closest landmass to Antarctica (New Zealand is the second closest), so it's a popular jumping off point for Antarctic voyages and cruises.
Area
The vast Patagonia region covers about 777,000 square kilometres (300,000 square miles) of Argentina, which is about a third the country, and another 340,000 square kilometres (131,275 square miles) or nearly half, of Chile.
Government
Both Chile and Argentina are democratic republics.
Population
Many regions of Patagonia have very low population density. The total population of Patagonia is about 2 million, which is in Argentina and Chile combined, with the large marjority living in Argentina.
Time zone
Argentina is three hours behind GMT. Chile is four hours behind GMT. From October to March both countries observe day light saving, putting their clocks forward by one hour. Basically this means that most of the time Patagonia is within one or two hours of USA Eastern Standard time.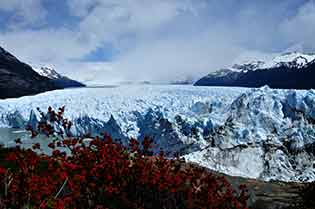 Language
The official language of Patagonia is Spanish but there are small pockets of indigenous communities within Patagonia who speak Mapuche. In larger cities, you're likely to meet locals who know some English, but in rural areas this is rare, so knowing basic Spanish travel phrases (or travelling with a guide that knows the language) is very helpful.
Main gateway cities
Punta Arenas (Chile), Puerto Natales (Chile), El Calafate (Argentina), Ushuaia (Argentina - Tierra del Fuego)
Currency: Argentina
The local currency is the Argentinean Peso (ARS) which is divided into 100 centavos.
Currency: Chile
The local currency is the Chilean Peso (CLP), which is divided into 100 centavos.
Climate
The summer season in Patagonia runs from December to March. The highest rainfall is during the Patagonian winter (June to September) but days are changeable and can be hot and sunny
one day, to wet and windy the next year round. Summer season is definitely the best time to travel to this part of the world, as winter months can be harsh and inhospitable.
Vaccinations
You should have hepatitis A and tetanus vaccinations as well as chicken pox and measles if you've never caught them before. However, no vaccination certificate is required to enter either Chile or Argentina. Rabies and malaria medication is not considered necessary in the areas that we travel, but may be required if you are doing further independent travel.
Electric voltage
In both Chile and Argentina, electric voltage is 220 volts, 50 cycles (220v 50Hz). Most travel appliances, such as laptop computers, have an auto volt transformer (it will say '110v-240v' for example), but appliances or electric devices designed for 110 volts only will need a transformer and not just a plug adaptor.
Patagonia travel and visas
To really experience hiking in Patagonia, you have to do more than simply admire the views, and travel visas for Chile and Argentina are somewhat complicated, so it pays to work with an experienced travel professional to make sure you've got all the right paperwork and there won't be any nasty surprise fees. Please feel free to give us a call if you'd like us to talk you through it.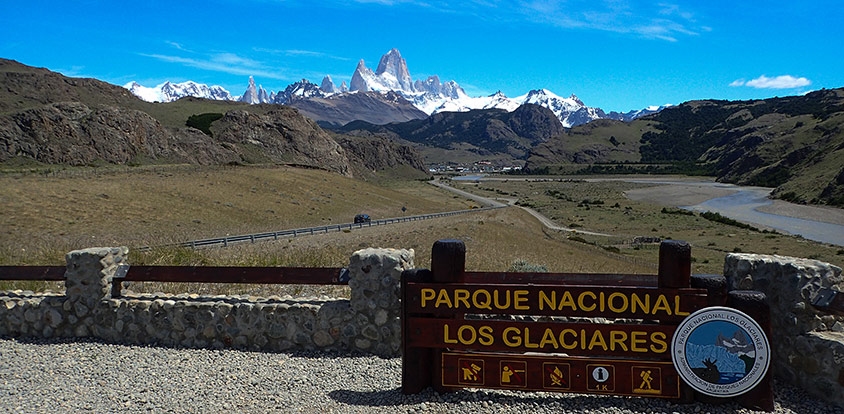 Puma Northern Patagonia Explorer

14 Days
Patagonia
US$5999

Like its southern counterpart, Northern Patagonia is rich in wild landscapes, where nature rules the roost. Exploring Northern Patagonia, you'll develop a new-found respect for the pioneers, who found passages over the immense Andes Mountains, across fiords and through huge temperate rainforests. Luckily, these days, nestled in the renownded parks and reserves, there's comfortable lodgings - making for the perfect combination of adventure by day and relaxation by night. For the ultimate Patagonia experience, combine this trip with our 14-day 'Condor' (10 and 8-day options available).
Condor Patagonia Hiking Adventure

14 Days
Patagonia
US$6299

Southern Patagonia, for hikers in particular, is always near the top of the bucket list. Immense craggy mountain ranges erupt straight up from colossal boulder fields, vast rivers of ice calve into deep blue lakes, and its intricate coastline is strewn with uncharted fiords and inlets. It's the type of scenery that leaves an indelible impression in your memory – one that photos will never quite manage to replicate. On the 'Condor', you'll visit some of the most amazing places on Earth, by foot, kayak, bike and boat. You'll enjoy incredible views as you hike in the Fitz Roy area of Argentina, trek in Chile's Torres del Paine National Park, bike near Laguna del Desierto and sea kayak amongst icebergs on Grey Lake. If you have a passion for the outdoors, then the 'Condor' is the trip for you! Combine the 'Condor' with the 14-day 'Puma' for the ultimate Patagonia Adventure (8-day option available).
Why travel with Active Adventures?
Above all, we aim to be amazing hosts. We're proud of our kiwi roots, and our professional, warm and relaxed style of running trips around the world is unforgettable.
We're VERY picky about who we select to work in our team, and we have people from all over the world lining up to guide our trips. So we get to hire the absolute BEST in the business.
As soon as you get off the plane, we've got all the details of your vacation covered – top notch meals, comfortable transport & accommodation, amazing guides and INCREDIBLE service.
Whether you're new to adventure travel, or you've never travelled in a group before, you'll find yourself arriving home positively different from when you left.
With our small groups (no more than 14), you'll get to know our team, your fellow travellers, and have the flexibility and freedom to do as much (or as little!) as you like.
It's all about getting there under your own steam – on foot, in a sea kayak, or by bike. What better way is there to experience mind blowing scenery? If it's your first time, no worries – our expert guides have got you covered.