About Active Adventures South America
Not just another tour company. 
We believe that scenery needs to be experienced, not seen through a bus window. We'll take you, whether by foot, bike or kayak, to the glacier-clad peaks of Patagonia; the Inca ruins of Peru's Machu Picchu; the giant tortoises of the Galapagos Islands; the arresting views from Cotapaxi Volcano in Ecuador; the unique highlands surrounding Lake Titicaca; the hundreds of rivers that feed the mighty Amazon - there's more than enough to do and see here to fill several bucket lists.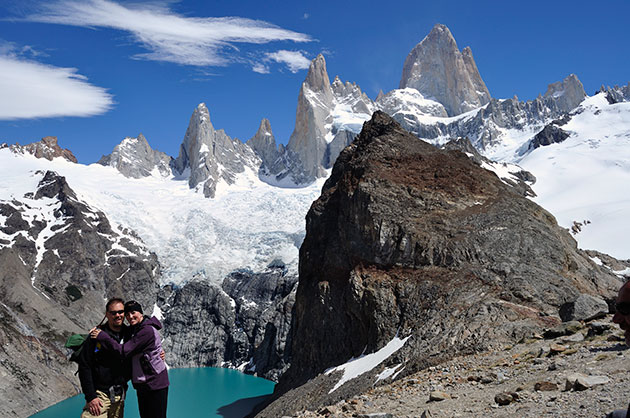 We run our own trips, suitable for real people.
You don't need to be a triathlete to enjoy our adventures; we offer a variety of different options to suit everyone. We take real people, who may or may not have a great deal of experience in the outdoors, to the most scenic and rewarding parts of South America. Clients on a typical trip will have a range of experience - from folks who have spent a couple of days in the backcountry in their lives, to those who spend most weekends in the hills.  
Not your average South American vacation package! 

Interested? We have happy clients all over the world who have taken our Patagonia, Peru, Ecuador and Galapagos Islands trips who'd love to tell you all about it! For referrals, please call or email us and we'd be happy to put you in touch with some of our previous clients.
An Active South America trip is not a scenic tour, but you'll go to incredible places. It's not a triathlon, but you'll get your heart rate up and the endorphins flowing. It's not a lecture on history and wildlife, but you'll gain personal insights from guides who know the places you'll visit like the back of their hand. 
Why travel with Active Adventures?
Above all, we aim to be amazing hosts. We're proud of our kiwi roots, and our professional, warm and relaxed style of running trips around the world is unforgettable.
We're VERY picky about who we select to work in our team, and we have people from all over the world lining up to guide our trips. So we get to hire the absolute BEST in the business.
As soon as you get off the plane, we've got all the details of your vacation covered – top notch meals, comfortable transport & accommodation, amazing guides and INCREDIBLE service.
Whether you're new to adventure travel, or you've never travelled in a group before, you'll find yourself arriving home positively different from when you left.
With our small groups (no more than 14), you'll get to know our team, your fellow travellers, and have the flexibility and freedom to do as much (or as little!) as you like.
It's all about getting there under your own steam – on foot, in a sea kayak, or by bike. What better way is there to experience mind blowing scenery? If it's your first time, no worries – our expert guides have got you covered.