New Zealand Hiking & Adventure Regions
New Zealand is an island nation in the South Pacific. It's not part of Australia and yes, our rugby team is the best in the world! Technically there are 16 regions, each with their own council (and rugby team), from Northland in the far north, to (yes you guessed it) Southland in the deep south. But we like to keep things simple, and if you're thinking of visiting us for a hiking or adventure vacation, all you need to know is that there's a North Island and a South Island. 
Our largest city Auckland, and our capital city, Wellington are both in the North Island. With a number of other large cities as well, the North Island is home to around 75% of New Zealand's population. To a south islander, this makes the north 'busy', though to most visitors you'll still be surprised by the vastness of the countryside and unspoilt nature. Some of the highlights of the North Island include rich insights into our nation's heritage and culture, volcanoes, sub-tropical weather and wonderful ocean-based attractions. 
By contrast, the South Island is just as you'd expect. It's big, it's empty and it's dramatic! The South Island's magnificent scenery is the stuff dreams are made of and the reason it's the 'poster child' of hiking and adventure media. There are 9 national parks in the South Island protecting tall glaciated peaks, ancient rainforest, turquoise blue bays, U-shaped hanging valleys and immense lakes.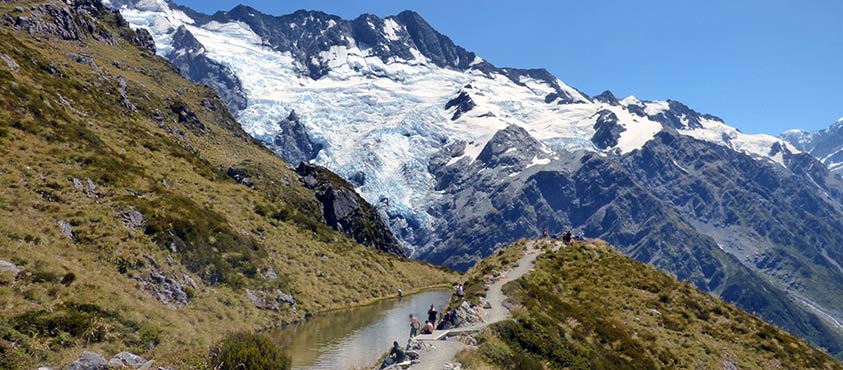 Why travel with Active Adventures?
Above all, we aim to be amazing hosts. We're proud of our kiwi roots, and our professional, warm and relaxed style of running trips around the world is unforgettable.
We're VERY picky about who we select to work in our team, and we have people from all over the world lining up to guide our trips. So we get to hire the absolute BEST in the business.
As soon as you get off the plane, we've got all the details of your vacation covered – top notch meals, comfortable transport & accommodation, amazing guides and INCREDIBLE service.
Whether you're new to adventure travel, or you've never travelled in a group before, you'll find yourself arriving home positively different from when you left.
With our small groups (no more than 14), you'll get to know our team, your fellow travellers, and have the flexibility and freedom to do as much (or as little!) as you like.
It's all about getting there under your own steam – on foot, in a sea kayak, or by bike. What better way is there to experience mind blowing scenery? If it's your first time, no worries – our expert guides have got you covered.