Surviving Longhaul Flights
The Active Guide To Surviving And Thriving On A Long Flight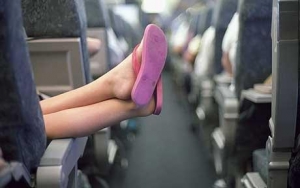 OK, so you've got a ticket, and you're all set to start your journey down to New Zealand. We run trips in New Zealand, South America, Europe and the Himalayas, and we often attend events in the USA - and even occasionally make it to Europe as well - so we reckon we've learned a thing or two along the way about making flights as pleasant as possible. Here's our advice…
1. A key to making your flight as painless as possible is to do everything you can to sleep on the flight. If you can (and as certified caffeine junkies, we know it's not always possible), completely avoid tea, coffee, and any caffeinated drinks on the day of your flight. Also, drink lots of water throughout the day, so that you're well hydrated. We DON'T recommend drinking too much water on the flight itself - it's a fine balance between being reasonably hydrated - and asleep! - and being up down to the bathroom all night. No fun.
2. On the subject of sleeping, CONTACT THE AIRLINE ONCE YOU'VE BOOKED YOUR TICKET and make a seating request. The ideal, of course, is an empty four-row block, but you probably won't be able to confirm that very easily these days, especially not before the day of the flight. Many people find a window seat makes it easier to sleep, because it gives you something to lean on. It's definitely worth knowing where you're going to sit though, and worth the extra few bucks for the peace of mind you're not going to end up in the dreaded middle of a three row if you're on your own.
3. As soon as you board, ask the cabin crew for a spare pillow and blanket. This extra "soft stuff" makes it easier to make yourself a cozy wee nest.
4. DO make the effort to procure a few little things that can help you sleep - a sleeping mask, a set of ear plugs, and possibly a neck pillow. Those things WORK! You can buy all this stuff at the airport before you leave, or you can obtain them at your local chemist for a fraction of the cost. Also, opinions vary on this, but we DO recommend taking a sleeping pill if you are comfortable with that. No-one wants to become dependent on sleeping pills - definitely not a good idea - but next time you're at your doctor's, ask him or her for a very small supply of sleeping pills - say 10. Then, when you're on the flight, take one just before dinner is served. Avoid caffeinated drinks at dinner, eat a moderate dinner with a small amount of water, or wine if you wish - and you'll stand a really good chance of getting 9 hours sleep that night.
5. If you're not too starving, we encourage you to skip breakfast in the morning, and try to sleep through the breakfast service. Often, if you ask nicely, the cabin crew will let you sleep, and bring you a cup of tea or coffee in a paper cup, just as the aircraft is at "TOD" (Top Of Descent). For HUGE cred points, just casually ask for a "cuppa at TOD please". Works like a charm. The airline wakes everyone up at least two hours before landing, to get through the breakfast service, and that makes sense for the airline. But not for you!
6. On that note, we recommend that you bring some "backup" to the airline's service, just in case. You can generally bring water on board, if you take an empty bottle through airline security, and fill it on the "gate side". You can certainly bring some fruit, maybe a muffin or something - and that way, even if you totally skip breakfast, you'll still have something to tide yourself over - AND you'll get to sleep in (just remember not to carry that food through customs when you land).
7. And further, now we're getting serious - just in case, you might want to bring a laptop, iPad etc. with a couple of movies to watch. This gives you total control over your own entertainment on board, and if the airline has one of these rare - but not non-existent - "technical glitches with the entertainment system", you'll be rocking along to The Muppet Movie while the rest of the passengers are wailing and gnashing their teeth. Kermit singing sounds a lot better than passengers whining :). Of course, if you're flying Air New Zealand, there's no risk of a technical glitch - they've got hands down the best entertainment systems on board!