The Tuatara "Lizard"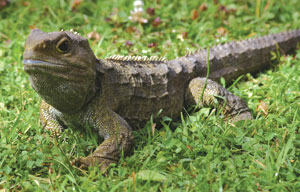 The Tuatara (TOO-ah-TAR-ah) is a brownish-green reptile (Sphenodon punctarus & Sphenodon guntheri) - not classified as either a snake or a lizard - that is only found in New Zealand.Tuataras grow up to 80cm (31 inches) long and weighs up to 1.3kg (almost 3 lb). They have pretty distinctive spines along the back and are unusual in that they have two rows of top teeth and a single row of lower teeth (no other animals have that). Tuataras are distinctly different from snakes and lizards (they have no external ears, for a start) - and that makes them very interesting to science from an evolutionary point-of-view.
They are sometimes referred to as a 'living fossil', and for good reason. They are the last of their breed - the two living tuatara species are the last remaining reptiles of the order Rhynchocephalia (or 'beak-headed' reptiles; sometimes also called Sphenodontia), a once-flourishing group of reptiles that largely died out at end of the Cretaceous period (65 million years ago), along with all dinosaurs (except for the ones that had already become birds, but that's a whole other story).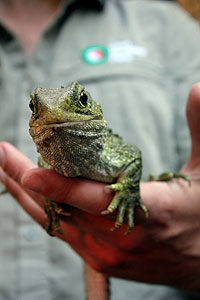 So, they're the last of their kind, but the nickname 'living fossil' is wrong, in a way, because they have also evolved from their dinosaur-age ancestors and have adapted within their New Zealand environment. Tuatara would once have been found all over New Zealand, but following the arrival of humans, and the predators they brought with them, the tuatara was reduced to populations on offshore islands and a few mainland wildlife sanctuaries. Fortunately, they have been protected since 1895 and in 2008, a tuatara nest was uncovered amongst the bush of the Karori Sanctuary in Wellington, New Zealand's capital city. This is the first known case of tuatara breeding on the New Zealand mainland, outside captive breeding programs, in over 200 years. Most tuatara now live on islands at the north end of the South Island or along the northeast coast of the North Island and their total population is thought to be between 60,000 and 100,000. You can see tuataras and more at the Kiwi & Birdlife Park in Queenstown on any of our South Island trips.
Tuatara can live a long time – older than 100 years – and take 10 to 20 years before they start breeding. Eggs are laid eight or nine months after mating and hatchings will emerge eleven to sixteen months later. In 2009, a male tuatara named 'Henry', who has been kept in captivity in the Southland Museum in Invercargill, became a father (possibly for the first time) at the age of 111.
The name tuatara comes from the Maori language, and means 'peaks on the back'. To Maori, tuataras are considered to be the messengers of Whiro, the God of death and disaster, and Maori women were forbidden to eat them.