Kauri tree (Agathis australis)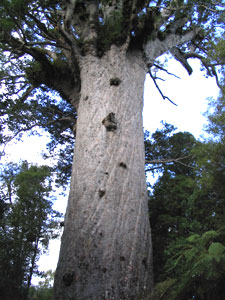 New Zealand's largest tree species is also one of the world's largest and longest living trees. The kauri is a conifer that is found north of about 38° south, at the top of the New Zealand's North Island. The tree has small narrow leaves and smooth bark. Kauri forests are some of the world's oldest and its ancestors date back to the Jurassic period, 190 million years ago.
The best living specimen of the kauri is an ancient tree known as Tāne Mahuta (meaning 'Lord of the Forest' in Maori). The tree is New Zealand's largest known living tree, with a height of 51.2m (168ft) and a 4.4m (14ft) diameter trunk. The tree is located in Waipoua Kauri Forest, Northland, and is thought to be between 1,250 and 2,500 years old. According to Maori mythology, Tāne is the son of Ranginui, the sky father, and Papatuanuku, the earth mother, and he created the space and air where all living things dwell by pushing the sky and the earth apart with the strength of his legs. 
Kauri forests, now protected, were extensively logged from the mid-1800s onwards and by 1900 the majority of the forests had been cut down. The largest recorded kauri tree was known as the 'The Great Ghost' and had a trunk diameter of 8.5m (28ft) prior to being killed by fire around 1890. The timber is very strong and was sought after for boat-building and house constructions. The gum for the trees has also been dug up from swamps and exported for use in linoleum and varnishes.