Flora of New Zealand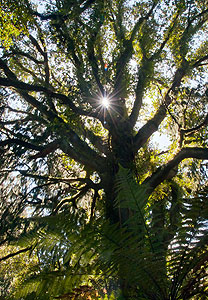 There's nothing quite like standing amongst the rimu trees and nikau palms in the temperate rainforest near Punakaiki on the West Coast of New Zealand's South Island… the flora of New Zealand is really special. In fact, all around NZ you'll have plenty of experiences just like that, and they'll all be special in their own way.
New Zealand has some of the best forests around. From beech forests in Nelson Lakes National Park, to the rimu and kahikatea rainforests of the West Coast, to the stands of massive Kauri at the top end of the North Island. New Zealand has substantial tracts of lush green forest, full of ferns, tall native trees and some intriguing plants that have adapted to a land that was lost in time for about 80 million years.
Hiking New Zealand's wilderness is the best way to see many of our plants, and taking the time to rest in one spot and take in all the native trees, broadleaf shrubs, ferns and mosses is a must. And if you're on one of our adventure trips and one of our guides hands you a funny coloured leaf and says "chew this" then just do it… you'll be surprised how interesting plants can be!