Weka: New Zealand's Flightless Bird, which isn't a Kiwi!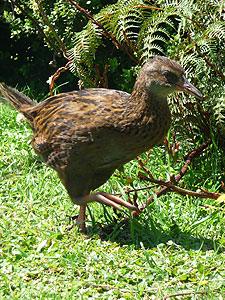 A Case of Avian Mistaken Identity
"I've just seen a kiwi outside my hotel room!" is one of the more common phrases you might hear from first-time visitors to New Zealand when they're travelling down the northern half of the West Coast of the South Island – and 99.9999% of the time, they're, unfortunately, wrong.
Walk like a Weka
The weka, a member of the rail family and known as 'bush hens' by early settlers to New Zealand, is a flightless bird about the size of a chicken or, yes, a kiwi. They're a sturdy mottled brown bird about 50cm (20 inches) in length and they tend to scoot along with brief bursts of energy followed by cautious walking. (This funny movement is why we named our Weka cycling tour after these cheeky ground-dwellers.) 
Where to Find a Western Weka
The Western Weka is the subspecies that you're most likely to see on our Rimu and Manuka trips or Weka cycling tours and one of the most common places to see them is around your lodgings or while hiking the trails in the rainforest near the seaside hamlet of Punakaiki, on the South Island's West Coast. They'll be searching for fruit and insects, but will eat almost anything, including mice, rats and even rabbits. Their call is a distinctive series of rapid whistled shrieks.
Watch out for Wekas
Wekas are classed as being a vulnerable species, so New Zealand's Department of Conservation is making efforts to increase their numbers and reduce predation. Unfortunately, a common cause of death for wekas is being hit by motor vehicles. Although wekas do have reduced wings, they are flightless and are therefore obliged to walk everywhere, including across roads. Despite this awkward mode of transport, wekas have been recorded to walk distances of up to 130 km (80 miles).
So how do you tell the difference between a weka and a kiwi?
Well, kiwi are largely nocturnal for a start, so don't expect it to be a kiwi if it's daylight outside. The weka also has a more elongated body than the kiwi and a much shorter beak (about 5 cm long) that it uses as a weapon. And kiwis are extremely rare – most New Zealanders have never seen a kiwi in the wild, whereas if you travel down the West Coast, there is a pretty good chance you'll see a cheeky weka outside your hotel room.