Cardrona Alpine Resort, Wanaka
Cardrona Alpine Resort is nestled into the incomparable mountains of New Zealand's South Island. Cardrona is perfectly sited to allow you the greatest choice in accommodation and apres ski activity. A spectacular 65 minute drive from the tourist centre of Queenstown brings you to the slopes of Cardrona from the south, while Wanaka is just 35 minutes to the north. You can stay on the mountain at Cardrona or at either of these great destinations.
Cardrona Alpine Resort has a relaxed and friendly feel and caters to skiiers and snowboarders of all levels and ages. With a reputable ski school and on-site early childhood centre, it's a family favorite. There are specialist slopes for beginners, heaps of wide open groomed slopes for intermediates, chutes for the advanced and an extensive park for freestylers.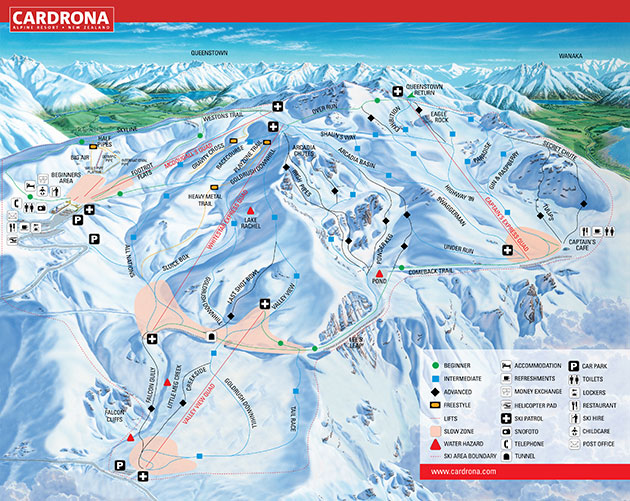 Cardrona Quick Facts

Nearest Town
Wanaka
Distance (km)
34
Nearest Airport
Queenstown
Distance (km)
58
Annual Snow Fall (m)
2.7
Season Opens
Late June
Season Closes
Early October
Skiable Area (hectares)
320
Base Altitude (m)
1670
Highest Altitude (m)
1894
Beginner
25%
Intermediate
55%
Advanced
20%
Total Number of Lifts
8
Chairlifts
4
T-Bars
0
Platters
1
Magic Learner Lifts
3
Ski School
Yes
Ski Hire
Yes
Chain Hire
Yes
Groomers
Yes
Half Pipe
Yes
Terrain Park
Yes
Cafe
Yes
Bar
Yes
Accommodation on Ski Area
Yes
New Zealand Winter Adventure -

Winter Rimu

14 Days  | 

South Island  | 

US$4599 + tax

What's The Rush?

I'm not a triathlete, but I'm in decent shape and I'm not looking to experience a place just through a bus window. I'm happy to slow down on the trail, soak it in and breathe in the fresh air.

Leg Stretcher

Sure, I own some hiking boots, they're even worn in, but they don't go on long trips. I like my creature comforts and I like to give a range of activities a go.

Earn Your Lunch

I stay active on vacation so that I can eat and drink what I like without feeling guilty. I season my trips with a little fresh exercise.

Challenge Accepted

I'll let my trusty guides sweat the small things, so I can focus on my goal. Getting to the top, reaching the end, achieving my dreams! Sure, it'll be tough, but the views will be worth it.

The Ultimate

I've put in the hard yards and now I get to reap the rewards. I'm a seasoned adventurer, not afraid to get my boots wet.

Visit New Zealand from May to September to hike quiet trails under crisp blue skies. You'll be surrounded by stunning snow-clad mountains on this multi-sport adventure.